Navy Federal nRewards Secured Card Review: Ideal If You're Eligible
The no-annual-fee card earns rewards, offers an upgrade path and even features some perks, which is a lot from a secured product — if you can swing the membership and security deposit requirements.
Many or all of the products featured here are from our partners who compensate us. This may influence which products we write about and where and how the product appears on a page. However, this does not influence our evaluations. Our opinions are our own. Here is a list of our partners and here's how we make money.
Our Take
The bottom line:
If you don't mind joining the credit union and funding the security deposit, this card can be a smart and effective tool to help build up your credit profile.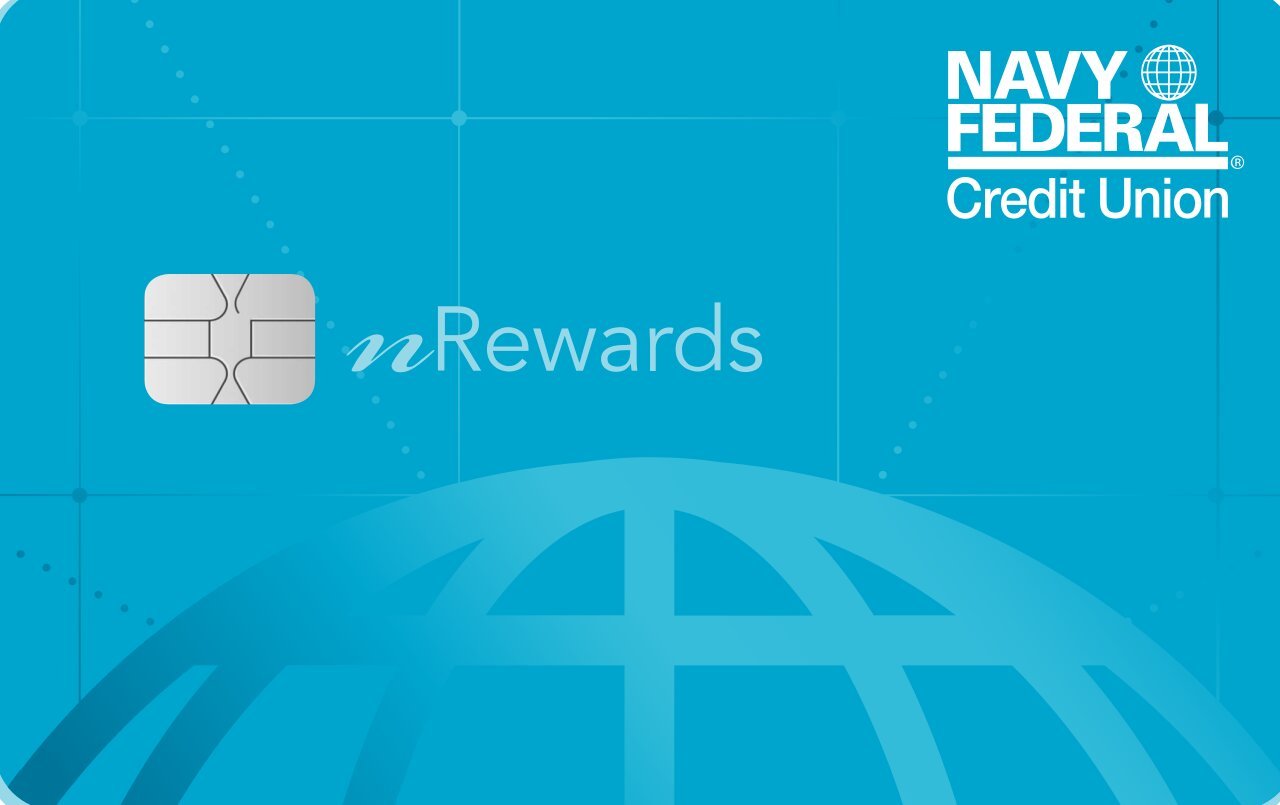 Navy Federal Credit Union® nRewards® Secured Credit Card
Annual fee
Regular APR
Intro APR
Pros & Cons
Pros
Qualify with limited/bad credit

Reports to the three major credit bureaus

No foreign transaction fees
Cons
Must be a member/customer
Compare to Other Cards
Regular APR

22.99% Variable APR

Regular APR

17.39% Variable APR

Regular APR

13.99% Variable

Intro APR

10.99% intro APR on Balance Transfers for 6 months
Get more smart money moves — straight to your inbox
Become a NerdWallet member, and we'll send you tailored articles we think you'll love.
Full Review
The is just about everything a secured card should be. It does require a security deposit, but there's no annual fee, and no unnecessary application or "account management" fees. Starting at six months — with good payment behavior — your account will be considered for conversion to unsecured status.
The also comes with some extras not typically seen in secured cards, including rewards and cell phone protection.
For someone just beginning to get their financial footing, or anyone recovering from damaged credit, this card can be an excellent first step toward building a strong credit profile.
There's just one catch: You have to be a member of Navy Federal Credit Union to apply for the card. And to join that credit union, you have to meet certain eligibility criteria.
Security deposit: Minimum $200.
Rewards: Earn one point per $1 spent. A point is worth about a cent and can be redeemed for cash back, merchandise or gift cards.
Foreign transaction fee: None.
Balance transfer fee: None.
Issuer: When you apply for the , you can choose to have Mastercard or Visa as your card's payment network. The perks and benefits differ slightly depending on which you choose.
There are many secured cards on the market, but many tack on additional charges like account opening fees or annual fees. The only thing you'll pay upfront for the is a minimum $200 security deposit. The card also charges no foreign transaction fees, making it a good choice for use abroad. And there's no fee for balance transfers.
Reporting to all three credit bureaus
The will report your activity to TransUnion, Equifax and Experian, the three major credit bureaus that collect the information used to calculate your credit scores. This means that with responsible payment behavior, you can work toward building good credit — generally, FICO scores of 690 and above — which can qualify you for more favorable rates on things like credit cards, auto loans and mortgages.
Potential to 'graduate' to an unsecured card
Starting at six months, Navy Federal will review your account for good payment behavior. If you qualify, it will return your deposit and convert your account to the unsecured .
Cards designed for those with less-than-good credit don't always offer rewards, but the does. You'll earn one point for every net purchase you make on the card, and there's no limit on the rewards you can earn. Points are worth about a cent each and can be redeemed for cash back, merchandise or gift cards.
The is among a relatively small group of credit cards that offer cell phone insurance. Pay your monthly mobile phone bill with the and receive protection for your eligible phone. The maximum benefit varies slightly depending on whether your card is issued by Visa or Mastercard, but both cover damage and theft.
Why you might want a different card
Unless you or a family member is a current or former member of the military, or a Department of Defense employee, you're not eligible for membership to Navy Federal's credit union, which is a requirement for the card. If you are eligible and not already a member of the credit union, you still have to apply for membership and open a savings account with a minimum $5 deposit. If the extra effort sounds like a headache, the  doesn't require a credit check or any kind of membership. That application ease comes with a price, though: an annual fee of .
Security deposit required
Although a $200 security deposit is typical for a secured card, it may still be a barrier for some, especially since the entire sum is required upfront. If a smaller or more flexible opening deposit is more appealing than earning rewards, the  can give you an initial credit line of $200 for a deposit of $49, $99 or $200, for those who qualify. And you can pay the deposit in installments. Terms apply.
High ongoing APR compared with other cards
. That's on the high side, so if you think you'll need to carry a balance, this may not be a good choice for you. Instead, you might consider a card like the . It offers a lower APR, but it does charge an annual fee.
If you're looking for a secured card, and you meet Navy Federal Credit Union's eligibility criteria, the  is a great choice to get your credit score in shape while earning benefits along the way.
But if joining the credit union is out of reach or unpalatable — or if you're seeking a smaller potential opening deposit or a lower ongoing APR — you might be able to find a card that has a lower barrier to entry.
Methodology
NerdWallet reviews credit cards with an eye toward both the quantitative and qualitative features of a card. Quantitative features are those that boil down to dollars and cents, such as fees, interest rates, rewards (including earning rates and redemption values) and the cash value of benefits and perks. Qualitative factors are those that affect how easy or difficult it is for a typical cardholder to get good value from the card. They include such things as the ease of application, simplicity of the rewards structure, the likelihood of using certain features, and whether a card is well-suited to everyday use or is best reserved for specific purchases. Our star ratings serve as a general gauge of how each card compares with others in its class, but star ratings are intended to be just one consideration when a consumer is choosing a credit card. Learn how NerdWallet rates credit cards.