Navy Federal Platinum Review: Zeros That Add Up to a Lot
It's a no-frills card that's decent for balance transfers. But you must be a Navy Federal Credit Union member to get it, and it earns no rewards.
Many or all of the products featured here are from our partners who compensate us. This may influence which products we write about and where and how the product appears on a page. However, this does not influence our evaluations. Our opinions are our own.
Our Take
The bottom line: It packs an impressive combination of debt-zapping features that can be hard to find elsewhere, assuming you're eligible to apply.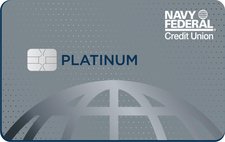 Navy Federal Credit Union® Platinum Credit Card
Annual Fee
Regular APR
Intro APR
0% intro APR on balance transfers for 12 months
Quick Facts
Pros & Cons
Pros
No annual fee

Intro APR period on Balance Transfers

No foreign transaction fee
Get more smart money moves — straight to your inbox
Become a NerdWallet member, and we'll send you tailored articles we think you'll love.
Full Review
The card packs a punch with its triple-zero money-saving features: a $0 annual fee, a 0% intro APR offer for balance transfers, and $0 in balance transfer fees. It's not easy finding a card that offers all three. There's no 0% APR for new purchases, but the card still offers a potentially low ongoing rate for those who qualify.
However, that 0% period isn't super long, you won't earn rewards, and you need to be eligible to join the Navy Federal Credit Union.
Navy Federal Credit Union® Platinum Credit Card

: Basics and benefits
APR: 0% intro APR on balance transfers for 12 months, and then the ongoing APR of 5.99% - 18.00%, Variable.
Balance transfer fee: None.
Foreign transaction fee: None.
Other benefits: Collision damage waiver coverage, cell phone protection, extended warranty service, and travel and emergency assistance.
Why you might want the

Navy Federal Credit Union® Platinum Credit Card
good for balance transfers
Besides the card's 0% intro APR offer on balance transfers, it charges no balance transfer fees, which is somewhat unusual. Normal is 3% to 5% of the amount transferred. Competitors with no balance transfer fees typically restrict the window for transfers to the first month or two for card ownership. This one has no transfer fees at all (although the 0% APR is for a limited time.)
And with this card, you'll pay no annual fee. That's a rare combination of features. If you're confident you can pay off your transferred balance within the 0% APR balance-transfer window, this card can be a real money-saver on interest.
Decent if you need to carry a balance
NerdWallet recommends paying balances in full each month to avoid interest charges. But if you can't do that, this card offers a potential ongoing APR that's notably lower than the average, depending on your creditworthiness. The lower your APR, the less you'll pay in interest. So more of your monthly payment goes to paying down the principal.
Works as a travel companion
The card doesn't charge a foreign transaction fee, so you can use it internationally without racking up extra charges.
Why you might want a different card
You don't qualify to join Navy Federal
You must be a Navy Federal Credit Union member to have this card, meaning you must meet eligibility requirements. If you don't qualify for Navy Federal membership, consider the Chase Slate®. It's another "triple-zero" card for transfers.
Relatively short 0% transfer period
For transferring debt, this card's offer is: 0% intro APR on balance transfers for 12 months, and then the ongoing APR of 5.99% - 18.00%, Variable. That's OK for a rewards card, for example. But among balance-transfer cards, that 0% period is not a competitive length of time, compared with the best cards.
Many cards are more generous when it comes to both the length of their balance transfer offers and the rewards they earn. The Amex EveryDay® Credit Card, for instance, earns 2 points per dollar spent at U.S. supermarkets on up to $6,000 per year in purchases, and 1 point per dollar on everything else. Terms apply. And if you use the Amex EveryDay® Credit Card 20 or more times in a billing period, you'll get a 20% points boost on those purchases.
Late fees and penalty APR
If you pay late, terms of the Navy Federal Credit Union® Platinum Credit Card are punishing. Your card's promotional APR or low ongoing rate can end in the blink of an eye, and the card will sock you with its highest possible APR (after being 60 days late), plus a late fee of up to $20 per incident. Pro tip: If your friends would describe you as absent-minded, you may be better off with a more forgiving card like the Citi Simplicity® Card - No Late Fees Ever. The card charges no late fees or penalty APR if you make a late payment.
Should I get the

Navy Federal Credit Union® Platinum Credit Card

?
If you're seeking a card with rewards and perks — or if you're likely to pay late occasionally — look elsewhere.
But if you're trying to pay off high-interest debt and you qualify for Navy Federal Credit Union membership, this card can help, thanks to its coveted "triple-zero" balance-transfer features.
Even if you can't knock out all of your debt within the promotional APR period, the low potential ongoing rate can also be helpful, assuming you qualify.
To view rates and fees of the Amex EveryDay® Credit Card, please visit this page.
Information about the Amex EveryDay® Credit Card has been collected independently by NerdWallet and has not been provided or reviewed by the issuer of this card.
Comments
NerdWallet reviews are the result of independent research by our editorial team while cardholder reviews are contributions from independent users not affiliated with NerdWallet. Banks, issuers and credit card companies are not responsible for any content posted on the NerdWallet site, nor do they endorse or guarantee any posted comments or reviews.

Some of the reviews on the NerdWallet site were purchased through a third party provider. Users who post a review directly on the NerdWallet site will not be compensated in any way. Please see our Terms of Use and Posting Guidelines for more information.