NaviRefi Review: Navient Student Loan Refinancing
NaviRefi is now available to all qualified borrowers.
Many or all of the products featured here are from our partners who compensate us. This may influence which products we write about and where and how the product appears on a page. However, this does not influence our evaluations. Our opinions are our own. Here is a list of our partners and here's how we make money.
Our Take
The Nerdy headline:
Best for borrowers who may need flexible repayment options.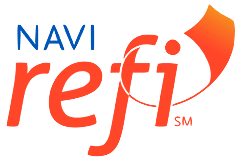 Navient Student Loan Refinance
---
Pros & Cons
Pros
More flexible repayment options for struggling borrowers than other lenders.

You can refinance without a degree.
Cons
You can't see if you'll qualify and what rate you'll get without a hard credit check.

No option to make greater-than-minimum payments via autopay.
Full Review
Navient is a private student loan servicer that was once part of Sallie Mae. It also serviced federal student loans through 2021. Today, Navient offers refinanced student loans originated by the online lender Earnest, branded as NaviRefi.
Previously, NaviRefi was available by invitation only to borrowers with loans serviced by Navient. Now, borrowers can apply even if they aren't existing Navient customers.
Navient considers your earning potential and credit score when approving loans. It also offers multiple options for borrowers who can't afford payments. If you may need repayment flexibility, are looking for a lender that considers your earning potential and are offered a lower rate than you currently have, NaviRefi could be a good choice for you.
Navient has faced multiple lawsuits alleging that it harmed borrowers throughout the repayment process. Per a January 2022 settlement, the company is delivering $1.7 billion in debt cancellation to approximately 66,000 private loan borrowers.
Navient student loan refinancing at a glance
Borrowers struggling to afford payments have flexible repayment options.

No option to apply with a co-signer.

You can refinance without a degree.
How NaviRefi could improve
NaviRefi could improve its student loan refinance product by:
Conducting soft credit checks to give personalized rate estimates.

Letting borrowers refinance their parents' PLUS loans in their own name.

Allowing borrowers who've ever filed for bankruptcy in the past to qualify.
How much can refinancing save?
NaviRefi student loan refinancing details
Interest rates, fees and terms

Soft credit check to qualify and see what rate you'll get: No.

Loan terms: five to 20 years, in one-year increments.

Loan amounts: $5,001 to $500,000. California minimum is $10,000; New Mexico minimum is $10,001.00.

Can transfer a parent loan to a child: No.

Application or origination fee: No.

Compare NaviRefi's range of interest rates with other student loan refinance lenders. Your actual rate will depend on factors including your credit history and financial situation. To see what rate NaviRefi will offer you, apply on its website.

Financial

Minimum credit score: 680.

Minimum income: Does not disclose.

Typical credit score of approved borrowers or co-signers: 744.

Typical income of approved borrowers: $120,543.

Typical debt-to-income ratio: 42%.

Can qualify if you've filed for bankruptcy: Never.

Other

Citizenship: Must be a U.S. citizen or permanent resident.

Location: 49 U.S. states and Washington, D.C.; not available in Nevada.

Must have attended a school authorized to receive federal aid: Yes.

Percentage of borrowers who have a co-signer: No option to apply with a co-signer.

Internship, residency or fellowship program deferment: You may be able to pause payments during a qualifying internship, residency or fellowship.

Forbearance: Yes. Borrowers can also skip one payment every 12 months, and their repayment period will be extended by the length of the skipped payment period.

Rate reduction program: Borrowers who experience difficulty making full payments may qualify for a reduced interest rate for six months.

Co-signer release available: N/A.

Death or disability discharge: Yes.

Loan discharge if co-signer dies or becomes disabled: N/A.

Repayment preferences

Allows greater-than-minimum payments via autopay: Yes.

Allows biweekly payments via autopay: No.

In-house customer service team: Yes.

Process for escalating concerns: Yes.

Borrowers get assigned a dedicated banker, advisor or representative: No.

Average time from approval to payout: Eight days after final disclosure is viewed.
Before refinancing with NaviRefi
Before deciding on a student loan refinance lender, compare multiple student loan refinance options to make sure you're getting the best rate you can qualify for. In addition to interest rates, compare lenders' repayment options and the flexibility they offer borrowers who are struggling to make payments.
If you aren't eligible to refinance with NaviRefi
If NaviRefi denies your refinance application, the lender will let you know why. Depending on the reason, you may want to consider other lenders, including those that allow a co-signer.
STUDENT LOAN REFINANCE RATINGS METHODOLOGY
Our survey of more than 29 banks, credit unions and online lenders offering student loans and student loan refinancing includes the top 10 lenders by market share and the top 10 lenders by online search volume, as well as lenders that serve specialty or nontraditional markets.
We consider 41 features and data points for each financial institution. Depending on the category, these include the availability of biweekly payments through autopay, minimum credit score and income requirement disclosures, availability to borrowers in all states, extended grace periods and in-house customer service.
The stars represent ratings from poor (one star) to excellent (five stars). Ratings are rounded to the nearest half-star.
Frequently asked questions
NaviRefi is a student loan refinancing product offered by the servicer Navient. NaviRefi loans are originated by the online lender Earnest and now available to all qualified borrowers.

Is NaviRefi part of Navient?

Yes. NaviRefi is a product offered by the student loan servicer Navient. NaviRefi loans are issued by the online lender Earnest, which is also owned by Navient, and serviced by Navient.

Should you refinance with Navient?

Refinancing with Navient is a good option if its NaviRefi program offers you the lowest interest rate.