This Is What the ATM of the Future Will Look Like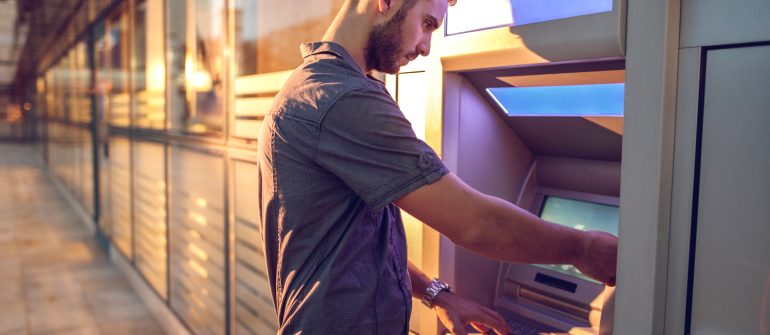 Many or all of the products featured here are from our partners who compensate us. This influences which products we write about and where and how the product appears on a page. However, this does not influence our evaluations. Our opinions are our own. Here is a list of our partners and here's how we make money.
It's a Friday night in the year 2030, and you need some cash. Ordinarily you'd just hold your phone up to an ATM screen and that'd be it. (Debit card? Haven't carried one of those around for years.) But maybe you left your phone in your self-driving car. No matter. This machine can look you in the eye. It scans your irises for a match, and then whirs as a robotic arm inside fetches your money.
This is the future of the ATM — far and not so far off.
You might be thinking, "Wait, the ATM has a future?" It does. For all the plastic in our pockets and talk of mobile payments, cash is still king, and may be for some time. Cash today is used for half of all purchases under $50, the Federal Reserve Bank of San Francisco reported in 2014, and 18-to-24-year-olds are the age group most likely to prefer cash as a form of payment.
Still, times are changing. We're doing more and more transactions on our phones and computers, and because of costs it might actually be the bank branch whose days are numbered.
"Today, what consumers are asking for is to be able to bank wherever and whenever, and through different channels," says Bernardo Batiz-Lazo, a professor of business history and bank management at Bangor University in Wales. "People are changing the way they consume in the same way that banks are trying to change the way they operate."
For ATMs, it means a whole lot of technology is headed their way.
To get a sense of the first round of changes, look at the machines Chase is calling "eATMs." Present at more than 1,500 branches nationwide, these machines allow access through your mobile phone and effectively abolish the need to carry a debit card to withdraw cash.
Customers can go cardless in two ways: by using the bank's app on their phone, or through a mobile wallet such as Apple Pay or Android Pay. Using the app, customers request an access code they then enter on the eATM, like a temporary PIN. The mobile wallet option uses near field communication, or NFC, the same technology you may have used or seen used at the grocery store or the mall, where the customer holds a credit card or phone up to a reader, and the two communicate without any contact. A thumbprint verifies the customer's ID on the mobile device and enables access to the ATM.
Bank of America is slated to release contactless ATMs later this year, and more than 40% of Wells Fargo ATMs will be NFC-enabled by the end of 2016. Wells Fargo spokeswoman Hilary O'Byrne says the bank was looking for a way to make ATM transactions more convenient and secure for consumers, however and wherever they were doing their banking, "and for many that's on a mobile device."
Citibank is taking things a step further. In partnership with ATM maker Diebold, the bank is testing an NFC-enabled ATM that will confirm your identity by scanning your eyes.
"Iris scans are only second to DNA in security — even identical twins have different irises," says Diebold spokeswoman Renee Murphy.
It's not just evolving consumer behavior driving these changes. Branches can account for half of a bank's total operating costs, and when profits are down those buildings and the people who work in them can become untenable. ATMs cost less, and they already are doing quite a bit.
"Today, our ATMs and new eATMs can perform about 60% of transactions our customers do at the teller window," says Michael Fusco, a spokesman for Chase.
Still, banks care about the experience; they want customers to feel like they are getting good service. And so ATMs will be called upon to do more: offer cash in a variety of denominations, allow specific withdrawal amounts and higher withdrawal limits, cash customers' checks and enable bill paying, among other tasks.
Bank of America has even begun to incorporate video tellers into some of its ATMs, adding a dash of humanity to what has long been a purely mechanical experience. Customers are greeted by name, may request a Spanish-speaking teller and can perform transactions not offered at other ATMs, such as making loan payments. And because video tellers can operate remotely, these machines expand operating hours for services otherwise reserved for brick-and-mortar branches.
An assist from a robotic arm
Michael Lee has some bold predictions for where the industry is headed. He's the CEO of the ATM Industry Association, a trade group, and he sees an even greater rise of the machines.
"Robotics is likely to be a game-changer in our industry," Lee says.
He points to Quantum Systems, a Florida-based banking robotics company that has the prototype. Meet MonRo, a hexagonal ATM-turned-bank branch that houses a whirling robotic arm within its six walls.
It's every bit the futuristic machine you'd expect, seemingly combining an ATM, bank teller services, safe-deposit box, vending machine and insurance office in one place.
It'll take a while for the artificial intelligence required to become cheap enough to make this a reality; Lee reckons the impact is likely to come "in the 2020s." But once it does, robotics will greatly expand the set of automated functions an ATM can perform, making it possible to store and retrieve items varying from documents to keys to cell phones — even bullion, in MonRo's case. And more cloud-operated ATMs will make for sleeker machines and better integration with mobile and internet channels.
In the midst of all this change, though, our desire to grab some money on the go isn't fading away anytime soon.
"You have more chances of mobile replacing plastic than any of the digitals replacing cash," Batiz-Lazo says.
It looks like ATMs, robotic or otherwise, will hurtle right along with us into the future.
Get more smart money moves – straight to your inbox
Sign up and we'll send you Nerdy articles about the money topics that matter most to you along with other ways to help you get more from your money.