Wells Fargo Overdraft Fees and Policies
The standard overdraft fee of $35 can be charged three times daily. You can avoid or lower costs by skipping the debit card overdraft service or by linking accounts for transfers.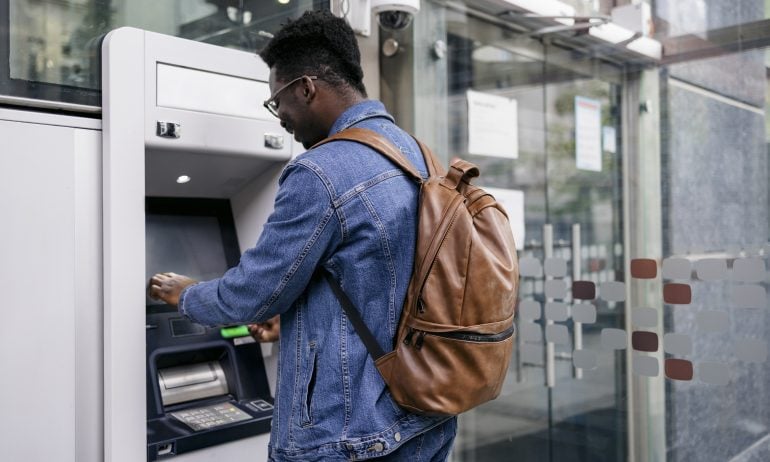 Many or all of the products featured here are from our partners who compensate us. This influences which products we write about and where and how the product appears on a page. However, this does not influence our evaluations. Our opinions are our own. Here is a list of our partners and here's how we make money.
If you're a Wells Fargo customer, there are consequences when you spend more money than you have in your checking account. How much you pay in fees depends largely on the type of transaction you perform and whether you're enrolled in the bank's overdraft services.
The bank recently announced that it was getting rid of overdraft protection transfer fees and returned item fees due to nonsufficient funds in an account. However, the standard overdraft charges remain.
The Wells Fargo overdraft fee
Checking accounts at Wells Fargo come with default settings for overdraft fees. The details of those settings are below. For customers who opt in to the optional overdraft protection services, the fees are a bit different. The optional Wells Fargo overdraft services section of this article explains more.
For ATM or everyday debit transactions: The default setting for Wells Fargo checking accounts is to decline ATM or everyday debit transactions that exceed your balance. The bank does not charge a fee for declining these transactions.
For checks and recurring bills: The default setting is that Wells Fargo — like other banks — uses its own discretion when it comes to checks and recurring bill payments. If the bank decides to return a check you wrote or declines a recurring bill payment because of a lack of funds, it does not charge a fee (though the merchant may charge a fee for a returned item). If Wells Fargo approves a check or recurring bill payment when there isn't enough money in your account, you'll be charged an overdraft fee. How much? Here are some details:
Wells Fargo overdraft fees
Fee: $35 is the standard overdraft charge.

Limit: Three fees per day, for a maximum of $105.

Continuous overdraft fee: Unlike some banks, Wells Fargo doesn't charge a continuous overdraft fee if your account remains in the red for multiple days.

It's possible to avoid these fees if you make a deposit that covers the overdrawn amount before the cutoff time on the same business day. (See cutoff times below.)
Optional Wells Fargo overdraft services and associated fees
Customers who want overdraft transactions to go through can enroll in one or both of the bank's two optional overdraft services — Overdraft Protection and Debit Card Overdraft Service. Enrolling allows the bank to charge you overdraft fees in different circumstances than with the default account settings.
Overdraft transfer protection service
What it is: This optional service links one or two Wells Fargo accounts — a savings account, credit card or line of credit — to your checking account to cover any shortfalls.
Transfer fee: None. If you link to a Wells Fargo credit account, however, there will be interest charges.
Link a savings account: Wells Fargo will transfer a minimum of $25, or the exact amount of the negative balance if it's over $25.
Link a credit card: Wells Fargo will advance the exact amount needed to cover the transaction or a minimum of $25. If there are two linked accounts, Wells Fargo will use the savings account first, unless you specify to use the credit card or line of credit first.
Link a line of credit: Wells Fargo will advance funds in increments of either $100 or $300, depending on the line of credit.
If there isn't enough money in the backup accounts to cover the overdraft, the bank will transfer what is available. After the transfer, the transaction may either be declined or approved, based on the bank's discretion and the customer's enrollment in debit card overdraft protection. If the transaction is approved, the bank's overdraft fee policy applies.
Debit card overdraft service
What it is: This optional debit card overdraft service means the bank can approve everyday debit card and ATM transactions — at its discretion — when there's not enough money in your bank account, and charge you a fee. By law, the bank must get your permission before enrolling you in debit card overdraft service. If you skip this service, ATM and debit card transactions that exceed your balance are declined and no fee is assessed.
Overdraft fee: $35, up to three times per day.
The bank's discretion: If your account isn't in good standing or if you've had frequent overdrafts, Wells Fargo may decline to cover the overdraft, whether you're enrolled in the optional program or not. In that case, debit or ATM card transactions also will be declined without incurring additional fees.
How to avoid Wells Fargo overdraft fees: Grace period and buffer
Day-of grace period: You can make a deposit or transfer to cover an overage on the same business day to avoid overdraft fees, as long as it's made before the bank's cutoff time. Cutoff times vary by location. Typical times are:
9 p.m. local time for most Wells Fargo ATMs.

9 p.m. Pacific time for Wells Fargo mobile app deposits.
Keep in mind that Wells Fargo, like other banks, sometimes holds check deposits for a few days in order to validate the funds, so the money may not be available immediately, and an overdraft could still occur.
Limited overdraft "rewind" program with direct deposits: Wells Fargo offers another option for direct deposit customers who are charged overdraft fees. If there is a direct deposit by 9 a.m. local time the day after your account goes negative, and that amount is enough to have prevented the negative balance, Wells Fargo will reverse the fees. Under this program, Wells Fargo does not reverse any overdraft transfers made from linked accounts.
Small buffer: Wells Fargo also offers a little bit of leeway before it charges fees. The bank does not charge for overdrafts on items that are $5 or less. In addition, if your balance is overdrawn by $5 or less after the bank processes your transactions at the end of the day, the bank doesn't charge overdraft fees.
The bank announced that later in 2022, it will offer additional features that could help customers avoid overdrafts, such as a 24-hour grace period before charging fees.
There are some banks, including large banks, that are getting rid of overdraft charges entirely. Wells Fargo is keeping its fee. By understanding the bank's policies, though, you can know how Wells Fargo is likely to treat an overdraft transaction and learn how to avoid charges.
APY
0.50%
With $0 min. balance for APY
Bonus
$300
Earn up to $300 with direct deposit. Terms apply.
Get more smart money moves – straight to your inbox
Sign up and we'll send you Nerdy articles about the money topics that matter most to you along with other ways to help you get more from your money.