Can You Use a Credit Card at a Dispensary?
Marijuana remains illegal at the federal level, so the major payment networks don't allow cannabis purchases with a credit card. Not all dispensaries are playing by the rules, though.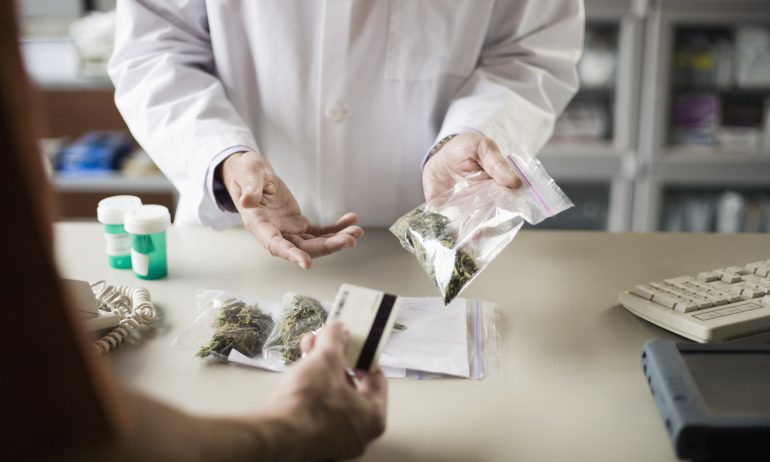 Many or all of the products featured here are from our partners who compensate us. This influences which products we write about and where and how the product appears on a page. However, this does not influence our evaluations. Our opinions are our own. Here is a list of our partners and here's how we make money.
Buying and selling marijuana used to be an activity that took place only in the underground economy. But with the legalization of recreational cannabis in 23 states and Washington, D.C., this business is now being conducted out in the open.
This transparency has raised practical questions regarding what payment methods are accepted at dispensaries. Credit cards largely can't be used to purchase marijuana, but cannabis retailers have found ways — some more legal than others — that allow their customers to pay with credit.
Here's what you need to know about buying cannabis with a credit card.
Payment networks say marijuana purchases are illegal
Whenever you swipe your credit, the purchase runs through a payment network. The big four networks are Visa, Mastercard, Discover and American Express, and most transactions are processed through them. The processor then communicates with the bank that issued the card (such as Citi or Capital One) to send the funds for the purchase to the merchant. The issuer then bills you for the transaction on your credit card statement.
According to the current rules of the major credit card processors, purchasing illegal services or substances (which, marijuana still is, under federal law) using their networks isn't allowed. This means that purchasing cannabis with a credit card technically isn't possible, even if the bank that's actually paying the merchant for the transaction agrees to it.
Purchasing weed with a debit card isn't a guarantee, either. Some dispensaries use a "cashless ATM" method to facilitate debit card transactions in which a purchase is disguised as a cash withdrawal. However, Visa said in 2021 that doing so was prohibited and it would be cracking down on merchants using the practice. And in July 2023, Mastercard asked financial institutions to stop accepting cannabis purchases on its debit cards.
Loopholes may allow customers to pay with credit
Dispensaries have found workarounds that enable customers to pay with a credit card. For now, though, cannabis stores tend to transact exclusively in cash or debit cards, so before you head to a dispensary, call and ask about accepted payment methods. And even if you can swipe your credit card at the dispensary, it doesn't mean you should: You'll likely get hit with extra fees.
If you're at a dispensary that accepts credit, it might be using one of these workarounds.
Third-party payment processor
A third-party payment processing service can accommodate credit-paying customers. The actual payment logistics will vary depending on the processor the dispensary uses, but in general, this method is contactless and may require creating an account with the processor or downloading an app.
Note that this payment method can be expensive because of the transaction fees from the third-party platform on top of those charged by the card issuer.
A merchant category code (MCC) is another important component of a credit card transaction. An MCC is a four-digit number assigned by a payment network that classifies the type of business or type of transaction. For example, the MCC 5912 denotes drugstores and pharmacies that sell prescription and nonprescription drugs — and cannabis.
To get around this classification system, some dispensaries have created literal storefronts to hide the true nature of their business. Dispensaries have been found masquerading as restaurants or knickknack shops.
However, payment networks frown upon the practice of fronting behind an MCC that doesn't denote cannabis sales, and they may take compliance action against businesses that do so.
Cannabis-specific credit cards
Companies like SuperNet have teamed up with dispensaries to facilitate credit card payments. SuperNet issues credit cards that run on the SuperNet payment network instead of the four major networks such as Visa and Mastercard.
Dispensaries like Columbia Care have issued their own credit card for use at their stores.
Because these credit cards run on smaller payment networks, their acceptance will likely be limited to a single dispensary or two. But that may not be a problem if you only opened the credit card for cannabis purchases.
Find the right credit card for you.
Whether you want to pay less interest or earn more rewards, the right card's out there. Just answer a few questions and we'll narrow the search for you.
Get Started
Get more smart money moves – straight to your inbox
Sign up and we'll send you Nerdy articles about the money topics that matter most to you along with other ways to help you get more from your money.