Flowchart: Find the Right Low-Interest Credit Card
If you're more focused on paying off debt than earning rewards, keep these four factors in mind before jumping on a low-interest deal.
Many or all of the products featured here are from our partners who compensate us. This may influence which products we write about and where and how the product appears on a page. However, this does not influence our evaluations. Our opinions are our own. Here is a list of our partners and here's how we make money.
Low credit card interest rates are the new rewards — especially when you're carrying a balance. If you're more focused on paying off debt than earning free trips, keep these four factors in mind before jumping on a low-interest deal:
Balance transfers. Find out if you can save by moving old credit card debt to a new card.

The magical 0%. Before going for a 0% offer, think about how long you plan to carry a balance and consider the ongoing interest rate.

Rewards. Sometimes, these aren't a priority.

Leniency. If you miss a payment here and there, you might want a more forgiving card.
We'll break it all down for you here: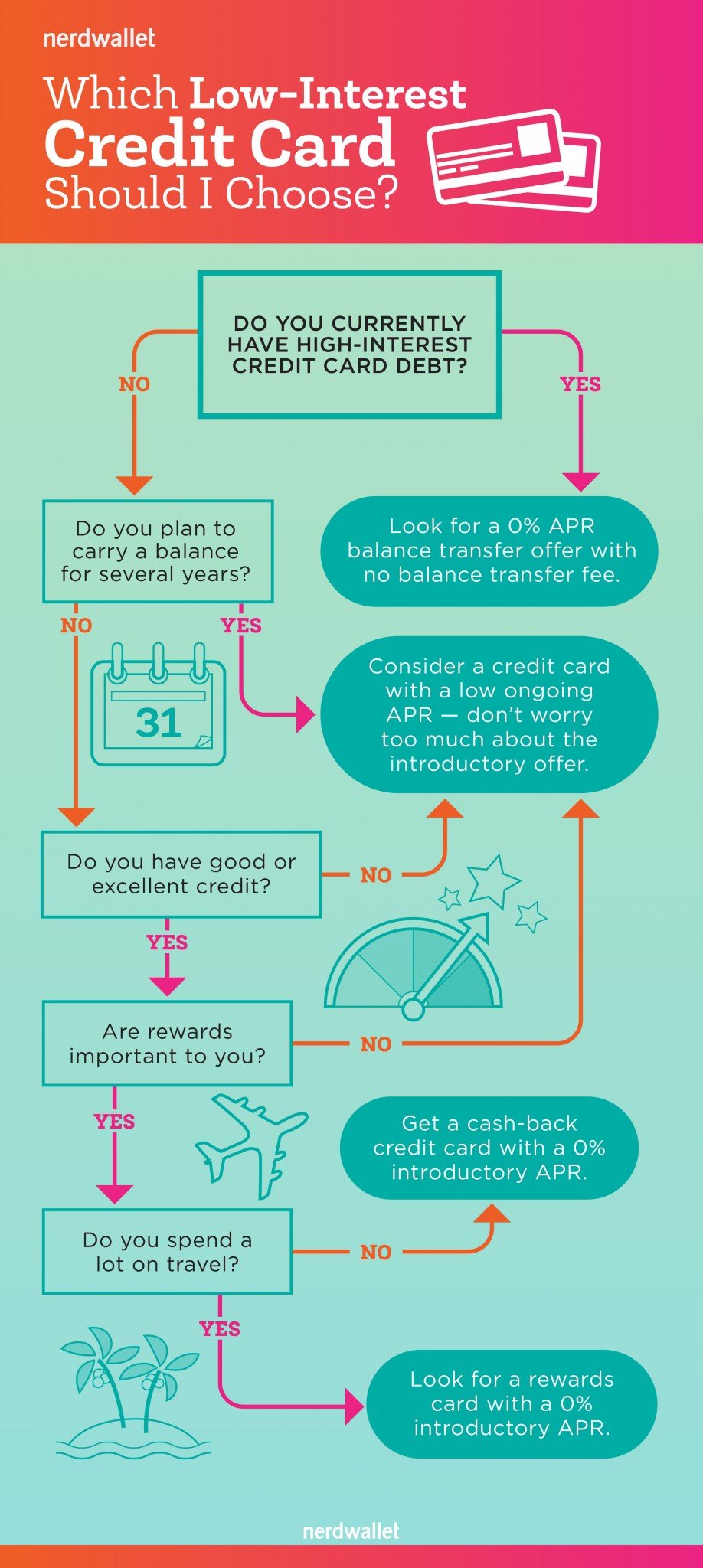 When a low-interest credit card makes sense
Low-interest credit cards make the most sense if you frequently carry a balance. This could be the case if you:
Have an irregular income.

Are paying off several big purchases.

Don't always have enough savings to cover unpredictable expenses.
If you never carry a balance, you probably don't pay interest if your card has a standard grace period. In this case, you might be better off with looking for cards with high rewards rates instead.
The credit caveat: Without good or excellent credit, you won't be able to get the best 0% APR offers. If you have average credit, consider looking for low ongoing APR credit cards instead.
If you already have high-interest credit card debt, you might want to move that balance to a low-interest credit card so it's more affordable to pay off. This is called a balance transfer. Before applying for a balance transfer credit card, consider these things:
APR: When comparing balance transfer offers, look at a card's balance transfer APR, not the purchase APR. Often, these two interest rates aren't the same.

Fees: On cards with balance transfer fees, you'll generally have to pay a 3% to 5% fee to move debt from one account to another. If you can find a card that doesn't charge this fee and offers 0% APR on balance transfers, like this one, you'll save a lot more.

Time needed: If you can pay off your balance within a year or two, many balance transfer credit cards can help you do that at a minimal cost. If you need a lot more time — say, several years — you might want to consider talking out a personal debt consolidation loan instead.
If you're on the market for a balance transfer credit card, don't sweat the rewards too much. While many rewards cards allow you to transfer balances, they generally come with extremely high APRs and fees, making it difficult for you to come out ahead on the deal. Typically, you won't earn any rewards for making a balance transfer, either. No-fee, no-interest deals might save you more in the long run.
Getting a credit card with 0% introductory APR might seem like an unbeatable offer. But when that enchanting interest-free period is over, you'll be left with an ongoing APR, and not always a low one. If the ongoing APR on a 0% APR card is high and you're planning on carrying a balance long-term, you might be better off with a card with no 0% APR offer and a lower ongoing APR.
Take two cards, for example. One has an ongoing purchase APR of 6%, and the other has 12 months of 0% purchase APR and an ongoing purchase APR of 10%.
If you were going to carry a big purchase balance for 10 years, the true APR cost on the 0% card would be 9%, making the interest payments more expensive than the 6% APR card. But if you were going to pay your balance off more quickly — say, in two years or less — the 0% APR offer would make more sense.
If you're always carrying a balance, rewards likely aren't your first concern. But if you're expecting to carry a balance for only a few months — say, to pay off a few big purchases — you might want to think about getting a card that will let you earn rewards and give you a 0% introductory offer. This way, you can get more long-term value out of your card.
In some cases, these 0% APR rewards cards might have annual fees. Before signing up for one of these deals, make sure you'd be able to earn enough in rewards to make it worth the cost. Say a card offered 5% cash back on groceries and charged a $100 annual fee. That would be an incredible deal if you spent $10,000 on groceries every year and, in the long-term, could pay off your balances in full each month — you'd come out $400 ahead. You'd lose money on the deal if you spent $2,000 or less on groceries in a year, though.
If you're looking for a 0% APR offer to hold onto for good, a card without an annual fee that offers more flexible redemptions might be a better fit.
To keep your credit score high, it's always best to make on-time payments — but if you occasionally miss those deadlines, you might want to look for a credit card that will cut you some slack. Consider a low-interest credit card that doesn't charge late fees or penalty APRs, like this one. Some cards, like this one, also waive the first late fee. If these features could save you $35 or more, they're worth considering.
If you're still wondering which low-interest credit card is the best fit for you, consider reading more recommendations and seeing how the offers stack up on NerdWallet's credit card comparison tool. By putting your spending needs first — both long-term and short-term — you might have an easier time finding that low- or no-interest keeper.