Can't Get a Credit Card? Try These Alternative Options
Startup issuers are exploring new ways of evaluating creditworthiness beyond FICO scores and credit history.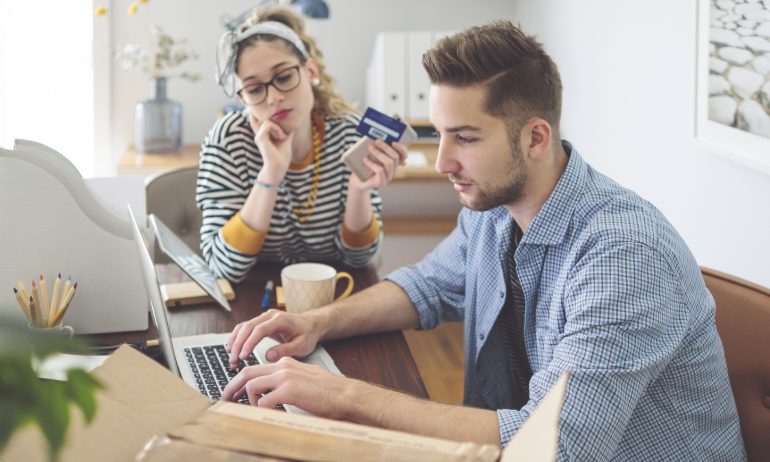 Many or all of the products featured here are from our partners who compensate us. This may influence which products we write about and where and how the product appears on a page. However, this does not influence our evaluations. Our opinions are our own. Here is a list of our partners and here's how we make money.
Getting a credit card without a credit history can present many obstacles if you can't meet the requirements imposed by the traditional scoring model.  are sometimes an option, but they require an upfront deposit and might not work for everyone.
Alternative credit card issuers are trying to bridge this gap by using their own nontraditional underwriting standards to assess creditworthiness based on factors such as income, employment and bank account information. Some of these products function like traditional credit cards, while others are more akin to .
But the point is that even if you have bad credit, limited credit or no credit at all, you have options — and some may be .
Consider these alternative credit cards.
Petal's issuing bank, , might not rely solely on credit scores to determine who qualifies for its credit card. It can use a "machine-learning" underwriting model that considers such things as applicants' income, expenses, savings and debts. The  reports your payments to the three major credit bureaus: TransUnion, Equifax and Experian. These companies record the information used to calculate your credit scores.
The card does not require a security deposit and even . The annual fee is , and you won't be charged late fees, over-limit fees or foreign transaction fees. (The card does not allow cash advances or balance transfers.)
You must be a U.S. resident with a valid Social Security number or an to qualify.
The requires that you have some credit history established, at least limited or fair credit. It weighs that factor along with your income and debt to determine eligibility. It, too, is issued by . (Note that this product isn't available in Colorado, Iowa, Vermont, West Virginia or Wisconsin.)
For a annual fee, you'll get a card that reports to : TransUnion, Equifax and Experian. The AvantCard doesn't earn rewards, but it will save you money on foreign transaction fees, and you don't have to pay a security deposit. As a Mastercard, it will also be widely accepted by merchants abroad. Credit limits can go as high as $1,000, which is on the lower end compared with other alternative credit cards. But the company may review your account periodically to determine your eligibility for a higher credit limit.
It's not a bad choice for those with thin credit files, but if you have at least , better options are available.
The , issued by Sutton Bank, is ideal for those with no credit or poor credit (FICO scores of 629 or below). It's a virtual card that allows you to build credit while paying for qualifying monthly subscriptions that include eligible bills, TV, music and other streaming services. It's one of the few . Instead, the company has its own proprietary technology that looks at income to evaluate creditworthiness. To weigh that information, Grow Credit requires that you link a bank account.
You can choose one of three membership plans, depending on eligibility. Each one has a different price point, a different monthly spending limit, and different subscriptions that are covered. For instance, the free membership plan allows you to build credit with subscriptions like Netflix, Pandora, Spotify, Amazon Prime and others. The paid membership plans include "premium" subscriptions, allowing you to build credit with Verizon Wireless, AT&T, Sprint or T-Mobile payments, among others.
The  functions like a credit card in some ways, but you're not free to spend on any purchase. You can charge only those specific subscription transactions. The line of credit itself is small and is technically an installment loan for credit-building purposes. It's reported that way to all three major credit bureaus.
The card doesn't allow you to carry a balance from month to month either, and as a result it doesn't charge interest or fees (beyond what you might owe for one of the paid membership plans).
The Chime Credit Builder Visa Secured Credit Card offers some of the buffers you may need when you're getting a first or second chance at building credit. And while technically it's a secured card, it lacks some of the obstacles that come with many products in that class.
For instance, you don't have to undergo a or pay a minimum security deposit upfront. Chime can look at income to determine whether you're eligible for the card. To do this, it requires you to have a Chime Spending Account and at least $200 in direct deposits made to that account within the past 365 days.
The money you move from that Chime Spending Account to the Credit Builder secured account determines the amount you can spend with the card. That money can also be used to pay off your balance. When you make a payment, it's reported to all three major credit bureaus, which allows you to establish credit.
Also unlike many other secured credit cards, this card doesn't allow you to carry a balance from one month to another, and it doesn't charge interest or fees.
The , created by San Francisco-based startup TomoCredit, never conducts a credit check, even when reviewing an application. Instead, the company's proprietary technology weighs many data points including your income, or income potential, and your account balances. (You must link your bank account.) The bank that issues the card, New York-based Community Federal Savings Bank, uses this data to determine whether you're eligible.
You'll earn rewards, and there's no security deposit, annual fee or even APR — the doesn't let you carry a balance. If you lack a Social Security number or Individual Taxpayer Identification Number, it's possible to apply with a passport.
The reports payments to the three major credit bureaus.
The is an excellent option for students who can't qualify for a credit card because they lack a U.S. credit history.
without a Social Security number. Deserve uses its own underwriting model to determine creditworthiness for the card, evaluating things like financial documents, contact information, income and U.S. bank account balances to determine your ability to pay.
The  earns an unlimited 1% cash back on all purchases, a statement credit for a 12-month Amazon Prime Student subscription (up to $59) and a $30 statement credit every time you refer a friend who qualifies for the card. The card also reports to all three credit bureaus. The annual fee is .
As a Mastercard, it also makes an ideal travel companion, with broad international acceptance. There are no foreign transaction fees.
The is a decent pick for those who can't qualify for traditional credit cards because they lack a Social Security number and credit history. Oportun's proprietary technology can look beyond traditional credit scores and explore alternative factors like rent payments, payment history, income, cash flow and more
To qualify without a Social Security number, you'll have to verify a U.S. address in one of the states where the card is offered. (The card was not available in Colorado, Iowa, Maryland, Washington, D.C., West Virginia and Wisconsin.) Oportun will also accept an unexpired government-issued photo ID to validate identity.
If approved, you could get an initial credit limit of up to $1,000. The card doesn't earn rewards, but you'll establish credit since it reports payments to all three major credit bureaus.
could also be options for immigrants and expats in the United States with no Social Security number and no credit history here.
Typically, any credit history you may have built in your native country will not follow you to the U.S. But in late 2019, AmEx teamed up with international credit-reporting startup Nova Credit to that can translate eligible international credit reports from qualifying countries into U.S.-equivalent credit reports.
The feature is currently limited to credit reports from qualifying credit bureaus in Australia, Canada, India, Mexico and the United Kingdom.
Other alternative credit card options may also be on the horizon. It's still a relatively new market with plenty of room for other companies. The, for example, currently has a waitlist and has not yet officially launched. It vows to place more value on your income when evaluating creditworthiness. Once it starts accepting applications, it will conduct only a soft pull on credit reports instead of a hard inquiry.