What to Do With Your Student Credit Card When You Graduate
Even if you don't use your student credit card often, keeping it open and active after graduation has benefits. And if you want a better card, request an upgrade.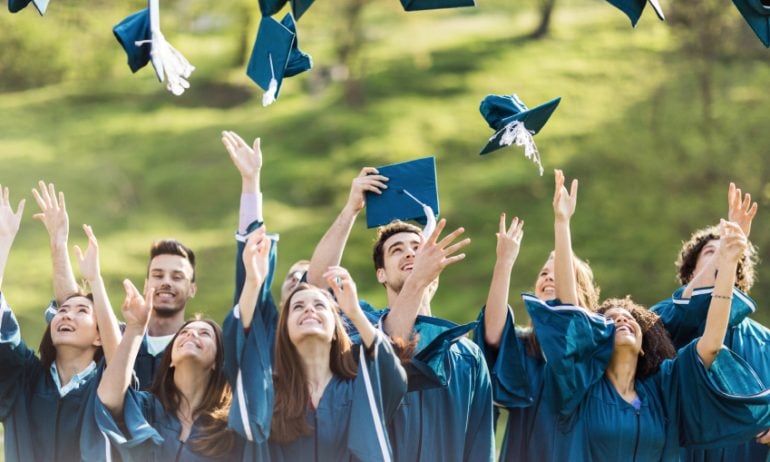 Many or all of the products featured here are from our partners who compensate us. This may influence which products we write about and where and how the product appears on a page. However, this does not influence our evaluations. Our opinions are our own. Here is a list of our partners and here's how we make money.
What happens to your student credit card when you graduate? Nothing — at least not automatically.
You do have options, though:
Stand pat: Keep the card and either continue using it as normal or store it in a sock drawer.

Cancel the card: You can then either move on with your life or apply for a brand-new (non-student) credit card outright.

Request an upgrade of your existing account: This is known as a "product change," and it can allow you to simply switch to a better credit card from the same issuing bank.
In most cases, you're better off if you keep your card account open one way or another, and often the best way to do that is with option No. 3. Here's why.
How standing pat with a student card can hurt you
As you enter the so-called real world, you may be moving on to a new city, a new job or a new apartment. With all the changes that are happening, using a "student" credit card might make you feel like you haven't finished the transition. But there are practical reasons for making a change, too:
You may now qualify for higher credit limits: When you applied for your student credit card, your credit limit was likely pretty low because you were new to credit and didn't have much of an income. On one hand, a low limit makes it easier to stay out of debt. But on the other, it puts you more at risk of having a high credit utilization ratio, which can hurt your credit scores. Now that you've spent some time establishing a good credit history and have a full-time income, it's likely you'll qualify for a better card with a higher limit. Not only will this give you greater spending flexibility, but it will also help you keep your utilization ratio low.

You may now qualify for better rewards: Some student credit cards have decent rewards for your everyday spending. But now — because you've established good credit behaviors and you earn more money — you have a greater chance at qualifying for a rewards credit card with far richer ongoing incentives and a big sign-up bonus.

You may now qualify to get your security deposit back or stop paying an annual fee: Most good student credit cards are unsecured products, meaning they don't require a security deposit upfront, and the best ones don't charge annual fees either. But if yours does and you've spent the past few years cultivating responsible credit habits, then you've likely already paid your dues — literally. It's time to graduate.
If you aren't in control of your spending, having a credit card with a higher limit could get you into debt. One way to combat the urge to overspend is to keep a monthly budget. However, if you feel like the temptation would still be too strong, it may be best to stick with the card you already have.
How canceling a student card can hurt you
Even if you're tired of looking at your student credit card and you're coveting some of the above benefits, it may not make sense to close your account outright:
Your credit scores can suffer: One of the factors that goes into your credit scores is how long your credit accounts have been open. The longer you keep a credit card open, the better. So if you cancel your student credit card outright, especially if it's a long-serving account, that can ding your scores. And if the card also has a decent existing credit limit, then that, too, is a consideration because losing that line of credit can affect your credit utilization — which, as noted above, is also a factor in your scores. Keeping the account open is generally the safest bet, assuming you're not being charged an annual fee to do so. You don't even have to use the card all that often; set it as an automatic payment method for a small monthly bill, pay that charge back immediately, and lock the physical card in a safe if you want to.

You may lose rewards or useful benefits: You may not want to part ways with some of the rewards or perks that your student credit card offers. For example, you may get bonus rewards on purchases you make frequently, or your card may be tied to an online bonus mall where you can score big discounts. If this is the case, adding a second card with different bonus rewards categories and features may help you maximize your rewards.
How upgrading a student card solves some of these problems
Calling the number on the back of your card and requesting a product change can offer the best of all worlds:
You generally avoid closing a long-serving account, which preserves your credit scores: The process can differ depending on the card issuer, but typically when you request an upgrade or product change, your existing account isn't closed but simply converted. In most cases, you even retain the same account number, which is just ported over to the new product. Hence, you also usually retain both your credit limit and your length of credit history.

You generally avoid a "hard pull" on your credit report: When you apply for a new credit card outright, the issuer conducts a hard inquiry on your credit report. This "hard pull" can temporarily lower your credit scores, usually by a few points. But in the case of a product change, because you're not opening up a brand-new account, there's typically no hard pull, hence there's typically no immediate negative effect on your credit scores.

You get a better card overall, with little legwork: Whether that means richer rewards, better perks, no annual fee, a higher credit limit or all of the above, it can be a win-win all around.
In short, for recent college grads, upgrading your student credit card is usually the best call. It may not always be possible, depending on the issuer, but it should generally be your first move.
Find the right credit card for you.
Whether you want to pay less interest or earn more rewards, the right card's out there. Just answer a few questions and we'll narrow the search for you.
Get Started
Get more smart money moves – straight to your inbox
Sign up and we'll send you Nerdy articles about the money topics that matter most to you along with other ways to help you get more from your money.