The Horizon Gold Card Isn't Worth Your Time or Money
What seems like an easy way to build credit is actually a store card with high fees you can use at only one place.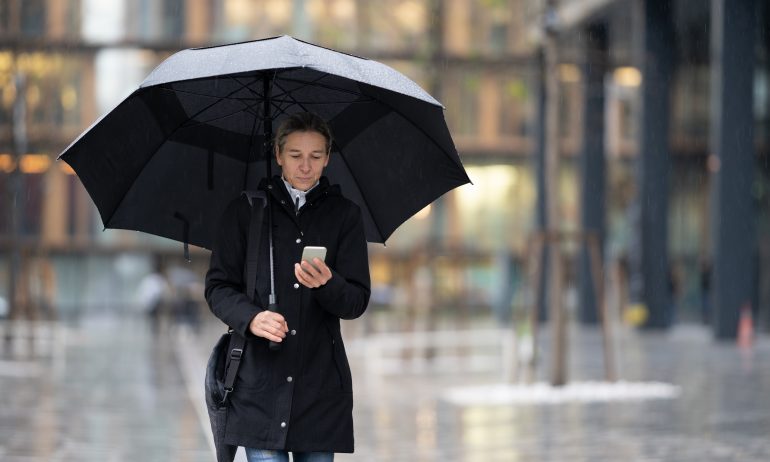 Many or all of the products featured here are from our partners who compensate us. This may influence which products we write about and where and how the product appears on a page. However, this does not influence our evaluations. Our opinions are our own. Here is a list of our partners and here's how we make money.
You might think that a plastic card with "Horizon Gold" emblazoned on the front — along with the cardholder's name, 16-digit account number and expiration date — would be a typical credit card.
After all, the card's website advertises an unsecured $500 credit limit, not to mention credit bureau reporting, no employment or credit check and a "fast and easy application." If you have limited or bad credit, it sounds ideal.
But not all that is gold glitters when you take a closer look. The Horizon Gold card isn't a traditional credit card you can use for day-to-day purchases, but rather a store card — an extremely expensive one — that can be used with only a single online retailer. In short, it's not worth your time or money, nor is it the best option for building credit.
The Horizon Gold's terms and conditions make its limitations pretty clear:
"Horizon Card Services is not a credit services organization, banking institution or insurance company, nor is it affiliated with any credit services organization, banking or insurance institution. This product is not a Visa, Mastercard, or debit card. Horizon Card Services account is a line of credit that can be used by an account holder to shop exclusively at our online shopping website www.thehorizonoutlet.com. … Horizon Card Services does not facilitate, nor provide assistance in obtaining credit from any other credit-issuing entities. Horizon Card Services does not charge an advanced fee to establish credit, nor does Horizon Card Services attempt, or claim to attempt to repair a customer's credit history."
The benefits aren't all that beneficial
You can use the Horizon Gold card only to shop at the Horizon Outlet online store. (This is also true of the NetFirst Platinum card, another card marketed by Horizon Card Services.) For that privilege, you pay $24.95 a month for the Horizon Gold "Membership/Benefits Plan." That comes out to $299.40 a year, or far more than you'd pay for a good secured credit card.
In fact, that kind of annual cost rivals what you'd pay for an actual premium credit card from a major issuer, laden with all manner of perks and running on the Visa, Mastercard, American Express or Discover payment network. But you won't get anything like that from the Horizon Gold card.
What you will get with your membership: a $500 limit, and benefits including privacy protection, a prescription benefit, legal assistance and a roadside assistance plan.
Privacy protection plan: This benefit provides you with a credit report, which contains the information that goes into calculating your credit scores. However, you're already generally entitled to a free credit report once a year from each of the three major credit bureaus at AnnualCreditReport.com, the federally authorized site. (And through April 2021, you can get a free credit report weekly from each of the three bureaus.)

Prescription benefit: The "My Universal RX" benefit claims to save you up to 40% of the cost of "covered prescription medications," but you can't access the list of qualified medications until you sign up for the card.

Roadside protection: You're allowed "3 service calls or towing requests up to 15 miles not to exceed the operator cost of $50" annually. Keep in mind that coverage includes only one call in a 30-day period.

Legal assistance plan: With this benefit, you have access to one 30-minute consultation with "a legal professional in your area specializing in your area of law interest."
These benefits are available only to the person whose name is on the account. (You may add family members, but you have to call customer service to get pricing.) So if, say, your teenage son is driving your car and it breaks down or runs out of gas, he can't call for assistance unless he's been added to the account.
It's not necessarily ideal for building credit either
The Horizon Gold could help in this area, but maybe not as much as you might think.
For starters, it reports to "at least one major credit bureau" — but not all three bureaus, like many true credit cards do. This matters because you generally don't know what bureau a future potential lender might check when determining your creditworthiness. If the lender checks a bureau that Horizon Gold hasn't reported to, you may be out of luck.
Moreover, the Horizon Gold is reported as a charge card, rather than a credit card. This distinction is important because charge cards are often excluded from your credit utilization ratio, or the percentage of your credit you're using at any given time, while credit cards are included. Credit utilization is the second-biggest factor impacting your credit scores.
That said, charge cards can still impact your credit. On-time payments are highly important to good credit health — paying on time is the most important thing you can do for your scores — and length of credit history helps, too, if you keep the card open for a long time (which you might not want to do in this case because of its expensive fees).
Fees abound with the Horizon Gold
On top of the nearly $300 a year in membership fees, the Horizon Gold card has a slew of other costs. The website lists them in a disclosure grid similar to a credit card's Schumer box.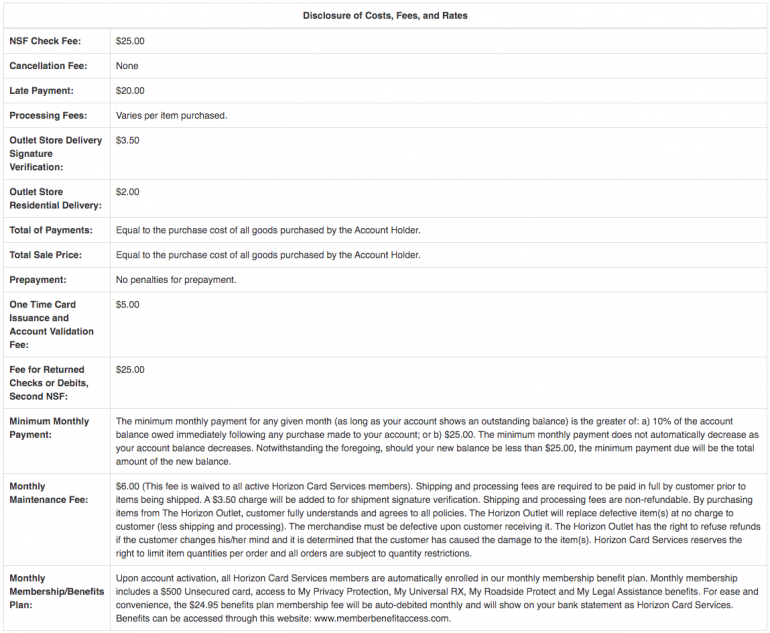 According to complaints to the Better Business Bureau, customers who attempted to cancel their Horizon Gold account ran into difficulties getting fees refunded when they did so.
Costly shipping fees can't be paid using your Horizon Gold card
The Horizon Outlet offers a range of merchandise, including apparel, home goods, electronics and financial services. The prices seem comparable with those at traditional discount stores, but you have to pay shipping costs, plus a $2 delivery fee and a $3.50 fee to verify your signature at delivery.
Let's talk about those shipping expenses. In a web search of complaints, shoppers at Horizon Outlet reported exorbitant shipping costs. What's more, they can't be paid with your Horizon Gold card. You have to use a Visa or Mastercard — which the Horizon Gold is not — to cover shipping costs, which may be difficult for those who applied for the Horizon Gold because they don't have a traditional credit card.
Better options are out there
For many, the best way to build credit is with a secured credit card. With these cards, you deposit money — starting at around $200 — and get a credit line generally for the same amount. The deposit reduces risk to the bank, and you make your payments as you would with any other credit card. After you improve your credit and close the account in good standing to move on to an unsecured credit card, you'll receive that cash deposit back. Some issuers even offer upgrade paths, meaning you can "graduate" to a traditional unsecured card without having to close the account. (There is no such option with the Horizon Gold card.)
Secured cards operate the same as any other credit card, meaning you can use them anywhere, not just at a single retailer. They're offered by reputable issuers that will report your credit activity to the credit bureaus. It's important to know that you will accrue interest if you maintain a balance on your secured credit card, so you should aim to pay it off in full each month.
It may seem daunting at first to save up a deposit for a secured credit card, but over time, it's much cheaper than paying high ongoing fees for an unsecured card for bad credit. (Remember that you'll pay those fees every year and, unlike with a security deposit, you can't get that money back.)
Alternately, if a security deposit is out of reach, you may want to explore so-called alternative credit cards, many of which don't require upfront deposits and use their own nontraditional underwriting standards, such as income and employment information, to determine creditworthiness.
You can evaluate how many of these cards compare with each other by visiting NerdWallet's roundup of the best credit cards.
Find the right credit card for you.
Whether you want to pay less interest or earn more rewards, the right card's out there. Just answer a few questions and we'll narrow the search for you.
Get Started
Get more smart money moves – straight to your inbox
Sign up and we'll send you Nerdy articles about the money topics that matter most to you along with other ways to help you get more from your money.