Should You Open a Store Credit Card for the One-Time Discount?
The discounts can be tempting, but make sure you understand all the terms before you jump on your favorite store's credit card.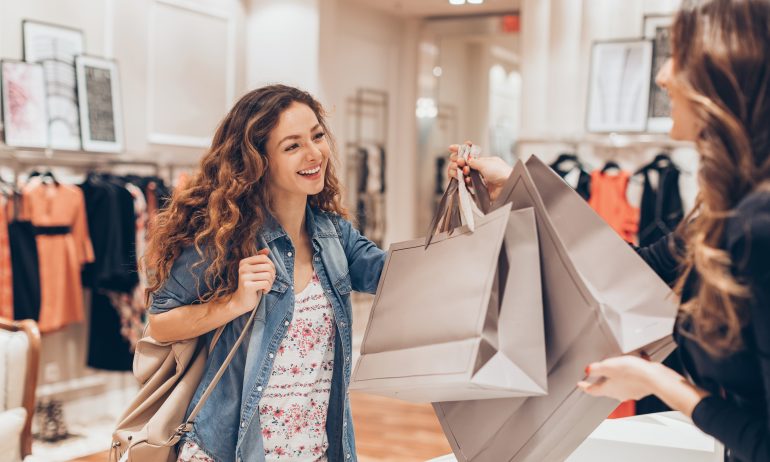 Many or all of the products featured here are from our partners who compensate us. This may influence which products we write about and where and how the product appears on a page. However, this does not influence our evaluations. Our opinions are our own. Here is a list of our partners and here's how we make money.
As you did your holiday shopping in recent years, you were probably deluged with offers to save money by signing up for a store's credit card. Sales associates often offer customers a one-time discount of 10-15% for applying – and it's working. According to Equifax, Americans currently have more than 183 million retail-issued credit cards. If you're making a large purchase, the savings can be tempting, but are store credit cards a good idea in the long run? It depends.
Why you shouldn't sign up
Unfortunately, no matter how good the discount sounds, store credit cards are usually a better deal for the issuer than they are for you. Consider:
The terms. While the average interest rate for an American credit card is around 15%, those for retail credit cards are usually upwards of 20%. Many also have a lower-than-average credit limit, and some can only be used at the store that issued them.

Your credit score. Every time you apply for a new card, your credit score takes a small hit. If you have good credit otherwise, this may not affect you much, unless you apply for several cards close together. However, your credit may be damaged in other ways. For example, because of their lower credit limits, store cards could drive up your debt-to-credit ratio.

Temptation. You may sign up for a store credit card for savings, but if it leads you to spend more than you intended – either on the day you sign up, or subsequently – is it worth it? If you can't keep an eye on your purchases as closely with a store credit card as you can without one, you might be better off without.
As always, opening a credit card should not be done on impulse. Review all the factors carefully before deciding whether or not it's worthwhile; don't let your sales associate pressure you. After all, would you make any other important financial decisions in a busy check-out line? 
If you're generally financially responsible – paying your balance in full each month and spending within your means – having a credit card issued by one or two of your favorite stores may not be a bad idea. Many companies offer exclusive discounts or generous financing terms throughout the year to those holding their cards. And if your purchase is large enough – say, over a thousand dollars – even a one-time discount could save you a lot of money, as long as you don't misuse the card in the future. 
Moreover, if you want to improve your credit, department store cards can be more accessible than other cards. They also add variety to the types of loans you have out, as well as raise your overall credit limit and increase the number of open accounts.
Just be sure not to sign up for cards at too many "favorite" stores. Having many credit accounts increases the risk of overspending if you use them, and the risk of identity theft if you don't. 
There's no right or wrong answer when it comes to store credit cards. If it's a bad idea for you to sign up for another card, making it a retail-issued card just makes it worse. But if you have good credit and can take advantage of the discounts that come with the card without going overboard, it might be useful. You may also be better off signing up for a standard rewards card, though, so evaluate all of your options before taking the plunge.