Best Cell Phone Plans for Seniors 2022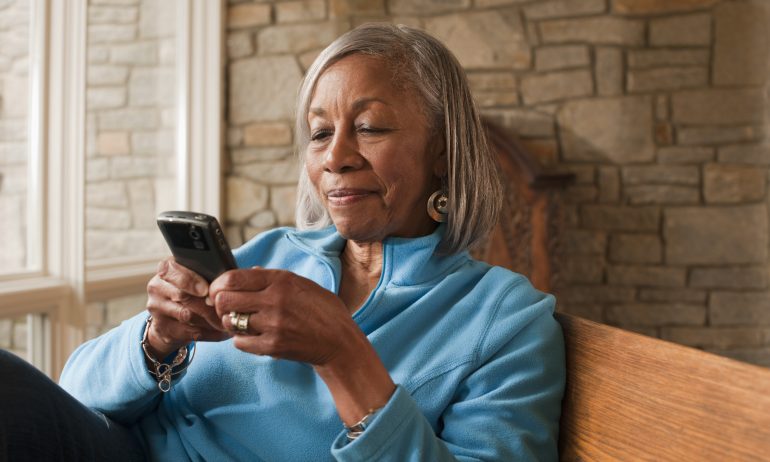 Many or all of the products featured here are from our partners who compensate us. This influences which products we write about and where and how the product appears on a page. However, this does not influence our evaluations. Our opinions are our own. Here is a list of our partners and here's how we make money.
Unlimited high-speed data, video streaming and mobile hotspot are now standard for most cell phone plans. But those features don't always meet the needs of senior citizens, who may not use — or want to pay for — all the extras.
Take heart: There are cell phone plans designed to help seniors stay connected without committing large chunks of their monthly income.
We've highlighted several low-cost options. Note that if you're on Medicaid, food stamps/SNAP, Supplemental Security Income or other government programs, you may qualify for subsidized plans from some of these companies through the federal Lifeline program.
Pay-as-you-go plans for seniors
These plans from Ultra Mobile and Tracfone are good for people who don't really want a cell phone, but would like the peace of mind that comes with knowing they can reach family or a medical professional in an emergency.
Plan at a glance: Includes 100 minutes, 100 texts and 100MB of 4G LTE data; additional usage costs 3 cents per minute or MB of data and one cent per message.

Things to know: This plan is as basic as it gets — it's also as cheap as it gets. The PayGo plan is offered through Ultra Mobile, but it runs on T-Mobile's network and is available at select T-Mobile stores. Incoming and outgoing texts and calls count toward your 100-minute and 100-text maximums, including calls to check your voicemail. You'll need to top up your account every 90 days to keep your account and phone number active.
Plan at a glance: Includes 30 airtime minutes to use for talk, text and web time in any combination over a 30-day period.

Things to know: You can split the plan's 30-minute allotment between talk, text and data however you prefer. Any unused minutes roll over to the next service period, as long as you add more airtime before the 30 days are up to keep your account active.
Flexible plans for seniors
These flexible plans are a great alternative to traditional pay-as-you-go service. You pay a set monthly fee each month, but usage is billed in tiers. If you use a lot of data one month but none the next, your bill will reflect that.
Price: Base price is $10 per month, with data billed separately.

At a glance: Unlimited talk and text; data is available at an extra cost based on usage.

Things to know: The $10 per month price is based on the assumption that you don't use data at all. If you do use data, you'll pay an extra $5 per GB. Ting contracts with T-Mobile and Verizon, so you'd use one of those networks.
Plan name: US Mobile build-your-own plan.

Price: Base price is $2 per month, plus the price for your selected tier of minutes, data and/or text messages.

At a glance: Usage is divided into levels, and you select the number of minutes, texts and data you want.

Things to know: Only want text messages? You can do that with US Mobile. You can also change your plan each month. US Mobile is a prepaid carrier, so you pay for your plan at the start of the month. You can build your own plan, selecting the number of minutes, texts and data you want from the available tiers, which are set by the carrier. Tiers start at $2 for 75 minutes, $1.50 for 50 texts and $1.50 for 50MB of data. US Mobile runs on Verizon and T-Mobile networks.
Cell phone plans for mobile-savvy seniors
If you were tech-savvy at age 64, you'll still be tech-savvy at 65; no need to turn in your iPhone when you officially become a senior. These options let you stay connected without overpaying for a bloated plan.
Plan name: Boost Mobile Unlimited.

Price (monthly): $50 (includes taxes and fees).

At a glance: Unlimited talk, text and data.

Things to know: An unlimited plan with none of the commitments. Video streaming is in standard definition; you can upgrade to HD streaming for $10 per month. High-speed data is capped at 35GB per month. The plan includes 12GB of high-speed mobile hotspot data. Boost, formerly owned by Sprint, was sold to Dish Network as part of the Sprint and T-Mobile merger.
Plan name: T-Mobile Essentials 55+.

Price (monthly): $45 per month; $40 with autopay discount.

At a glance: Unlimited talk, text and data.

Things to know: A bargain of an unlimited plan that doesn't skimp on extras like mobile hotspot access and international texting and data roaming. T-Mobile's Essentials 55+ plan includes unlimited mobile hotspot data, but at 3G speeds, which is slightly slower than the 4G data speed you typically get on a smartphone. International features include unlimited texting while outside the U.S., plus talk, text and 2G data (read: slow) in Mexico and Canada. Unlike other T-Mobile plans, taxes and fees are not included in the price.
Emergency cell phone plan for seniors
Lively (previously GreatCall) cell phone plans are specifically for seniors. The Jitterbug, Lively's signature phone, features big buttons, a loud speaker and a bright screen with large display text. The prepaid carrier also allows you to add health services to your plan, such as the ability to speak with a live nurse or doctor; the help of a personal operator to make phone calls or add appointments to your calendar; and, at the push of a button, the aid of an Urgent Response agent who can assist you in an emergency.
Plan name: Value Talk & Text.

Plan at a glance: 300 talk minutes; no text or data included.

Things to know: It's affordable, simple and has optional health services. Despite the plan name, text messaging is a separate charge and costs 10 cents per text. Data packages are available, and required, but only if you have the Jitterbug Smart3 phone. Data plans start at $2.49 for 100MB. You can buy a Lively phone or plan via the carrier's website, over the phone, on Amazon or at select Best Buy, Rite Aid and Walgreens stores. Optional health services carry an additional cost and can be purchased as a bundle. The basic package costs $19.99 per month. Lively is owned by Best Buy and its service runs on Verizon's network.
---
We evaluated cell phone plans on monthly plan price before taxes and fees, as well as features such as health services and plan flexibility. We only considered national carriers. For pay-as-you-go plans, we prioritized a low monthly price over large minute or data packages. For mobile-savvy users, we looked at plans that included at least 1GB of data. A lower monthly price was favored over a lower price per GB.