Guide to the Best Cheap Cell Phone Plans in 2023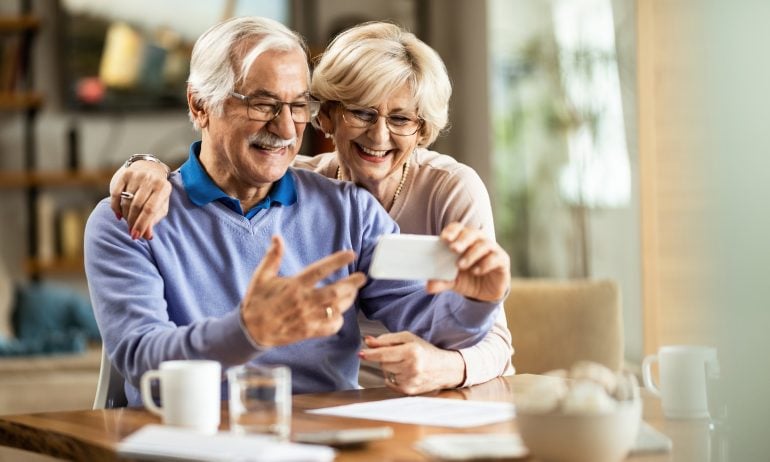 Many or all of the products featured here are from our partners who compensate us. This influences which products we write about and where and how the product appears on a page. However, this does not influence our evaluations. Our opinions are our own. Here is a list of our partners and here's how we make money.
The cheapest cell phone plans are typically prepaid, but that's not such a bad thing. You only commit to the month(s) of service you pay for upfront, there's usually no credit check to sign up and you have lots (and lots) of choice in 2023.
What's more is that these cheaper cell phone plan providers typically run on one or more of the three nationwide networks (those from Verizon, T-Mobile and AT&T). 
Cheaper plan, same nationwide coverage, what's the catch?
Prepaid plans tend to come with fewer perks (e.g., that Disney+ or Netflix subscription you probably don't need), can have less access to live customer service, and sometimes the fine print suggests network speeds may be slowed in favor of postpaid plan customers. Plus, an overwhelming number of options can make it challenging to choose a cheap plan in 2023. 
We're here to help you map out the cheap cell phone plan landscape. Spoiler alert: lots of catchy marketing and fine print make it a windy road. But stick with it, explore your options and you'll likely save money with a prepaid plan.
Note: Most prices in the lists below are before taxes and fees.
Cheap(er) cell phone plans directly from Verizon, T-Mobile and AT&T
If you want to buy cell phone service directly from one of the big three wireless companies — Verizon, T-Mobile or AT&T — try one of their prepaid plans to save over a single-line postpaid plan.
Each offers a set of prepaid plans with unlimited talk and text and varying levels of data. Plans with a set amount of data run the lowest.
AT&T prepaid: 5GB of data for $30 per month.

T-Mobile prepaid: 10GB of data for $40 per month.

Verizon prepaid: 15GB of data for $35 per month (with an autopay discount).
You may have to hunt around for the "prepaid" section of these cell phone companies' websites to bypass the flagship plans and get to cheaper stuff.
Cheap cell phone plans from brands owned by the big three
Each of the big three carriers has introduced or acquired competing sub-brands in the prepaid wireless space. Confusion aside, more competition means more opportunities for you, the consumer, to lower your cell phone bill.
Consider these popular big three-owned options. 
A talk-and-text plan with 5GB of data for $30 per month.

Note: You'll have to step up to Cricket's priciest unlimited plan to get mobile hotspot included.

A talk-and-text-only plan (no data) for $25 per month, plus plan options with data.

Note: Some plans, like the one mentioned above, are only available for purchase at a T-Mobile store.

An affordable baseline unlimited data plan, with mobile hotspot included, for $25 per month. Note: Customer service is mostly by web chat with Visible, which could make resolving issues tedious.

A super basic 30-minute call-and-text plan, starting at $9.99 per month.

Note: Tracfone has a range of other plans (more than most) that include data, too.
Total by Verizon and Connect by T-Mobile are two lesser-known wireless spinoffs that may be worth a look. The latter boasts a $10-a-month plan that includes 1,000 minutes of talk time, 1,000 texts and 1GB of data.
Cheap cell phone plans from brands that resell network service
Wireless service brands not acquired or started by Verizon, AT&T or T-Mobile typically purchase and resell service on one or more of the big three's nationwide networks.
Consider these popular options.
A talk-and-text plan with a little data (1GB) for $20 per month, and a few lower-tech device options for those who don't want a smartphone.

Note: Plans are compatible with techier iPhone and Android devices, too.

T-Mobile and U.S. Cellular (a regional network).

A pay-by-the-gig plan for $20 per month, plus $10 per gig.

Note: iPhones are compatible, but phones specifically designed for Fi, like Google's Pixel 7, switch between T-Mobile's and U.S. Cellular's networks, as well as secure Wi-Fi connections. Phones not designed for Fi use the T-Mobile network.

A talk-and-text plan with 5GB of data for $25 per month, billed for three full months upfront.

Note: If you like the service, you can get this plan down to $15 per month by renewing and paying for a full 12 months of service upfront.

A build-your-own plan that can be as low as $5 per month for 75 talk minutes, 50 texts and 50MB of data, with options to increase each category.

Note: If you're getting into the 2GB range on build your own, you'll want to check out its bundled data plans for a better price.
*Mint Mobile won't be on their own much longer; in March 2023 T-Mobile announced plans to acquire the budget carrier. Mint Mobile says the option for a $15 a month plan will remain.
There are too many more to list, actually. A few other cheap cell phone plan options that might be worth a look: Ting and Tello, as well as Ultra Mobile (which also will be acquired by T-Mobile, along with Mint, and makes a similar promise to retain its pricing). You can also explore whether you're eligible for the federal Lifeline program, which provides discounted phone service for low-income households.
Now that you can make sense of the cell phone service landscape, do yourself a favor and shop around for a cheap cell phone plan. We're pretty sure you'll find one.
---
We evaluated cell phone plans offered by popular cell phone service providers, considering brand ownership, nationwide network affiliation and monthly plan prices before taxes and fees.