Should You Use Home Equity to Pay Off Debt?
Home equity loans and HELOCs offer lower interest rates than credit cards — but they use your house as collateral, which is risky.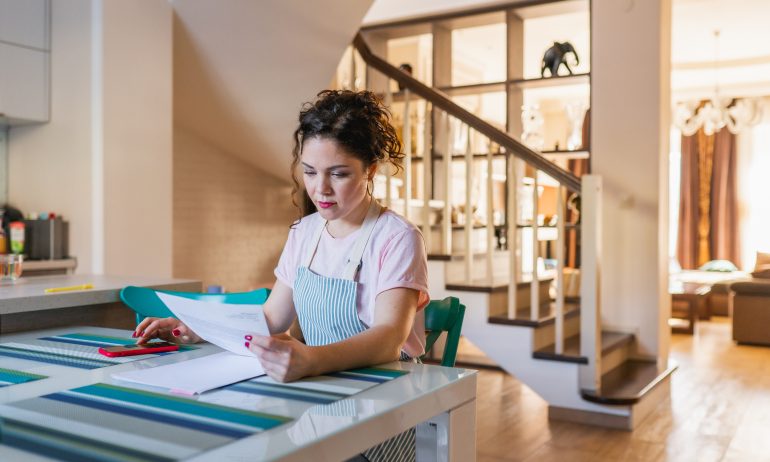 Many or all of the products featured here are from our partners who compensate us. This influences which products we write about and where and how the product appears on a page. However, this does not influence our evaluations. Our opinions are our own. Here is a list of our partners and here's how we make money.
You may be considering tapping your home equity to consolidate your credit card debt at a lower interest rate, letting you pay it off faster. Home equity loans and home equity lines of credit are two ways to access your home equity.
But there are risks involved, including losing your house to foreclosure if you can't pay. NerdWallet recommends exploring alternatives first.
Should you use home equity or try an alternative way to pay off debt?
The two questions to ask when considering any strategy to consolidate credit card debt are:
Will this plan allow me to pay off my consumer debt within five years?

Is my total debt less than half my gross annual income?
Why five years? That's the maximum time you'd be required to make payments toward Chapter 13 bankruptcy or a debt management plan, after which your debt would be fully retired. And Chapter 7 bankruptcy would wipe out your debt immediately and get you on a path toward restoring your credit.
A "no" answer to either question indicates too much debt. Your best option is to consult an attorney or credit counselor about debt relief, including debt management or bankruptcy.
Options for smaller debt loads that don't put your home at risk include:
0% balance transfer credit card: For people with good or excellent credit, issuers offer balance transfer credit cards with introductory no-interest periods from six months to two years. This is usually the cheapest option for those who qualify.
Personal loan: For most borrowers, interest rates on debt consolidation loans are lower than rates on regular credit cards. The rate you get depends on your credit history and income.
What are the pros and cons of using home equity to pay off debt?
Homeowners with good credit are likely to have other debt consolidation options that don't risk their house. A homeowner with an unstable financial situation shouldn't move unsecured debt that can be erased in bankruptcy to secured debt that can't.
Here are some of the pros and cons of using home equity to consolidate debt:
Interest rates on home equity loans and home equity lines of credit, or HELOCs, are typically lower than those on credit cards.

The fixed rates on home equity loans give you predictable payments.

You won't have to give up a low mortgage rate.
You're using your house as collateral, and you risk foreclosure if you can't pay.

If your home's value drops, you could wind up owing more than it's worth.

Repayment terms can be 10 years or longer.

The loan isn't a quick fix for dire financial situations.

Credit card debt is more easily discharged in bankruptcy.
Should you get a home equity loan or HELOC?
If you decide to proceed, consider which approach to use. Home equity loans are a type of second mortgage based on the value of your home beyond what you owe on your primary mortgage. You get a lump sum of money — often with closing costs taken out — that you can then use to pay off your debt or for any other purpose. You'll have a fixed monthly payment and a repayment schedule.
Usually offers a low, fixed rate.

Fixed loan payments can be easier to budget for than variable credit card payments.

Know your loan's exact payoff date.

Upfront closing costs can be high.

You generally need a credit score of 620 or higher.

Home equity loans are less flexible than HELOCs.
HELOCs are second mortgages structured like credit cards. Instead of getting a lump sum, you borrow against your home equity as needed — to pay off credit card balances, for example — using checks or a debit card linked to the credit line. You pay interest only on the credit you use, often at rates several percentage points lower than average rates on credit cards.
Some have no or low closing costs.

Adjustable rates mean payments could go up.

Easy access to a credit line can sabotage budgeting efforts.

Interest-only payment options can lead to deeper debt.
Get started with budget planning
Check your current spending across categories to see where you can save