How to Quit a Job After a Month
Focus on being polite but clear with your manager or supervisor.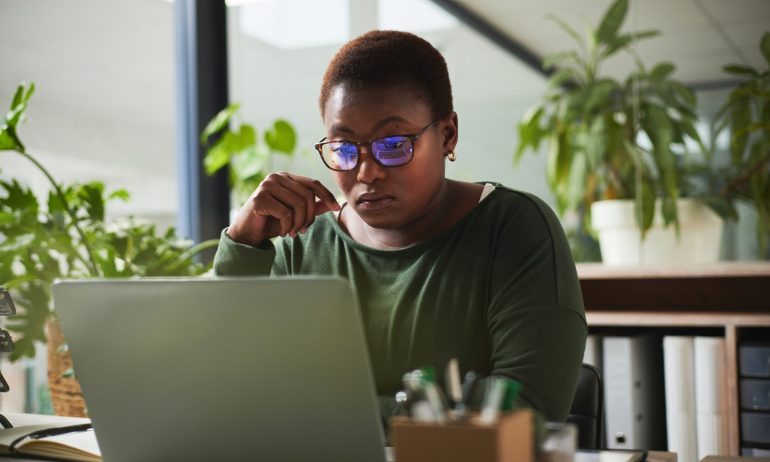 Many or all of the products featured here are from our partners who compensate us. This influences which products we write about and where and how the product appears on a page. However, this does not influence our evaluations. Our opinions are our own. Here is a list of our partners and here's how we make money.
You nailed the interview, got the job offer and started the new gig. There's just one problem: It's been a month, and you already want to quit.
There's no rule against quitting a job after a month. If you quickly realize the job isn't a suitable long-term fit, resigning will actually help your manager find an employee that's better for the role.
"Most people who go into a job are being evaluated for the first 90 days," says Tamiera Harris, a Philadelphia-based career and life coach and founder of Black Career Coach. "The employee should also be evaluating the employer."
What to do when you want to quit your job after a month
Before you take action, the Harvard Business Review recommends making a list of reasons why you want to quit. Consider whether any issues could be resolved. Depending on why you want to quit, a conversation with your manager or human resources department could go a long way.
For example, if you were promised a better work-life balance, you may be able to adjust your hours or work remotely on certain days if possible, per HBR.
If you want to quit after a month because of larger issues, such as an inappropriate or abusive manager, unsafe work conditions, discrimination or being asked to do unethical work, talk to your human resources department. These could be situations that merit legal action; this 2023 U.S. News article explains things your employer can't legally do.
Alternatively, you may want to quit for reasons that have nothing to do with your current job. Maybe you got a better job offer. Or, maybe personal circumstances have changed, and you must leave the workforce.
If your workplace issues aren't solvable, or you've simply decided you want to quit, schedule a time to meet with your manager as soon as possible.
How to quit your job after a month
Put it in writing. As for how to actually quit, start by writing your two weeks' notice. Bring a physical copy if you meet with your manager in person. If you're meeting virtually, be prepared to email a copy of your notice to your manager and HR after the meeting.
Express your thanks. Start the conversation by thanking your manager for the opportunity and expressing appreciation for the time you've spent at the company. Then, tell them you're submitting your resignation.
Given that you've only been there a month, your manager will probably be surprised. They may be emotional or take your decision personally. Try your best to temper their emotions by, again, showing your appreciation, according to HBR.
Consider giving feedback. Your manager may also be concerned about your experience and want to make sure the company isn't doing anything that could drive away future employees.
Maybe some of that resonates with you. After all, if you're quitting after a month, there's a solid chance your expectations didn't match the realities of the job.
Sharing — in a polite and professional way — which parts of the job didn't match your expectations might help your manager, especially if they're caught off guard by your resignation, says Tina Marie St. Cyr, executive career coach and founder of Bonfire Coaching in Houston.
"Document where your grievances are," St. Cyr says. "It's beneficial for the employer or the hiring manager, if they're receptive."
Anticipate negotiation attempts. Be prepared for your manager to counter with solutions, recommends talent solutions firm Robert Half. Determine in advance whether you're open to any suggestions or solutions your manager may suggest. If not, rehearse some ways to politely decline.
Don't get too specific about your next employer. If you're quitting to accept another job offer, avoid getting into specifics. You don't have to tell your manager which company you'll be working for.
You can tell your manager why you're accepting the other job offer, though, whether it's because the other job offers better pay or flexibility, or is more related to your overall career goals.
Talk through next steps. Given that you've only been in the role for a month, your manager may prefer you leave immediately, especially if you're still undergoing training. Ask your manager whether they'd like you to finish out your remaining two weeks, or resign effective immediately.
Close out the conversation by again thanking them for the opportunity. To leave on an especially professional note, offer to help transition your responsibilities to your colleagues, suggests Michael Page, a global recruiting firm.
Document your workflows, tasks you've completed and outstanding projects you'll be leaving. Before you leave, share that information with your manager and relevant colleagues.
Should you list the job on your resume?
If the job was relevant to your broader career goals, Harris suggests creating a job category on your resume for "temporary contract opportunities" and listing the role there.
If you opt to include the job in your employment experience, be prepared to tell a recruiter or hiring manager why you left the role after a month.
"You can really be honest and say, 'Hey, I recognized that it was not a good fit, and I wanted to find a role that better aligns with the path that I'm going in regards to my career," Harris says.
If the job isn't tied to your broader goals, though, feel free to leave the job off your resume.