What is a Job Fair, and How to Stand Out at One
Understanding how job fairs work — and what you can expect from them — will help you prepare effectively and get the most out of your time.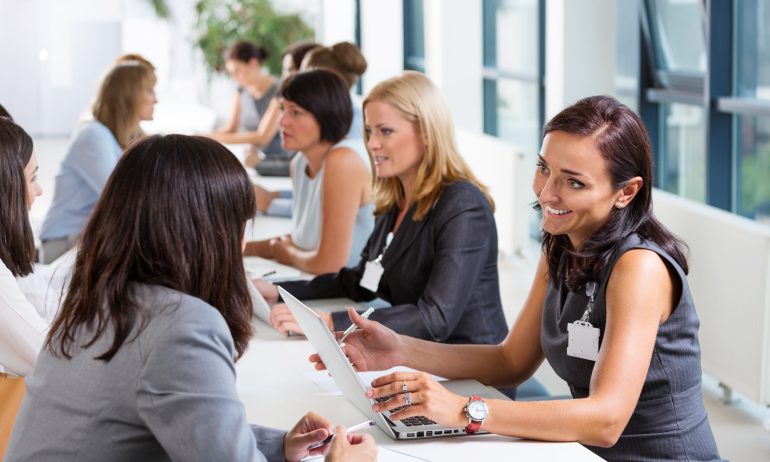 Many or all of the products featured here are from our partners who compensate us. This influences which products we write about and where and how the product appears on a page. However, this does not influence our evaluations. Our opinions are our own. Here is a list of our partners and here's how we make money.
A job fair is an event designed to connect employers with prospective employees.
Job fairs can be geared toward specific industries, skill levels or workers from a specific demographic — for example, a job fair geared exclusively toward women, people of color or veterans, according to the careers website Monster. There are also plenty of job fairs that cater to multiple industries, and generally aim to connect people with companies looking to grow their workforces across many different positions.
Knowing how to best utilize job fairs can ensure you get the most out of the experience.
Your main objective at a job fair is simple: to meet employers and other professionals in your industry, learn about career opportunities, sell yourself and your skills, and (hopefully!) make a connection that leads to a job.
Track all the money you make
See the ins and outs of your cash, cards, and bank accounts at a glance.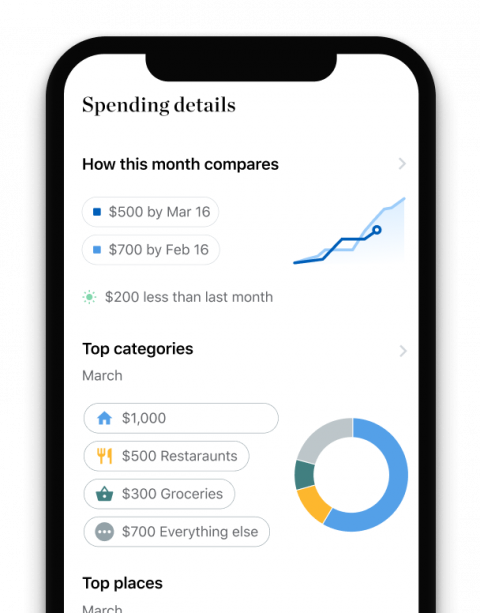 Depending on the size of the fair, you can expect between a dozen to hundreds of companies at a job fair. Each company will typically have a booth or table with pamphlets, promotional merch, job applications and sign-up sheets, where candidates can leave their contact information with the employees staffing the booth. At a company's booth, you'll likely speak with current employees who can answer specific questions about the company, according to Chron.com, a digital publication of the Houston Chronicle.
When you approach a company's booth, be prepared to share a concise elevator pitch that includes your experience, qualifications and the kinds of roles you're looking for, according to a LinkedIn post written by Mark L. Clark, a senior recruitment consultant at 3M Composites.
Have a few questions prepped, too. Ask about open positions that are relevant to your experience, the company's objectives and what it's like to work at the company. You can also ask about the best way to stay in touch and hear about future job opportunities.
If you have a smartphone, quickly look up a company's open positions before approaching their booth. That way, you can ask the company's rep about a specific position — and look ultra-prepared.
And unless you really hit it off with an employee, aim to keep each booth visit under five minutes, in order to visit as many booths as possible (and avoid talking someone's ear off). Once you get the information you need, thank the rep for their time and, if appropriate, ask to exchange contact information.
What to wear to a job fair
Dress business casual for most job fairs, according to Jobcase, a careers resource website. Think: not quite a suit with cufflinks, but definitely not blue jeans.
Jobcase recommends you dress "one level up" from your current role; so if you'd be OK wearing slacks and a polo to work, consider wearing dress pants, a shirt and a tie. Wear solid and neutral colors, keeping patterns to a minimum (unless you're interviewing at Chanel, of course). And make sure anything you wear is clean, crisp, ironed and stain-free.
Some ideal tops include button-downs, polo shirts, blouses and dress shirts — if possible, something with a collar.
Pants, slacks, chinos, khakis, dress pants or a skirt are all great options for a job fair.
If you wear a skirt or dress, it's best to play it safe and not wear anything cut above the knee, according to the Career Services Office at Austin Peay State University in Clarksville, Tennessee. It's a little antiquated, but lots of people have traditional ideas of what constitutes an "office-appropriate" outfit — and one of them might be in a position to hire you.
For footwear, leave the sandals or sneakers at home in favor of dressier shoes, according to advice from the State University of New York. Closed-toe dress shoes — like Oxfords, brogues and loafers — are always a good bet.
Flats, dressy mules and heels — all closed toe — are great options, too, though you might want to save the strappy stilettos for a night out. Your heels shouldn't be more than 1 or 2 inches high, according to Rutgers University's Office of Career Exploration and Success.
If in doubt, Rutgers recommends you check the dress code requirements for some companies in your industry, or even a company you'd like to work for.
What to bring to a job fair
What you should bring to a job fair depends on your industry. Generally speaking, you'll want to bring several copies of your resume and business cards, according to Randstad, an international human resources firm.
Also, depending on your industry, you should bring a portfolio showcasing your past projects, designs or campaigns.
You can also bring "targeted resumes," according to Indeed. Unlike a standard resume, targeted resumes highlight skills and achievements relevant to a specific industry. For example, if you're in sales but want to pivot to customer service, a targeted resume might highlight your customer retention or communication skills.
Make sure your business cards include your name, home city, contact information — phone and email — and links to your LinkedIn or professional website, per Indeed. You should also include either your existing job title and employer, or a general job title that covers the breadth of your experience.
Finally, don't forget to prepare your "elevator pitch," recommends Randstad. That means being able to summarize yourself, your skills and your career goals in 30 seconds or less.
How to prepare for a job fair
Taking a few hours to prepare for the job fair will help you get noticed, organize your schedule and make the most of the career fair.
Post about the fair on LinkedIn
The night before the job fair, go to your LinkedIn and make a post about the job fair, says Johnny Roccia, director of career services at Ama La Vida, a career and life coaching firm. (And if you don't have a LinkedIn, make one, Roccia says.)
According to Roccia, a job fair will most likely have a hashtag, so look it up and include it in your post. You can then use your LinkedIn to keep track of everybody you meet at the fair by quickly sending connection requests. You can even make a QR code that links back to your LinkedIn profile, Roccia says. Include the QR code on business cards, a professional folio, or even set it as your phone background for easy accessibility.
See whether the job fair's website or social media lists the companies that'll be present at the fair. If so, research those companies, and see which ones have open positions that match your goals and experience.
Bring a list of companies' booths you plan to visit, and write down any relevant open jobs at each company. That way, you immediately have something to say to the company rep at the booth, and you'll be able to better organize your time spent at the career fair.
Expect to network — not necessarily find a job
Another big tip from Roccia: Don't think of job fairs only as places to get job offers. Rather, think of them as networking fairs that'll get you closer to the job you want — and help you meet people who could advance your career in the future.
"Job hunting is something that fades away, and you don't have to do as much if you focus on building your network throughout your whole career," says Roccia.
And don't think of a job fair as a failure if you don't walk away with a job. Rather, think of it as a chance for you to meet people in your industry and build connections that could eventually lead to jobs.
"You can be 50 steps closer to your next goal because you don't know which one of the recruiters at that job fair is going to be hiring for your perfect thing next month," says Roccia.
How do you find job fairs?
You can find information about upcoming job fairs online, especially on LinkedIn. Since the goal of job fairs is to attract as many companies and candidates as possible, the fairs are typically well-advertised online, especially on LinkedIn. A simple Google search for career or job fairs in your area can show you upcoming fairs and events.
You can also search for job fairs by industry or demographic — for instance, job fairs that cater to STEM companies or the LGBTQ+ community. On that note, double check that the job fair you're planning to attend isn't designed for an industry or group that's irrelevant to you. If you don't have access to a computer, your local public library should offer internet access free of charge.
Also, if you're going to a job fair, make sure you're not accidentally signed up for a hiring event. Hiring events are very different from job or career fairs. At hiring events, companies conduct on-site interviews with candidates for open positions, according to Indeed, the career listings website. These events require much more specific preparation than job fairs or career fairs, where the objective is to connect candidates with their peers and employers in their industry.