NFL Great Eric Dickerson Shares Money and Life Lessons
Salaries have skyrocketed since his day — but young players still make the same financial mistakes.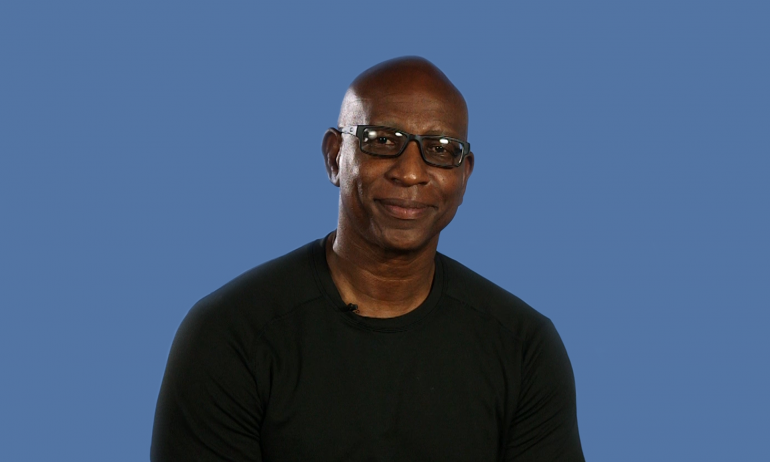 Many or all of the products featured here are from our partners who compensate us. This influences which products we write about and where and how the product appears on a page. However, this does not influence our evaluations. Our opinions are our own. Here is a list of our partners and here's how we make money.
NFL running back Eric Dickerson was a record-setter from the start of his Hall of Fame career, and some of his marks still stand:
1,808 yards rushing and 18 touchdowns in 1983, his rookie season

2,105 yards rushing in a single season in 1984

10,000 career rushing yards in 91 games, the fewest games to that total
In 1987, he signed a record-breaking NFL contract — $1.4 million a year, plus a $341,000 signing bonus, when he was traded from the Rams to the Colts. But that Dickerson record proved much less durable: NFL salaries now average over $2 million, with more than a dozen star players earning north of $20 million in 2017.
Although the salaries have multiplied since Dickerson's playing days, the potential financial pitfalls remain the same. Young players suddenly are handling huge sums of money — and they can be tempted to emulate the lifestyles of veteran stars, along with feeling pressure to give handouts to an ever-widening web of family and friends. They can also be easy prey for unscrupulous agents and financial managers.
But all that money tends to dry up fast, as players' peak earning years are often over by the time they reach 30. The average pro career is just 3.3 years, according to the NFL Players Association — and life after football often proves a challenge. In the most commonly cited data, from a 2009 Sports Illustrated article, 78% of players file for bankruptcy or are under financial stress within two years of retirement due to joblessness or divorce.
Dickerson came to NerdWallet's San Francisco headquarters with another former great, Terrell Owens, to talk about money and football, and to share some life lessons for young players. Dickerson keeps his hand in the game — he's currently vice president for business development for the newly resettled Los Angeles Rams. And he has a young cousin, Ricky Seals-Jones, who made a splash in his 2017 rookie season with the Arizona Cardinals after working his way up from the practice squad.
"I've seen the league change. The money is astronomical," Dickerson said. On the other hand, "Guys don't change. Young athletes don't change."
Here are six highlights from our talk with Dickerson:
"I grew up in a shotgun house in Sealy, Texas, population 2,000 people. ... I won't forget, I think I only may have been about 15 years old, and being a nosy kid, I was looking through my mother's brother's bank checkbook, and we had $30 in the bank. So I know $30 is not a lot of money, but I had a good childhood, that's all I knew. But we didn't have a lot of money at all."
"When I got drafted to the Rams, my first paycheck was my signing bonus, which was a $600,000 signing bonus. That was big. I didn't know what to do with it. I really didn't. I had a financial guy, and I put it in the bank, in an institution at that time. I was scared to do anything. I really was afraid to spend money. … As a young, 22-year-old kid from a small town, black, I had never had that kind of money obviously, and you go from having zero to $600,000, [that] was a big thing."
"

As a young, 22-year-old kid from a small town, black, I had never had that kind of money obviously, and you go from having zero to $600,000, [that] was a big thing.

"
Eric Dickerson
"My first big purchase, now when I say big, I mean big purchase, I bought my mother a Cadillac. She wanted a car. She didn't say she wanted a car, but I know she always liked the Cadillac, so I bought her a Cadillac for her birthday. … [Later] I built my mother her first home. That was my big thing I wanted to buy her after I bought her a car. ... I built a home in Texas, in Sealy, my hometown, that cost me $124,000. I won't forget that. That was big. And I didn't pay it off at first, I financed the house, because I tried to buy my own place later, but the big thing I think for me was that I wanted to take care of my mother, the lady who raised me."
Demands from family and friends
"Uncles ask for money, aunts, grandmothers, friends, all of the sudden they think it's a free-for-all, and they really think that. You try to tell [young players], 'Man, you cannot do that. You can't take care of everybody.' … That money goes fast. And if you're not playing professional football [anymore] or making money to replenish that money that goes out, it doesn't come back. And football is a sport that you can play, really, for three to four years if you're an average player. If you're a great player, you may have a 10- or 12-year career, but that's very rare."
"

You can't play football forever. ... I wish I could be 23 years old again, but it's just not gonna happen.

"
Eric Dickerson
"You have to have someone you can trust [help guide your finances]. ... You think you can always trust yourself, but you can't always trust yourself, because you see something you want. You know you don't need it, but I want it, sometime I want two of them: 'I want a Ferrari and I want a Bentley.' I can't drive two cars, and these cars cost in excess of $400,000 or $500,000. Can I do that? That's where, with the young athlete, that you run into the problem, because you can't tell them no sometimes. It's hard to explain, 'You can't have it.' The first thing they say, 'But it's my money. I do what I want to do with it.'"
"I had a guy that I've worked with for a long time doing my finances, a guy I trusted. I'm still with the same guy. That's important. ... It's difficult, it really is difficult to find someone to help you to maneuver through life, and also keep you afloat, because the sports don't last forever. You can't play football forever. You can't play basketball. You just can't. You want to. I wish I could be 23 years old again, but it's just not gonna happen."
NerdWallet makes managing your money easy with a single view of your finances. Sign up for free.