How to Know if Your Pet Will Dig a Subscription Box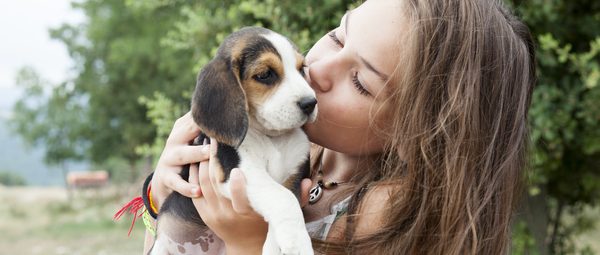 Many or all of the products featured here are from our partners who compensate us. This influences which products we write about and where and how the product appears on a page. However, this does not influence our evaluations. Our opinions are our own. Here is a list of our partners and here's how we make money.
The doorbell rings. Your dog barks up a storm as the delivery person drops off a package. But unlike the other times your loyal companion watched as you received a delivery, this time the box is for her.
With companies like BarkBox, PupBox and Meowbox, pets now can get their own monthly subscription boxes. But since your four-legged friend can't place the order, you'll have to make the decision.
Here's what to consider before signing up.
There are several subscriptions to choose from. For example, BarkBox for dogs is a themed collection of at least two toys, two bags of all-natural treats and one chew item. Monthly plans cost $21 a box for 12 months, $25 a box for six months or $29 for one month.
Cat-oriented company Meowbox sends a themed box of four to six items for $22.95. The company offers a monthly or every-other-month plan, according to Sarita Fichtner, community manager at Meowbox.
PupBox is focused on puppy training, CatLadyBox offers goodies for you and your cat, and the list goes on.
Research the price and content of several boxes to see what you and your pet would like. Many boxes contain food, toys, or a combination of both, though you won't always know exactly what you're getting before you receive it.
The items in pet boxes are usually a good deal compared with paying full retail price for it all, says Kristen Levine, a pet expert.
However, except for defective products, many subscription plans don't offer refunds. That means you'll likely be stuck with all of the items, even if your pet enjoys only some of the delivery.
Certain dogs and cats are better suited to subscriptions than others. Consider what you know about your pet's likes and dislikes.
But there might be some things you don't know, like if he would enjoy a new kind of toy or type of food. Subscription boxes can introduce you to products that you wouldn't otherwise pay full-price for without testing them, Levine says.
Still, be realistic. A dog with strict dietary restrictions might not benefit from some boxes. A cat with one favorite ball may not be keen on new toys.
On the other hand, some large dogs go through toys quickly, so a new set of playthings each month could be just right, says Christie Long, chief veterinarian for PetCoach.
But we'll never really know if pets get as excited about monthly deliveries as their pet parents do, Long says. So the box has to be something you value.
Pet subscriptions are particularly appealing to those pressed for time, according to Paula Rosenblum, co-founder and managing partner of RSR Research, a retail technology research firm.
"I think we are generally a time-starved society," Rosenblum says. "I think the shopping experience in stores, for each of us, has different annoyances... Having someone curate something for us on a monthly basis is really kind of a good idea."
Even if you and your pet fit the criteria, research a company before signing up. Here are a few points to consider, says Nicole Leinbach Reyhle, founder of Retail Minded and an author of "Retail 101: The Guide to Managing and Marketing Your Retail Business."
Browse the website for ease of use. The FAQ page is a good place to find basic information like how to sign up, when to expect your package and other details.
See what others are saying. "I'm a strong believer that online reviews speak loudly in terms of the reality of any e-commerce business, so take the time to look at those online reviews," Reyhle says.
Check if there's a mobile app you can download to manage your subscription on the go.
Know your options to cancel the plan. "What happens if your own financial overhead changes and you decide you need to get out of your one-year contract early?" she asks. "What are the terms of that?" Additionally, check if the subscription will automatically renew.
Search for coupons. You may find a discounted rate, free month or something extra. For example, BarkBox recently included a free extra toy in every box when customers subscribed to a 6-month or 12-month plan.
A subscription box won't be right for every pet or owner, but if there's room in your budget, it might become a delivery you both eagerly anticipate each month.
This article was written by NerdWallet and was originally published by The Associated Press.