How to Use Your Tablet Like a Phone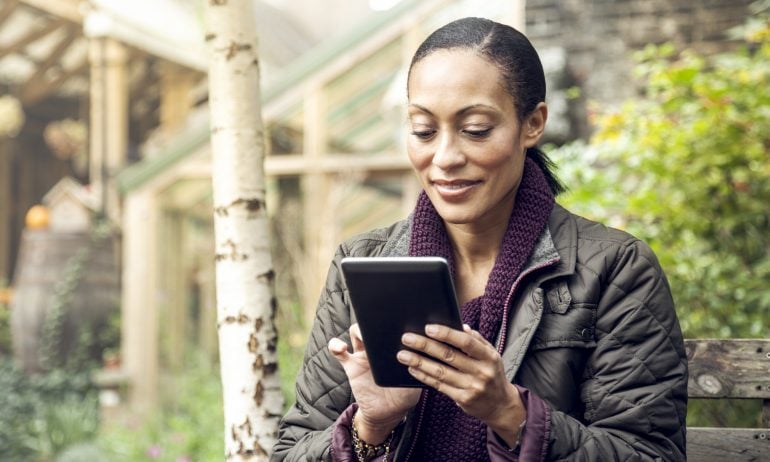 Many or all of the products featured here are from our partners who compensate us. This influences which products we write about and where and how the product appears on a page. However, this does not influence our evaluations. Our opinions are our own. Here is a list of our partners and here's how we make money.
Using the internet to make voice and video calls is a cool hack that can save you money. Your tablet, with the help of an app or two, can easily double as a smartphone. Here, we explain a couple ways, and a few of the apps you can use, to get chatting cheaply.
Option 1: Use your tablet as a phone over Wi-Fi
The cheapest way to take advantage of this hack is to simply use your tablet to make voice and video calls when connected to Wi-Fi. This kind of thriftiness takes a little planning though. You'll want to make sure you have access to a strong internet connection, either through your home internet service provider or a local spot that offers free Wi-Fi, when it's time to talk. And if you find that tablet calling over Wi-Fi meets your needs, you can bypass buying a smartphone and opt for a basic cell phone plan.
Option 2: Use your tablet like a phone with a data-only plan
Data-only plans are just that — all data, no minutes and no texts — so any calls or messages sent through an app will use data. These plans provide a wireless internet connection over a cellular network, instead of Wi-Fi, to any capable device, including tablets and wireless hotspots.
The kicker? There are few data-only offerings among carriers, and the ones available aren't exactly cheap. For example, at the time of this writing, Verizon's lowest-priced data-only plan gives you 5GB for $40 a month. That won't net you many off-Wi-Fi calls. Video calls are typically the biggest data hog, with regular messaging on the other end of the spectrum.
Once you've established an internet connection, you really need only two things to make your tablet function as a smartphone: an app that makes use of VoIP (Voice over Internet Protocol) or VoLTE (Voice over LTE) wireless calling technology, and a pair of headphones.
The former lets you make calls and send text messages over the internet. The latter keeps you from walking down the street with an iPad pressed to your ear, because that would be the opposite of cool.
Here are some popular — and free — apps to consider:
This list of apps isn't extensive. There are other options out there, some free and some that charge a modest fee. Try them out, and pick one that works well for you. Happy (and hopefully cheap) calling!