What Is a Utility Bill?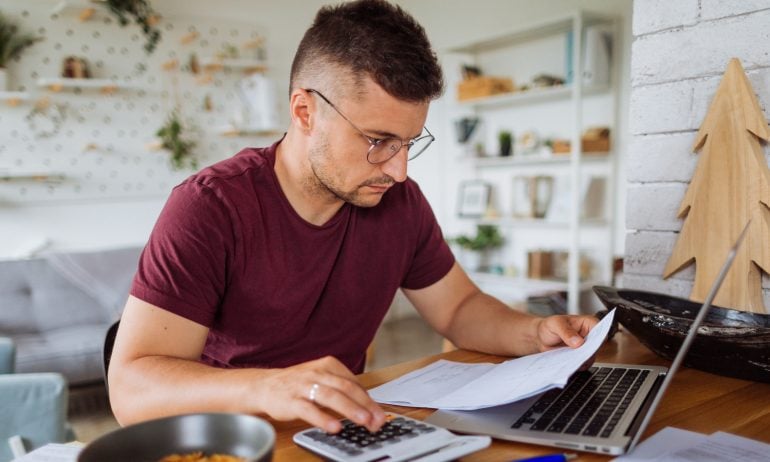 Many or all of the products featured here are from our partners who compensate us. This influences which products we write about and where and how the product appears on a page. However, this does not influence our evaluations. Our opinions are our own. Here is a list of our partners and here's how we make money.
Utility bills aren't the most glamorous expenses, but they can be significant, adding up to hundreds of dollars per month. Read on for utility bill examples, how you can save money on yours and what to do if you can't pay.
A utility bill is a monthly statement of the amount a household or business owes for essential services or utilities. Examples of utilities include electricity, water and gas. Depending on how you define utilities, you could also add sewage and trash and recycling, as well as TV, internet, phone and streaming services to that list.
A utility bill lists the customer's name, address and account number. It also states the amount owed and due date, as well as guidance for how to pay.
Utility bills typically give information about your usage of the service, too. A water bill, for example, would list the amount of water you used during the billing period and may show how that amount has changed over the last several months.
Utility bills can also be handy as proof of residence for, say, license and passport needs.
How much utilities cost varies widely depending on the service, provider, location and usage. Below are a few examples of utility bills and their average costs.
In 2021, the average electric bill among U.S. residences was $122 per month, according to the U.S. Energy Information Administration. The average bill was lowest in Utah ($82) and highest in Hawaii ($178).
To save money on your electric bill, try to be more efficient with your appliances and devices. Investing in a programmable or "smart" thermostat that will adjust temperatures for when you're home or away can save money on your electric bill. Turning your thermostat back 7 to 10 degrees below your normal settings for 8 hours a day can save you up to 10% over the course of the year, according to the U.S. Department of Energy.
Check with your electric company to see if you qualify for budget billing. Typically, after living in your apartment or home for one year (sometimes a bit longer), you can qualify if you have good credit. The electric company takes your average usage from the previous year and bills you the same each month, saving you from surprise fluctuations that can bust your monthly budget.
You might also wait until you have full loads before running your dishwasher and washing machine. Or try a smart power strip, which turns off electricity to the products you aren't using.
The average American family spends more than $1,000 per year on water costs, according to the U.S. Environmental Protection Agency

Environmental Protection Agency.

Start Saving

. Accessed Jul 26, 2022.

. So the average water bill is about $83 per month.
To lower your water bill, check for and fix any leaks in faucets, showerheads, sinks and toilet valves. You might also consider upgrading to WaterSense- or Energy Star-labeled appliances to make your usage more efficient and save up to $380 per year.
Tweaking your habits can also help. Shortening your showers and turning off the tap while brushing your teeth will save water — and money. And rethink hand-washing your dishes each night. If you have more than eight dishes to wash, consider running your dishwasher instead.
The average residential gas bill was $670 per year, or $56 a month in 2020, according to the latest figures available from the American Gas Association. But that amount depends a lot on where you live because the retail price of gas varies from state to state. The price of gas in Hawaii and Florida, for example, is much higher than in Arkansas and Alaska, according to the EIA. Larger homes and those with gas-powered appliances, like furnaces, water heaters and stoves, will also yield higher gas bills.
Given that much of your gas bill likely goes toward heating and cooling the house, save money by monitoring your thermostat. In the winter, allow for lower temperatures while you're away or asleep. In the summer, allow for warmer temperatures.
How to handle these bills
Utility bills can certainly add up, so it's helpful to understand how much you're spending on them. Consider tracking these bills and other expenses in a budget app.
And give the 50/30/20 rule a try. This type of budget divides your monthly take-home income this way:
50% toward needs, like those utility bills, as well as rent or mortgage payments and groceries.

30% for wants, such as meals out and vacations.

20% toward savings for the future, such as emergency funds and retirement accounts, as well as paying down debt.
There are several other types of budgets if this breakdown doesn't work for you.
What if you can't pay your bills?
If you don't pay your bills, the provider will eventually shut off the service. You also risk late fees and damaged credit. But you have options:
Call the customer service line of your provider. You can likely find this number on your bill or through a quick online search. Explain your situation and request help. The company may lower or defer your bill or waive late fees.
Call 211 or visit 211.org. This network of experts may connect you with local resources and assistance.