California Home Insurance: Rates, Complaints and Earthquakes
See average home insurance rates for California and the best and worst insurers for consumer complaints.
Many or all of the products featured here are from our partners who compensate us. This may influence which products we write about and where and how the product appears on a page. However, this does not influence our evaluations. Our opinions are our own. Here is a list of our partners and here's how we make money.
California ranks No. 26 out of all states for home insurance premiums. (The most expensive average rates are in Florida.) The California department of insurance is in charge of licensing home insurers and approving their rates.
Average home insurance rates in California
Average annual rate in California

Average annual rate nationwide

Rates are based the the cost of an HO-3 policy. Data used with permission from the National Association of Insurance Commissioners.
HO-1: A basic homeowners policy that has been discontinued in most states.
HO-2: Homeowners policy broad form. This policy type covers damage from 16 perils: 1. Fire or lightning 2. Smoke 3. Theft 4. Vandalism 5. Windstorms and hail 6. Damage caused by vehicles 7. Damage from aircraft 8. Weight of ice, snow and sleet 9. Freezing of household systems 10. Riots 11. Explosions 12. Falling objects 13. Volcanic eruptions 14. Overflow or discharge of water 15. Damage from artificially generated electrical current 16. Sudden tearing, cracking or bulging of home
HO-3: Homeowners "open-peril" policies that cover all risks to your dwelling except those your insurer excludes. Your personal property, however, is still covered under a named-peril basis.
HO-5: Homeowners comprehensive policy. Covers your dwelling and personal property for all risks except those specifically excluded.
About home insurance amounts
When you buy home insurance, the amount to cover your dwelling should be based on the cost to reconstruct the house. This is not the same as the real estate market value of the house if you were to sell it. The reconstruction cost could be more or less than the real estate value of the home, depending on where you live. Don't include land value in the insurance coverage amount.
Largest home insurers in California and market share
2. Fire Insurance Exchange (part of Farmers): 8%.
5. Interinsurance Exchange of the Automobile Club: 5.9%.
Best and worst home insurance companies in California based on consumer complaints
Best home insurance companies in California
California Capital Insurance
Farmers Insurance Exchange
Safeco Insurance Co. of Illinois
Integon National Insurance
Source: California Department of Insurance, based on 2015 complaint data.
Worst home insurance companies in California
Source: California department of insurance, based on 2015 complaint data.
Earthquake insurance in California
If you have home insurance in California, your home insurance company must also offer to sell you earthquake insurance. Most earthquake policies come from the California Earthquake Authority. It notes that most Californians live within 30 miles of an active fault. The CEA's policies are sold only through participating insurers.
Earthquake probability in California
The map below shows the probability of a 6.7-magnitude or greater earthquake striking in California within the next 30 years. (Orange and red areas have greater probability.)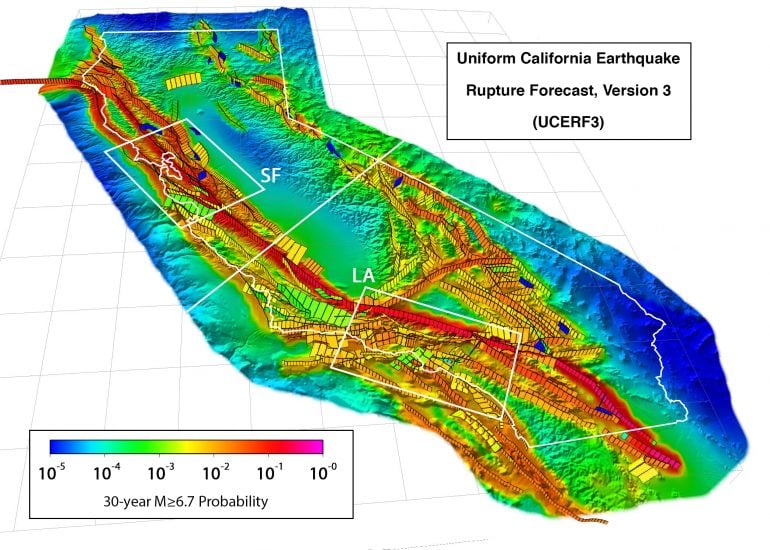 Greater California earthquake probability
Earthquake magnitude (greater than or equal to)

30-year likelihood of one or more quakes

Source: USGS Uniform California Earthquake Rupture Forecast
San Francisco earthquake probability
Earthquake magnitude (greater than or equal to)

30-year likelihood of one or more quakes

Source: USGS Uniform California Earthquake Rupture Forecast
Los Angeles earthquake probability
Earthquake magnitude (greater than or equal to)

30-year likelihood of one or more quakes

Source: USGS Uniform California Earthquake Rupture Forecast
Very mild, often unnoticeable.

Perceptible shaking, especially if indoors.

Felt both indoors and outside, minor damage (broken dishes, windows, etc).

Intense shaking, mild to moderate damage.

Moderate to severe damage. Buildings shift off their foundations.

Devastating effects, leveling most structures.

Source: U.S. Geological Survey