Medicare's 'Donut Hole' Has Shrunk But a Gap Remains
The worst effects of the prescription drug coverage gap have been addressed, but it could still be costly.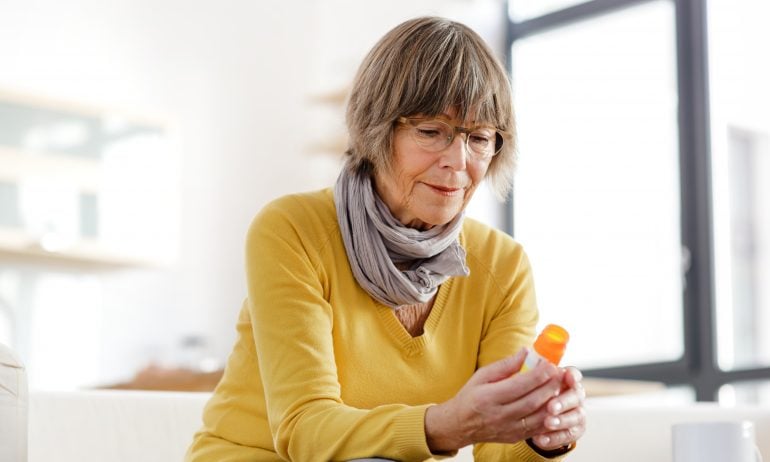 Many or all of the products featured here are from our partners who compensate us. This may influence which products we write about and where and how the product appears on a page. However, this does not influence our evaluations. Our opinions are our own. Here is a list of our partners and here's how we make money.
If you have a Medicare prescription drug plan, there's a gap in coverage after you've spent a certain amount on covered drugs — the so-called Medicare "donut hole." While potential costs associated with the donut hole went down substantially in 2020, there remains a coverage gap that may affect what you pay for prescription drugs.
What is the Medicare 'donut hole'?
The donut hole is a gap in Medicare Part D coverage that exists after you've paid a set amount for the drugs covered by your plan and before catastrophic coverage kicks in. Medicare Part D prescription drug coverage has four stages:
Deductible period: You pay the full negotiated price for covered prescription drugs. Although deductibles vary between plans, no deductible can be higher than $480 in 2022. (And not all plans have a deductible.)

Initial coverage period: Once you hit your deductible, your plan's coverage kicks in, and you owe a copayment or coinsurance for covered drugs. If you pay coinsurance, the amount will vary based on the drug's cost and assigned tier level.

Coverage gap (the donut hole): Once your total drug costs meet a certain threshold ($4,430 for plans in 2022), you reach the coverage gap or donut hole. Once you're in the coverage gap, you're responsible for 25% of drug costs until you hit catastrophic coverage.

Catastrophic coverage: When you've paid a certain amount in out-of-pocket costs ($7,050 in 2022), catastrophic coverage kicks in. During this stage, you pay lower copays or coinsurance for drugs until the end of the year.
Note: If you're part of a Medicare program called Extra Help, your drug costs will be different, and there's no coverage gap.
When Medicare Part D was rolled out in 2007, users paid 100% of drug costs during the coverage gap until their out-of-pocket costs qualified them for catastrophic coverage.
The Affordable Care Act included a provision to require drug manufacturers to provide a 50% discount on the cost of brand-name drugs in the coverage gap and to require plans to pay a gradually increasing share of drug costs. The final phase of the plan was implemented in 2020, and users are now responsible for 25% of the cost of both brand-name and generic drugs.
The threshold for out-of-pocket spending before a Medicare user reaches catastrophic coverage has also risen through the years, increasing from $3,600 in 2006 to $7,050 in 2022. However, the manufacturer drug discount counts toward your out-of-pocket spending total.
Although the donut hole was considered officially closed in 2020, you may still spend more for drugs in the coverage gap, depending on your plan's pricing. If a drug costs $120, for instance, and your copay in the initial coverage period is $20, your 25% share in the coverage gap would be $30.
How Medicare Part D drug pricing works
Drug pricing — and how much you'll pay out of pocket — varies by plan. Once you're in the coverage gap, you'll pay 25% of both brand-name and generic drug costs, including 25% of any pharmacy dispensing fee.
Some of your costs — and manufacturer discounts — count toward your out-of-pocket totals, but other payments do not. Here's how it works.
What counts toward your out-of-pocket total:
Your annual deductible, coinsurance and copayments.

The discount you get from the manufacturer on brand-name drugs in the coverage gap.

What you pay in the coverage gap (toward drugs and dispensing fees).
What doesn't count toward your total:
Part D drug plan monthly premiums.

What your drug plan pays toward the cost of a brand-name drug (5%) and pharmacy dispensing fee (75%) in the coverage gap.

Anything you pay for drugs that aren't covered by your plan, including the cost of covered drugs from pharmacies that aren't in your plan's network.
Once you're in the catastrophic coverage phase, you'll pay the greater of 5% of the cost of drugs or $3.95 for generics and $9.85 for brand-name drugs. There's no cap on annual out-of-pocket spending, so if you're dealing with expensive specialty medications, you could still pay a significant amount in copays each year if you hit catastrophic coverage.
For example, one analysis found that expected out-of-pocket costs in 2019 averaged $8,109 across 28 specialty tier drugs covered by more than two dozen prescription drug plans. A specialty drug might be necessary for conditions like cancer, hepatitis C, multiple sclerosis or rheumatoid arthritis.
Your Medicare Part D statements should show you a running total of how much money you've spent out of pocket to date for covered drugs, and which coverage period you're in.
Read more about the different parts of Medicare and what they cover.
If you have questions about Part D coverage or costs, contact Medicare at 800-MEDICARE (800-633-4227) or visit Medicare.gov.
Get more smart money moves – straight to your inbox
Sign up and we'll send you Nerdy articles about the money topics that matter most to you along with other ways to help you get more from your money.