Medicare Part A: What It Covers, What It Costs
Part A is the hospital insurance portion of Medicare. For most people, it's premium-free.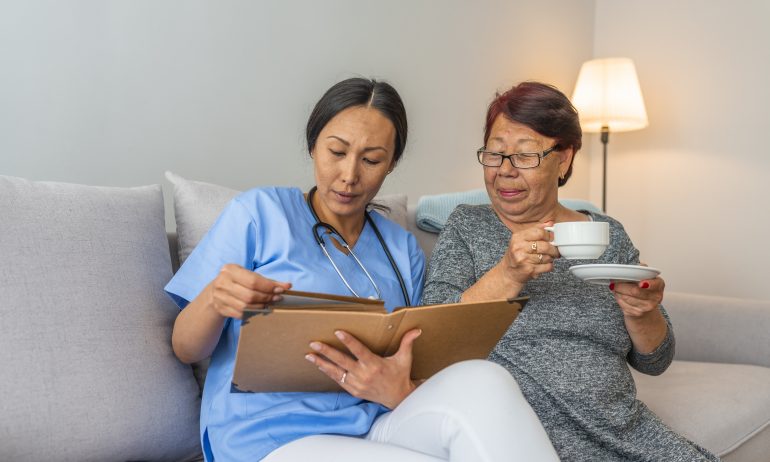 Many or all of the products featured here are from our partners who compensate us. This may influence which products we write about and where and how the product appears on a page. However, this does not influence our evaluations. Our opinions are our own. Here is a list of our partners and here's how we make money.
Medicare Part A is the portion of Medicare that covers hospital care and related services. Unlike the other parts, it's usually available without a premium.


Compare Medicare options with eHealth
Find Medicare Advantage and Medicare Supplement Insurance plans in your area.
on eHealth's non-government site.
Most people should enroll when they become eligible at age 65 (and if you're already receiving Social Security, you'll be enrolled in Medicare Part A and Part B automatically). If you're receiving health insurance from a large employer when you're 65, you could wait and enroll without penalty upon retiring. Or, you could enroll in premium-free Part A at 65 and enroll in the other parts upon retiring, but this strategy comes with risks (including potential late-enrollment penalties) and may not be right for everyone.
Here's how Medicare Part A works.
What Medicare Part A covers
Original Medicare — the government-run part of Medicare that you can enroll in through Social Security — is made up of two parts: Part A and Part B.
While Part B generally covers doctor's appointments and preventive care, Medicare Part A generally covers:
This covers hospital services you get when you're admitted to a hospital on doctor's orders, including semiprivate rooms, meals, general nursing and drugs for inpatient treatments.
$1,484 deductible for each benefit period.

$0 coinsurance per day for days 1-60 of each benefit period.

$371 coinsurance per day for days 61-90 of each benefit period.

$742 coinsurance per day for days 91 and beyond of each benefit period, up to your total lifetime reserve days (60 days over your lifetime).

All costs after exceeding lifetime reserve days.
Skilled nursing facility care
You can get short-term care at a certified skilled nursing facility following a qualifying hospital stay of at least three days. Covered services include a semiprivate room, meals, skilled nursing care and other services, such as physical therapy and occupational therapy.
$0 coinsurance for days 1-20 for each benefit period (which starts on the day you're admitted and ends when you haven't received inpatient hospital care or care in a skilled nursing facility for 60 days).

$185.50 coinsurance per day of each benefit period for days 20-100.

All costs for days 101 and beyond.
Hospice is the end-of-life care you receive if you're terminally ill, for example. Covered services include care from doctors, nurses and aides; medical equipment (such as wheelchairs); certain prescription drugs; occupational therapy; physical therapy; and grief and loss counseling for you and your family.
$5 or less on copayments for prescription drugs for pain relief or symptom relief at home.

5% of Medicare-approved amount for inpatient care, in some cases.
Covered services include part-time skilled nursing and home health aide care, occupational therapy, physical therapy, speech-language pathology services, medical social services and injectable osteoporosis drugs for women.
$0 for covered home health services.

20% of the Medicare-approved amount for certain medical equipment, such as wheelchairs and walkers.
Nerdy tip: Other parts of Medicare — including Part C (Medicare Advantage plans), Part D (prescription drug coverage) and Medigap plans — are available through private insurers approved by Medicare. If you sign up for a Medicare Advantage plan, an alternative to Original Medicare, it will include at least the same coverage provided in Original Medicare. However, you may be limited to a certain network and different rules may apply.
What Medicare Part A doesn't cover
"The biggest misconception we get from people is, 'Oh, I'm going to get Medicare and it's going to cover everything," says Jo Schneier, CEO and co-founder of Trusty.care, a Medicare quoting and enrollment tool for brokers. Deductibles can be costly, he notes.
There are also some services that seem like they might be covered by Part A, but may fall under Part B or may not be covered at all.
Here's what's not covered in Part A:
Deductibles and coinsurance
You'll have to cover deductibles (and, potentially, coinsurance) if you're hospitalized, for instance. In 2021, that deductible for hospital care is $1,484 per benefit period, which starts on the day you're admitted and ends when you haven't received inpatient hospital care or care in a skilled nursing facility for 60 days. If your hospital stay exceeds 60 days, you'll have to start paying coinsurance.
Outpatient hospital service
These are covered by Part B and include same-day surgeries or emergency services and X-rays ordered by your doctor, for instance.
While Part A covers a limited amount of time spent at skilled nursing facilities, it doesn't cover long-term care in nursing homes.
Custodial care, or help with eating, getting dressed or bathing, isn't covered by Part A.
What Medicare Part A costs
You may qualify for premium-free Part A if you or your spouse has worked and paid Medicare taxes for over 10 years, among other ways. To determine your eligibility, use Medicare's eligibility calculator.
If you don't qualify for premium-free coverage, you may be eligible to purchase Part A coverage. If you must pay for Part A, the monthly premium is either $259 or $471 in 2021, depending on you and your spouse's work and Medicare tax history.
"If you're over 65 and you can afford it, it makes sense to pay for Part A," says Schneier of Trusty.care, acknowledging that the premiums aren't cheap. "Original Medicare plus a supplement is probably going to be the best insurance you have," he notes, referring to Medigap plans.
Medicare Part A and employer health insurance
Enrolling in premium-free Part A and postponing the other parts of Medicare has long been a strategy used by folks to get more coverage at no upfront cost. But it may not work in all cases. Before taking the leap, consider these questions.
Should you enroll in the other parts of Medicare at 65?
The answer depends on the size of your employer.
Before making your decision, confirm the details of your health coverage with your benefits manager.
Does it make sense to enroll in Medicare Part A and postpone the rest?
For those getting health care from a large employer, enrolling in Part A and delaying the rest until retirement might seem like a no-brainer — but there are caveats.
"We used to tell people, go ahead and get into Medicare A, there's no fee," says Katy Votava, president of Goodcare, a consulting firm for the management of Medicare costs and planning, and author of the book "Making the Most of Medicare: A Guide for Baby Boomers." "But you don't want to enroll in Medicare [Part] A if you have an employer plan that lets you put money into health savings accounts."
That's because you won't be able to make tax-free contributions to your HSA while enrolled in Medicare, she notes.
These types of plans — high-deductible health plans with HSAs — have become more common in recent years, Votava notes. Even if you don't have one now, your company might change its coverage options and you might end up in one before retirement, she adds. If you're unsure of how your coverage might change, it may be best to wait until your special enrollment period and sign up for parts A and B at the same time.
When to enroll in Medicare Part A
If you're already receiving Social Security or Railroad Retirement Board benefits, you'll automatically start receiving Original Medicare — including Medicare Part A coverage — the month you turn 65, in most cases.
Those who aren't eligible for a special enrollment period and miss the initial enrollment period are really in trouble, says Votava of Goodcare.
"They'll not only pay penalties for the rest of their life, [but they'll] have to wait long periods of time — it could be months, a year, or more than a year — before [they're] eligible to start coverage," Votava says. And in the meantime, she notes, they'll be covering 100% of their medical costs out-of-pocket.
While there aren't penalties for Part A if you're getting it premium-free, there are penalties for enrolling late in Parts B and D, which grow larger the longer you postpone your enrollment. Before turning 65, make sure you understand the type of coverage you have and whether you're eligible for a special enrollment period.