The Complete Guide to Manufactured and Mobile Home Insurance
Learn which companies will insure mobile and manufactured homes and what your policy will cover.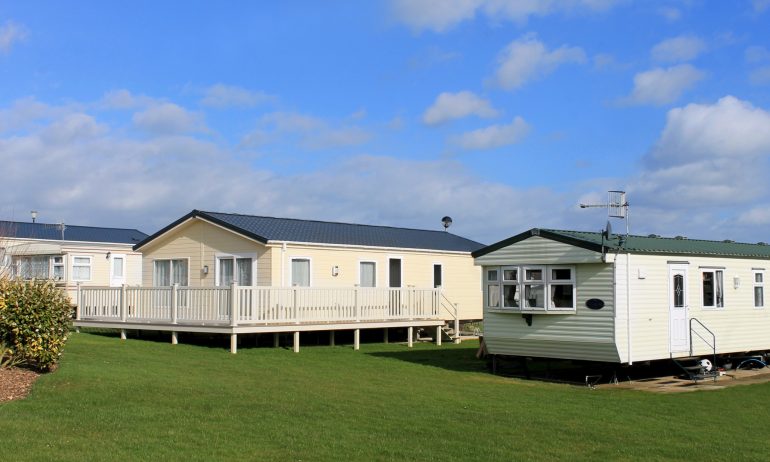 Many or all of the products featured here are from our partners who compensate us. This may influence which products we write about and where and how the product appears on a page. However, this does not influence our evaluations. Our opinions are our own. Here is a list of our partners and here's how we make money.
Due to their unique construction and vulnerability to certain weather, such as windstorms, manufactured and mobile homes typically don't qualify for traditional homeowners insurance. Instead, you need to look into mobile home insurance.
Mobile, manufactured and modular homes are all built in factories rather than on construction sites. Mobile and manufactured homes rest on a movable chassis and never include more than a single level. Modular homes can have multiple stories and sit on a foundation similar to traditional houses.
Though the terms are often used interchangeably, "mobile" and "manufactured" homes have specific meanings according to the U.S. Department of Housing and Urban Development. Mobile homes were built prior to 1976, when a new federal law mandated stricter safety standards for their construction. From that point on, these buildings were known as manufactured homes.
A standard mobile home insurance policy generally features the following coverage.
This coverage pays to repair or replace the structure of your mobile home if it's damaged by events your policy covers, up to a limit you choose. These events typically include:
When selecting a limit for this part of your policy, you want an amount high enough to replace your mobile home if it's destroyed. You may be able to buy extended replacement coverage in case rebuilding costs more than you expect.
This pays to repair a fence, shed or other structure that isn't attached to your home if it's damaged by an event your policy covers.
This part of your policy covers the cost to repair or replace furniture, electronics and other belongings if they're damaged or stolen.
A standard mobile home policy will typically cover your items on an "actual cash value" basis. That means it'll pay the estimated amount your belongings were worth at the time of the claim, minus your . To receive enough to buy brand-new items, you may want to upgrade to replacement cost coverage.
Taking a is the best way to figure out what your stuff is worth and how much personal property coverage you need. You can get a quick estimate using the calculator below.
This pays out if a visitor is hurt and sues you, or you accidentally cause property damage or injuries to others. It may also cover related legal expenses.
Not sure how much liability insurance you need? Consider getting at least enough to cover your .
Depending on your insurance company, your policy may include other coverage, such as:
As with any insurance policy, there are limits to your coverage:
Flooding. Most manufactured home insurance doesn't pay for flood damage. If you live in an at-risk area, buying separate is a good idea.
Earthquakes. Similarly, if your home is in a seismically active region, you'll likely need separate earthquake coverage. Most home insurance policies don't cover "earth movement."
Wear and tear. Insurance covers sudden, accidental damage, not everyday maintenance.
Insect or animal infestation. Again, this is typically considered part of ordinary maintenance.
Damage associated with the use of your home for business purposes. For this coverage, you may need a commercial policy.
The average cost of mobile home insurance is typically between $500 and $1,100 per year, according to American Modern Insurance Group. Foremost, another manufactured home insurer, puts the average cost at about $1,000 per year.
A slew of factors can affect your specific rates, including:
Many companies offer discounts on mobile home insurance. For example, you may get a bundling discount for buying mobile home insurance along with another policy such as auto insurance.
Many insurers also offer discounts for having a home security system, smoke alarms or other protective devices.
Although mobile home insurance isn't available from all insurers, you can get coverage through these companies, either directly or from a third-party affiliate.
offers standard coverage for your manufactured home and belongings, plus numerous ways to customize your policy. For example, extra coverage is available for valuables, sports equipment or trees and shrubs. You can save up to 5% on your annual premium if you're the original owner of your home. Those who are over age 55 and retired can get a discount up to 10%.
Add "diminishing deductible" coverage to an mobile home policy, and your chosen deductible will immediately go down by $100. It'll continue to drop by another $100 each year you don't make a claim, up to $500. Other add-ons pay for damage from hidden water leaks or collisions while your manufactured home is in transit.
American Modern has focused on mobile homes since its founding in 1949. The company offers optional coverage for expenses due to the breakdown of an HVAC system, major appliances or electronics. You can also get identity theft assistance up to $15,000 or add coverage in case your new home is damaged between your loan closing and when you move in.
Options to customize a Farmers manufactured home policy include coverage for earthquakes, identity theft or water damage from backed-up sewers or drains. The company offers a bundling discount if you combine your mobile home policy with another Farmers policy such as auto, life or umbrella insurance.
Now a subsidiary of Farmers, Foremost was originally founded to insure mobile homes. It offers coverage options such as identity fraud management, trip coverage while moving your home, earthquake coverage and insurance for valuables. If you're an AARP member looking for mobile home insurance, Foremost is the third-party company that will provide it through the membership.
doesn't issue mobile or manufactured home policies itself but instead partners with third parties such as Assurant, Foremost and American Modern. If you need to file a claim or change your coverage, you'll need to work with the partner directly, not Geico. You can add extra coverage for sports equipment or musical instruments to a standard policy.
Like Geico, works with third parties to offer mobile home insurance in most states. That means you'll likely need to contact the third party to change your policy or file a claim. Replacement cost coverage is an optional add-on that ensures you can buy a brand-new mobile home if yours is destroyed. You can also add trip collision coverage to pay for damage during a move.
offers several ways to save on your manufactured home insurance, including discounts for protective devices such as burglar and smoke alarms. You may also be able to save depending on how long you've been insured with State Farm or the age of your manufactured home. Add-on options include identity theft coverage and replacement cost coverage for your home and belongings so you can get brand-new stuff if yours is destroyed.
— which primarily serves active military, veterans and their families — partners with Foremost to offer coverage for mobile, manufactured and tiny homes. In most states, USAA members can save up to $30 on a Foremost policy. People with modular homes should apply for a standard USAA homeowners policy.