Personal Injury Protection (PIP) Insurance in Florida, Explained
PIP insurance is required to legally drive in Florida and helps pay for your injuries after a car accident.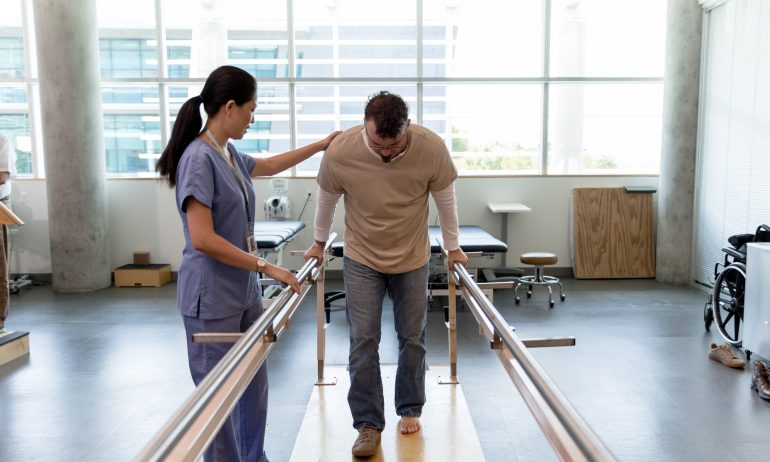 Many or all of the products featured here are from our partners who compensate us. This influences which products we write about and where and how the product appears on a page. However, this does not influence our evaluations. Our opinions are our own. Here is a list of our partners and here's how we make money.
Florida is one of several "no-fault states" that require drivers to have personal injury protection, or PIP, insurance. It pays you and your passengers when injured in a car accident, no matter who caused it. But it may not cover all of your medical needs.
Here's what you need to know about PIP insurance in Florida.
What is PIP insurance in Florida?
Personal injury protection, often called "PIP insurance," is a type of car insurance coverage that pays for medical expenses after a crash, regardless of who's at fault. Florida drivers must have $10,000 in PIP insurance, the maximum amount of money (or "limit") your insurance company might pay for injuries you and your passengers sustain after a car accident.
Florida is a no-fault state, which means drivers must first use their own PIP insurance to pay for medical and other injury-related costs. Be prepared to pay a deductible, the money you owe out of pocket before your insurer pays out for a claim.
What does Florida PIP insurance pay for?
In Florida, what PIP insurance pays for largely depends on the type of expense involved.
Here's a breakdown of what's covered:
Medical expenses (80%). PIP insurance pays 80% of crash-related medical costs, up to the $10,000 PIP limit per covered person, for things like ambulance rides, hospital bills, doctor visits, dental work and more. You must receive initial care within 14 days of an accident for medical expenses to be covered. 

Lost wages and services (60%). Personal injury protection pays 60% of your regular income, up to the $10,000 PIP limit per covered person, if you can no longer work or have to miss work due to injuries from a car crash. It also pays for services you can't do yourself because of an accident, like cleaning the house or caring for your kids.

Death benefits. PIP pays $5,000 for each covered person who dies as a result of a car accident. Death benefits don't count toward the $10,000 PIP limit.
Some insurance companies in Florida allow you to adjust your PIP coverage. For example, you may be able to pay for "extended PIP coverage," where 100% of medical expenses and 80% of lost wages and services are paid for. You may also be able to dial back coverage by excluding the part that pays for lost wages, a good option if you're financially independent and want to lower your premium.
Keep in mind that your insurance company may pay you less (or nothing) if it decides expenses are not medically necessary, or if no emergency medical conditions exist. That's why it's best to check with your insurance company or independent agent to review options as soon as possible after an accident if you're able.
It's a good idea to see a licensed medical professional as soon as possible after a car accident, even if you feel fine. That's because injuries from a car accident can take a while to appear. Your PIP insurance may not cover symptoms that arise if you don't seek initial medical care within 14 days after the crash.
Who's covered under Florida PIP insurance?
Personal injury protection insurance covers you and the following people (unless they have their own PIP insurance):
Relatives living with you.

Passengers in your vehicle.

Anyone driving your car with your permission.
PIP insurance may also cover you, and family members living with you, when:
Driving someone else's car with permission.

Riding in someone else's car.

Injured in a car accident as a pedestrian.
Is PIP insurance all you need to drive in Florida?
PIP insurance is just one of two requirements Floridians must have before registering a vehicle in the Sunshine State. The other is property damage liability insurance, which pays for other people's property you damage in an accident. You can learn more about that on our Florida auto insurance requirements page.
But having the bare minimum required car insurance might leave you financially vulnerable if you get into an accident. That's because Florida's minimum requirements are quite low when you consider the average cost of new cars today, or medical bills and lost wages that could rack up after a bad accident.
If you seriously injure a car full of people in an accident, a $10,000 PIP limit might not be enough to cover medical costs and lost wages. In that case, you'll likely be held responsible to pay for any remaining expenses. It's often a good idea to also get bodily injury liability insurance to cover those costs and legal fees if you're sued.
PIP insurance vs. health insurance
Both PIP and health insurance may pay for many of the same medical costs after a car accident. However, health insurance probably won't pay for things like lost wages, services you can no longer do and death benefits. This makes PIP insurance a bit more flexible than most health insurance.
PIP insurance can also come in handy if you have a high-deductible health plan, since $1,000 is the most you'll pay for a PIP insurance deductible in Florida. If you hit your $10,000 PIP limit, your health insurance may be able to help pay for any additional medical costs.
Frequently asked questions
Is PIP insurance required to drive in Florida?
How much does PIP insurance cost in Florida?
Should I get 'medical payments' coverage if I live in Florida?
For our "good driver" profile, NerdWallet averaged insurance estimates for single male and female drivers with good credit and no tickets or violations. The analysis included 5-10 of the largest insurance companies in Florida; smaller insurers were also included when rates were available. Liberty Mutual and its subsidiaries were excluded from our analysis as rates were not available.
For drivers with minimum coverage, Florida's minimum-required coverages were added. Some policies include additional coverages at the insurer's discretion.
We used a 2020 Toyota Camry L for all drivers and assumed 12,000 annual miles driven.
These are rates generated through Quadrant Information Services. Your own rates will be different. Some insurance companies included in this analysis may have made changes in their underwriting practices and no longer issue new policies in your state.
Get more smart money moves – straight to your inbox
Sign up and we'll send you Nerdy articles about the money topics that matter most to you along with other ways to help you get more from your money.