How Much Does Liability-Only Car Insurance Cost?
Liability-only car insurance may satisfy state requirements and save you money, but it isn't right for everyone.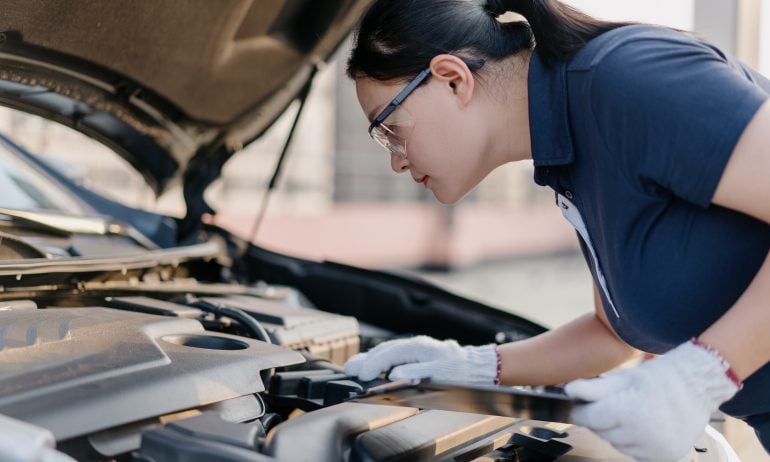 Many or all of the products featured here are from our partners who compensate us. This influences which products we write about and where and how the product appears on a page. However, this does not influence our evaluations. Our opinions are our own. Here is a list of our partners and here's how we make money.
Car insurance can be expensive, especially if you pay for insurance you might not need or can't easily afford. In special circumstances, it makes sense to just stick with liability-only car insurance — if your state allows you to.
Liability-only car insurance pays for injuries or property damage you cause others while behind the wheel. It won't pay for your own medical bills or injuries to immediate family members in the car, or for damage to your own car after an accident you cause.
Liability-only car insurance is sometimes called "minimum coverage," but they aren't quite the same thing. While many states allow you to purchase liability-only insurance, most states require additional coverage types to legally drive. Check out NerdWallet's minimum car insurance requirements to see what's required in your state.
What does liability-only car insurance cover?
"Liability" is just another word for responsibility — and when it comes to insurance, that means your financial responsibility to others. If you cause an accident while driving, you're legally responsible for paying medical bills, lost wages and more for injured drivers, their passengers, and nearby pedestrians. You'd also be on the hook to pay for any property you bang up, like other people's cars or a guard rail.
Without liability coverage, you're left footing these bills yourself, which most people would have a hard time affording. That's why every state requires at least some liability coverage (with the exception of Virginia and rural parts of Alaska) — or proof you have enough cash on the side to pay for such worst-case scenarios.
Liability-only auto insurance is broken down into two parts: 
Bodily injury liability. This pays for injuries you cause others in a wreck, except your immediate household family members.

Property damage liability. This pays for any destruction you cause to someone else's property, such as vehicles, fences, buildings and government-owned property.
For more information on what liability car insurance is and how it works, check out NerdWallet's liability car insurance article.
Liability-only car insurance comes with limits, or the maximum amount your insurer will pay to cover costs for injuries or property damage you cause. Because most states' limit requirements are very low, consider paying for higher limits when purchasing liability-only insurance, if you can afford it.
What does liability-only car insurance cost?
Because most states require residents to have more than liability-only insurance to drive, we'll use "minimum coverage" when talking about costs. Minimum coverage may very well be liability-only insurance in your state, but in others it often includes additional coverage types.
$685 for a good driver with good credit.

$1,118 for a good driver with poor credit.

$1,044 for a driver with an at-fault accident and good credit.

$1,403 for a driver with a recent DUI and good credit.
Why you can trust NerdWallet's rates
As you can probably gather, the cost of insurance is affected by many things, such as where you live, the car you drive and the insurance company you choose. To give you a better idea of how much you might pay for liability-only insurance with the lowest limits possible (or minimum coverage if your state requires more than just liability), refer to the two tables below, or check out NerdWallet's cheapest car insurance article. 
These rates reflect average costs for a 35-year old driving a 2020 Toyota Camry L with good credit and an unblemished driving history.
*USAA auto insurance is available only to military, veterans and their families.
| | | |
| --- | --- | --- |
| | | |
| | | |
| | | |
| | | |
| | | |
| | | |
| | | |
| | | |
| | | |
| | | |
| | | |
| | | |
| | | |
| | | |
| | | |
| | | |
| | | |
| | Southern Farm Bureau Casualty | |
| | | |
| | | |
| | | |
| | | |
| | | |
| | | |
| | | |
| | | |
| | | |
| | | |
| | | |
| | | |
| | | |
| | | |
| | North Carolina Farm Bureau | |
| | | |
| | | |
| | | |
| | | |
| | | |
| | | |
| | | |
| | | |
| | | |
| | | |
| | | |
| | | |
| | | |
| | | |
| | | |
| | | |
| | | |
| | | |
Just because the average cost of minimum car insurance from one company is cheapest in your state doesn't necessarily mean it'll be cheapest for you. A car insurance premium from one company can vary dramatically from person to person. That's why we recommend shopping around with at least three different insurers when looking for the best rates for minimum coverage.
Is liability-only car insurance right for me?
Liability-only car insurance isn't right for everyone. But it can be right under special circumstances.
Here's when liability-only auto insurance might make sense:
You own a car that's not worth much and you don't mind paying out of pocket to repair or replace it. You also have good health insurance and don't typically have passengers riding with you.

You rarely drive, and you keep your car stored safely.

You don't drive at all but want to avoid a lapse in coverage.
Here's when liability-only auto insurance might not make sense:
You live in a state that requires more than liability-only coverage — insurers can't legally sell less to you.

You can afford more than your state's minimum requirements. Remember, accidents are expensive and misfortune can strike at any time. Other coverage types like personal injury protection and uninsured/underinsured motorist coverage can help cover things like medical expenses and lost wages for you and your passengers after an accident.
Frequently asked questions
Is liability-only car insurance the same as minimum coverage?
What's the difference between liability-only insurance and full coverage?
What if I don't own a car?
NerdWallet averaged rates based on public filings obtained by pricing analytics company Quadrant Information Services. We examined rates for 35-year-old men and women for all ZIP codes in all 50 states and Washington, D.C. Although it's one of the largest insurers in the country, Liberty Mutual is not included in our rates analysis due to a lack of publicly available information. Poor credit rates from The Hanover were removed in both Connecticut and New York.
In our analysis, "good drivers" had no moving violations on record; a "good driving" discount was included for this profile. Our "good" and "poor" credit rates are based on credit score approximations and do not account for proprietary scoring criteria used by insurance providers. These are average rates, and your rate will vary based on your personal details, state and insurance provider.
Sample drivers had the minimum required coverage by law in each state. Some policies include additional coverage at the insurer's discretion.
We used a 2020 Toyota Camry L for all drivers and assumed 12,000 annual miles driven.
We used the same assumptions for all other driver profiles, with the following exceptions:
We changed the credit tier from "good" to "poor" as reported to the insurer to see rates for drivers with poor credit.

For drivers with one at-fault crash, we added a single at-fault crash that happened six months ago, resulting in $10,000 in property damage and no bodily injury claim.

For drivers with a DUI, we added a single drunken driving violation that happened six months ago.