What Should My First Investment Be?
When it comes to investing, waiting to start can be costly. Here's how to begin with minimal stress.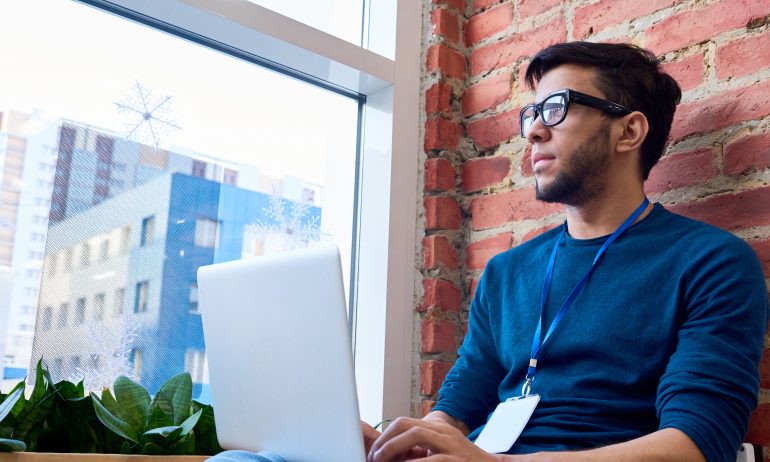 Many or all of the products featured here are from our partners who compensate us. This influences which products we write about and where and how the product appears on a page. However, this does not influence our evaluations. Our opinions are our own. Here is a list of our partners and here's how we make money.
---
The investing information provided on this page is for educational purposes only. NerdWallet, Inc. does not offer advisory or brokerage services, nor does it recommend or advise investors to buy or sell particular stocks, securities or other investments.
Investing doesn't have a clear-cut order of operations like solving an algebraic equation. But there are some useful guidelines you can use to find your way — starting with your first investment.
The word "investment" is used in lots of different ways, but in this context, we're defining an investment as a widely available financial asset that's meant to increase in value or generate income for its owner. Other things — such as paying for college courses to help advance your career — might sometimes be called an investment. But the investments discussed here are all financial instruments that are generally easy to find and to own.
For the most part, you should consider investing only after you've met certain financial conditions. Here are some questions to ask before you make your first investment:
Do I have an emergency fund? An emergency fund isn't an investment. It is a financial cushion between you and unexpected expenses. In the beginning, you can aim to have at least $500 stashed in an emergency fund. But over time, you should aspire to grow that fund to three to six months' worth of expenses.

Do I have high-interest debt? In addition to jeopardizing your ability to save, holding high-interest debt can negate the earnings from your investments (and then some). It is OK to save for retirement and pay off debt at the same time — especially if you have access to a 401(k) match — but be mindful of any debt you're carrying as you consider possible first investments.

Do I have an investment account? To buy most of the investments discussed below, you'll need some variety of investment account that will house your actual investments. If you're saving for retirement, the tax advantages of a 401(k), IRA or Roth IRA make each of them a great choice. If you want more flexibility than a retirement account can provide, consider a taxable brokerage account, or even a robo-advisor (more on those later).
4 great first investments
Wait, didn't we just say that a 401(k) is an investment account? We did, but if your employer offers matching contributions, you're essentially getting a guaranteed return on a portion of the money you contribute. If you make $40,000 a year and your employer offers a 3% match, a $1,200 contribution (3% of your salary) to your 401(k) will magically become $2,400. This is free money, so whatever match your employer offers, make sure you contribute enough to collect it all.
While you can't usually access this money without a penalty until retirement, we recommend saving for retirement before you start investing for other goals. Your eventual goal should be to save 15% of your income toward retirement, but if that's more than you can afford now, save as much as you can and try to increase your contribution rate each year. Once your retirement account is growing, you can start to prioritize other goals.
And if you don't have a 401(k) or your 401(k) doesn't come with a match? Consider opening an IRA or Roth IRA account. It won't come with a match either, but it will allow you to buy the investments noted below — and to access some powerful tax benefits.
An index fund is a mutual fund — essentially a collection of individual investments — but unlike most mutual funds, it is built to passively track a financial index. For instance, an S&P 500 index fund is built to mirror the performance of the S&P 500 index, a group of stocks comprising about 500 of America's largest companies.
Index funds are great for two major reasons:
They expose investors to lots of different companies within a larger market, which helps with diversification.

Because they require less manpower to run than actively managed mutual funds, they usually come with lower expense ratios and are thereby cheaper to own.
Not everyone is cut out for picking investments. Fortunately, robo-advisors are built to take the legwork out of investing by automating the process. There's no confusing jargon or heavy decisions to make: Simply answer a few questions on your financial goals and preferences and the robo-advisor will build a portfolio that you can add money to over time. You can even have your robo-advisor invest within an IRA or Roth IRA for the tax benefits.
Robo-advisors are great for saving for retirement, but if you have shorter-term goals, like saving for a down payment on a house, most of them can help you invest effectively for that, too. Check out this list of the best robo-advisors for more details on these services.
A target-date mutual fund
This type of mutual fund aims to maximize performance with your predicted retirement date in mind. When a target-date mutual fund is a few decades away from its prescribed retirement date, it will be composed mostly of stocks. As you get closer to retirement, the fund will be rebalanced to achieve a lower level of risk.
The only problem with target-date funds? Like many types of mutual funds, they can come with relatively high costs. When shopping for a target-date fund, compare funds that match your desired retirement date, and look closely at each fund's expense ratio, which is the primary cost of owning the fund. The cheapest target date funds today come with expense ratios below 0.50%.
Advertisement
Promotion 

None

no promotion available at this time

Promotion 

None

no promotion available at this time

Promotion 

Get up to 12 free fractional shares (valued up to $3,000)

when you open and fund an account with Webull.
Some not-so-great first investments
There are many investment types you might consider adding to your portfolio over time, but when it comes to your first investment, you should aim to keep it simple.
Investments like individual stocks, real estate or alternative assets can be great complementary pieces later on, but a first investment should give you a diversified base to build from and help you gain comfort in the investing landscape — not require you to learn about a whole new industry or how to plumb a bathroom.
What about my goals besides retirement?
Once the basics of saving for retirement are sorted, it's time to consider what financial goals you should invest for next. Whether it's a down payment, a vacation or college tuition, a key factor to choosing investments for these objectives is how soon you'll need the money.
I want to save for a short-term goal (five years or less). While you might be tempted to invest this money in some of the instruments mentioned above, it's probably wise to hold these funds in a separate high-yield savings account instead. Why? The investments above are generally strong choices for maximizing long-term growth, but they can also be somewhat volatile in the short-term. The last thing you want is to get near your goal for a down payment on a home, only to see your portfolio sink 20%. Saving in an FDIC-insured account won't net you much interest these days, but it will guard against these types of downfalls.

I want to save for a long-term goal (five years or more). Long-term saving goals, like college tuition, can generally withstand a little more volatility than the shorter-term variety. If you are starting a college fund for a newborn, putting it in the market for a few years via an index fund or robo-advisor could make sense. However, if you're starting a fund for a 15-year-old, heed the advice above on short-term goals and keep that money where it's less likely to suffer a debilitating loss at a bad time.
If you're uncertain how to save for these goals, robo-advisors such as Betterment offer savings tools to help you reach specific financial goals effectively. And if you're finding you have too many objectives to keep track of, you might wish to consider a digital financial advisor to help you make sense of it all. Check out this roundup of the best financial advisors for more details, or use the goal planner tool below to figure out which services might best fit your needs.
Get more smart money moves – straight to your inbox
Sign up and we'll send you Nerdy articles about the money topics that matter most to you along with other ways to help you get more from your money.