Many or all of the products featured here are from our partners who compensate us. This may influence which products we write about and where and how the product appears on a page. However, this does not influence our evaluations. Our opinions are our own. Here is a list of our partners and here's how we make money.
---
The investing information provided on this page is for educational purposes only. NerdWallet does not offer advisory or brokerage services, nor does it recommend or advise investors to buy or sell particular stocks or securities.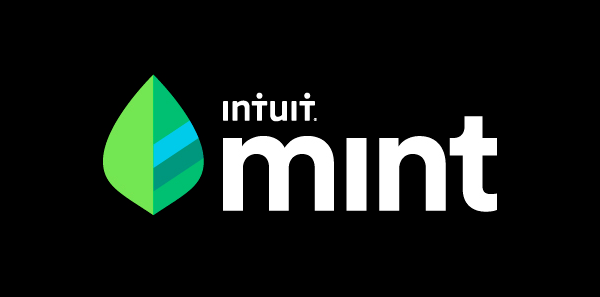 The budgeting app Mint has attracted more than 20 million users, and it's easy to see why: For one, it's free. It also automatically syncs to bank, credit card and investment accounts, pulling data with little effort on the part of the user, and provides free credit score information.
NerdWallet's Rating: 4 / 5
| | |
| --- | --- |
| | |
| | |
| | iOS (including Apple Watch), Android, Windows Phone and Amazon |
| Automatic account syncing | |
| | |
| | |
Financial hub: One of the best features of Mint (owned by Intuit, makers of TurboTax and Quicken) is that it pulls all financial information into one central location. Once users have signed in and linked their accounts, they can view virtually every aspect of their financial lives through Mint's dashboard: credit card and bank account balances, investment performance, credit score and even home value (provided by partner Zillow).
Automatic syncing: Mint makes getting a quick snapshot of spending easy. To get set up, all a user has to do is select the account provider — say, Bank of America — and sign in via Mint's site or mobile app. Then the service pulls in all of the account information to give a quick view of account balances, transactions and even bills due. (Users can later direct Mint to "forget" an account if they want.)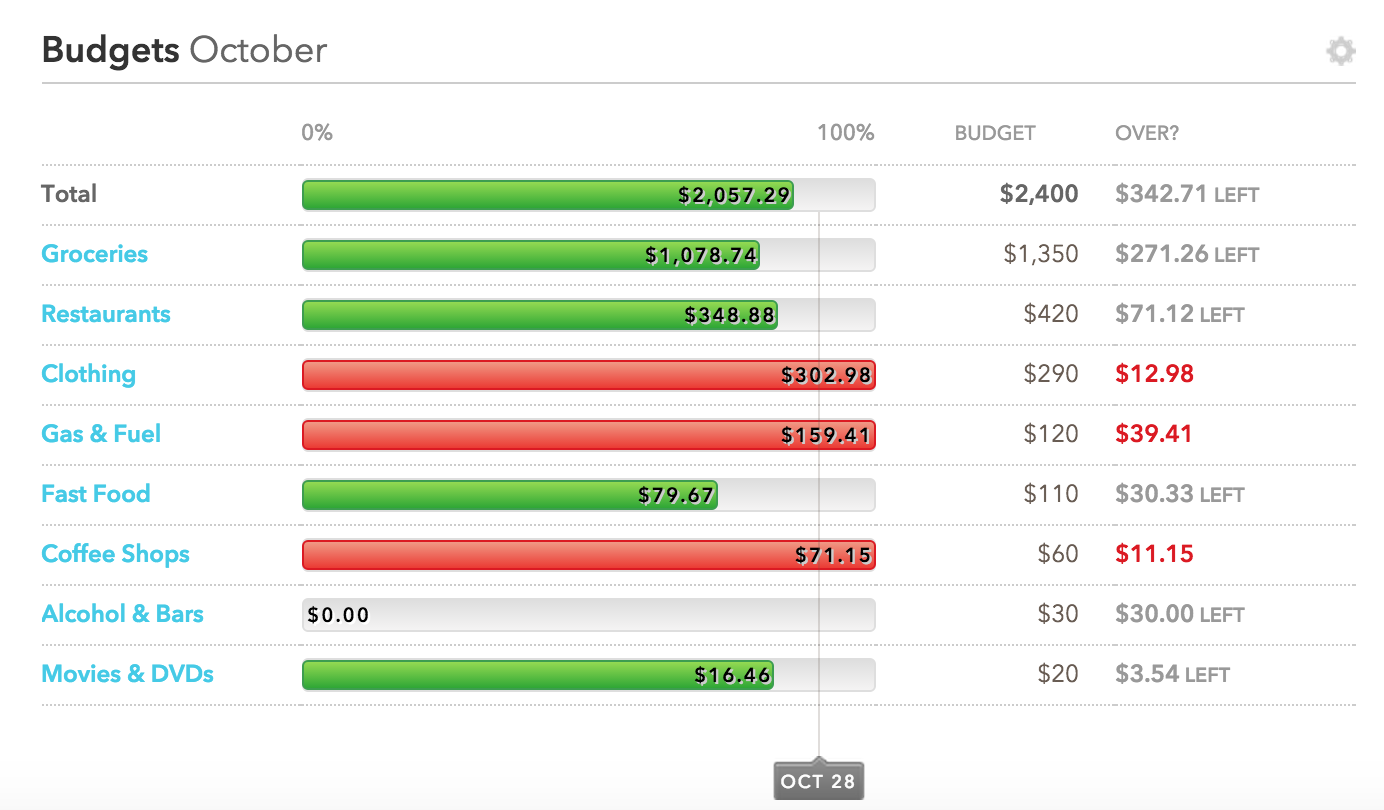 Mint automatically starts categorizing transactions, though one of the most common user frustrations is that the categories are often wrong (more on this below). Users can fix incorrect categories and can split purchases, including splitting ATM transactions into the purchases made with cash.
Mint also immediately creates a budget, letting the user know how much he or she spent on, say, groceries, that month and how much the service thinks should be spent, based on past spending patterns and average spending in that category. The budgets, like much of the tool, are customizable.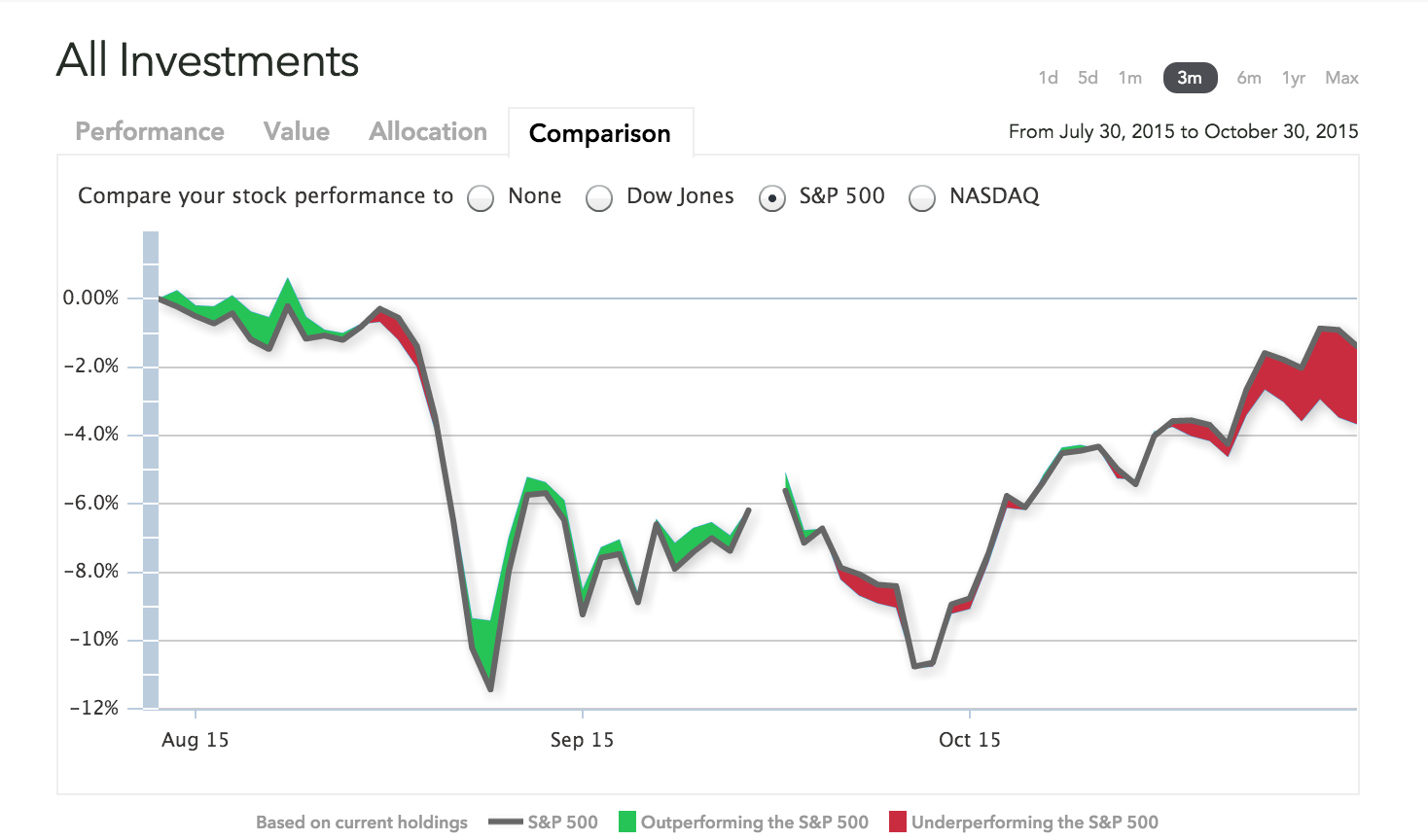 Portfolio snapshot: When investment accounts like an IRA are linked, Mint gives a high-level overview of the investments within and how they are performing. It's not the sort of detail users would get by logging in to the brokerage account itself, but it's more than enough to see where those accounts stand.
The service also allows users to compare their portfolio performance to various benchmarks, like the S&P 500 and Dow Jones Industrial Average, looking at all accounts at once, each individual account alone or even individual investments within accounts.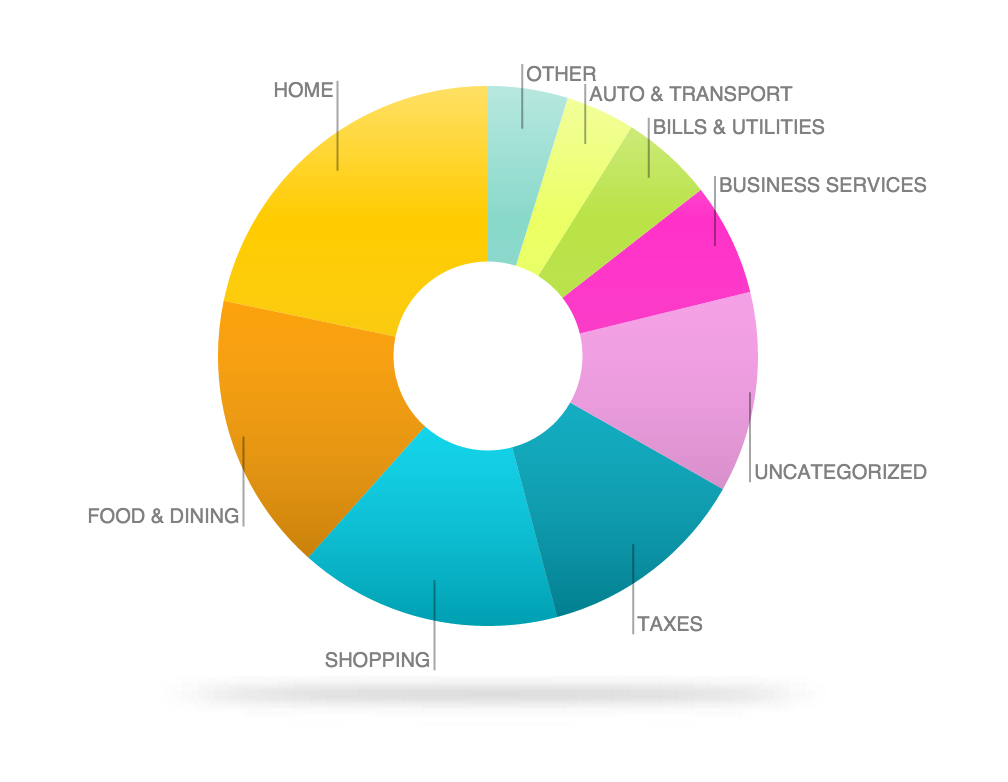 Trends overview: The Trends tab gives users a quick look at where they stand — how much they've spent in various categories, such as shopping, groceries, food and dining, and entertainment. Users can easily refine the time frame, selecting from options such as this month, last seven days and last 14 days, or creating a custom window and viewing month over month or comparing to the same time last year.
Free credit score: All Mint users get a free credit score, displayed on the dashboard at each login. It's not hard to come by a free credit score these days, but Mint excels in the way it shares the information, cutting out the noise to show users everything they need to see and nothing they don't.
The site's credit score page is much easier to digest than a standard credit report, and gives much of the same information: age of credit, total accounts, number of inquires, derogatory items and on-time payment history. The information comes from credit bureau Equifax and can be updated with the click of a button every three months.
Alerts: Mint's alerts can keep users out of trouble. The service can send out a notification if a budget is exceeded, a bill is due soon, too much was spent on ATM fees or it recognizes unusual spending activity, in an attempt to thwart identity theft.
Mobile app: The bulk of Mint's users are on mobile, and the service's mobile apps (the overall app and Mint Bills for payments) are suitably strong. Users can quickly view recent purchases, get alerts and updates, characterize transactions and look at an overview of spending, trends and cash flow.
Ad targeting: Mint is free, but it has to make its money somewhere, and it does that by recommending products and services. In many cases, these can save users money or help consolidate debt.
But some of the recommendations seem invasive, and others are just off: In a test account, the company recommended rolling over an active employer 401(k) — viewing it as old, for some reason — into an IRA with Fidelity, one of the site's featured partners.
Recommendations are grouped under the site's Ways to Save tab, which serves up credit card, bank, insurance and other offers. It does seem to surface offers that would save the user money. But this section of the site didn't function correctly every time, sometimes failing to load offers or not auto-populating the search fields with the user's account information as it should.
Technical glitches: This is one of the biggest knocks against Mint: A surprising number of bugs, especially for such a dominant platform — too many to say that the service is truly easy to use. The site consistently and suddenly logged out test accounts during active use, and the credit score tool wouldn't load on the first try. Mint also frequently disconnects from synced bank and credit card accounts, forcing the user to add them again. (The testing of the mobile apps didn't surface similar issues.)
Mint also miscategorizes transactions frequently, although it's fairly easy for a user to change the category and the site will remember the correct category next time. For example, if it categorizes a favorite restaurant as a grocery store, the user can set it straight and the next time a transaction is made there, the automated category should come through correctly.
Over-automation: Automatically syncing with accounts is a perk, for sure. But it also allows users to be truly hands off, which doesn't do much to create a budgeting habit.
Users don't have to look at their individual expenses with Mint, only a snapshot of their spending in categories. It's an easy way to get a quick view — so easy that users may look only at that big picture and overlook red flags. Users can drill down for more detail, of course, but the site makes it easy not to do so — and that makes it harder to solidify a budgeting habit.
Without the technical bugs experienced during testing, Mint would earn rave reviews, as the service is clearly the most robust automated budgeting tool available. It's a tool for reluctant budgeters — many people fall into that category, and they'll be happy keeping tabs on their spending with this service.
Those who want to dig into the numbers will probably prefer a more hands-on service like You Need a Budget.