How to Buy a Certified Pre-Owned Car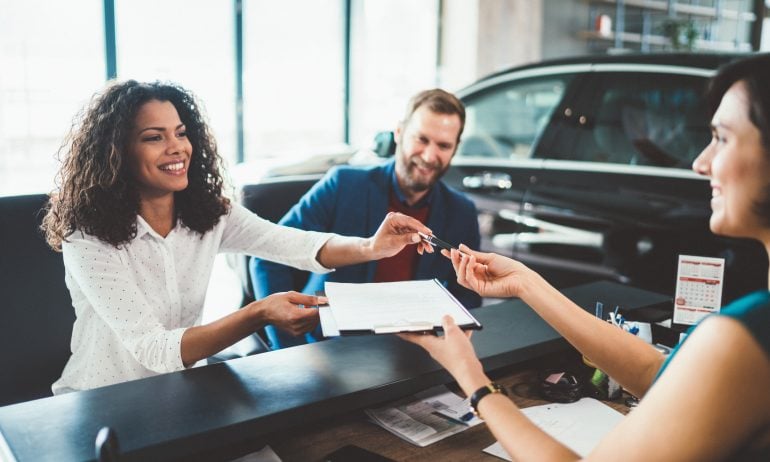 Many or all of the products featured here are from our partners who compensate us. This may influence which products we write about and where and how the product appears on a page. However, this does not influence our evaluations. Our opinions are our own. Here is a list of our partners and here's how we make money.
Buying a certified pre-owned car is much like buying a new car — but with a few unique twists.
Just to be clear, we're talking about a true CPO car, sold by a franchised new car dealer — Ford or Toyota, for example. These are the cream of the used-car crop because they have been inspected by factory-trained mechanics and are sold with a warranty. The inspection removes a big step in used car shopping — figuring out if the car is in good mechanical condition — and the warranty provides peace of mind that you won't break the bank with unexpected car repairs.
And, as with any car purchase, it's also a good idea to review all the steps in our car-buying cheat sheet. Here are the steps we recommend for getting the best deal on a CPO car.
Almost every carmaker now has a CPO program, but not all are created equal. For example, Ford's CPO program offers a 12-month, 12,000-mile comprehensive warranty; the Lexus CPO program warranty is for two years with unlimited mileage. Carmakers' CPO programs all include an inspection covering multiple components. In addition to a bumper-to-bumper warranty, many programs extend the powertrain warranty.
Be very clear on how long the warranty's coverage lasts — is it from the date you buy the car or from the date it was sold to its original buyer? A Lexus CPO car, for example, could be under warranty for up to six years: The buyer gets the balance of the new car warranty, which is four years, plus the two years that the CPO program provides.
Check dealership inventories for your CPO car
Once you pick the right car, you can search the websites of local dealerships for CPO cars. This might be a bit confusing, since some car companies have different names for their CPO programs. Usually, the site's used car section will have a page displaying only the certified cars.
If you are shopping the old-fashioned way, by walking around the dealership lot, you'll usually find the CPO cars in a separate, well-marked area. But before you test drive a car, and especially before you begin negotiations, ask your salesperson to verify that the car is indeed in the manufacturer's CPO program.
Look up special pricing for CPO cars
Since CPO cars are the cream of the crop and come with a warranty, they offer more value than other used cars — and therefore will cost more. All the major pricing guides — Edmunds, Kelley Blue Book and the National Automobile Dealers Association — have pricing just for CPO cars. Look up a car just as if you are getting the dealer retail price and look for the category marked "certified." You will notice that a CPO car is worth an average of $1,400 more than an equivalent car at the dealer retail price.
Test drive and visually inspect the car
Don't assume that a car is perfect just because it's in a CPO program. Most of these cars are at least 2 years old and, as a result, have some wear and tear. Your inspection should focus on dings, dents, scratches and interior wear. Two CPO cars could be priced the same, but one might be in better condition than the other. However, you don't have to take the car to a mechanic for inspection. That has already been done for you.
Ask to see the inspection report
This step isn't mandatory. However, if you have any doubts about the car's condition — if it seems subpar — ask to see the mechanic's inspection report. The report will show which features have been inspected and, in some cases, record what condition those features are in. For example, most CPO reports will show how much thickness remains on the brake pads and tire tread. It also will indicate which, if any, parts were replaced to bring the car up to snuff.
In most cases, a vehicle history report is included in the CPO program. If the dealer doesn't give it to you voluntarily, ask to see it. When you review the report, make sure it's up to date.
Used car — excuse us — "pre-owned" car prices aren't set in stone. If you find, after checking the pricing guides, that a dealer is asking an above-market price for a CPO car, you can negotiate. The best way to create leverage in your negotiation is to refer to the pricing guides or perhaps a competitor's car that is priced lower. There's nothing to stop you from trying to improve the deal even if the car is priced at market value. Even if the dealer rejects your offer, knowing that you tried will give you peace of mind that you got the best price possible.
When you sign the sale contract, you will almost certainly get a spirited sales pitch from the finance and insurance manager. The standard offer is to increase the warranty even more than what is included in the CPO program. If you intend to keep the car a long time and fear expensive repairs, you might accept the offer. However, know that these warranties are high-profit items for the dealer and are often marked up steeply. Therefore, it leaves a lot of room for negotiation. In addition to the warranty, you'll be offered a host of products and services such as paint and fabric protection and anti-theft devices.
Buying a certified car is a simple way to get a great vehicle at a reasonable price. But you still have to be an informed buyer and know the special ins and outs of certified car buying.
Get more smart money moves – straight to your inbox
Sign up and we'll send you Nerdy articles about the money topics that matter most to you along with other ways to help you get more from your money.