Car Repairs: Independent Mechanics vs. the Dealership
Your local mechanic beats the dealership service department in price and customer satisfaction, but you may value specialized technicians and brand authority more.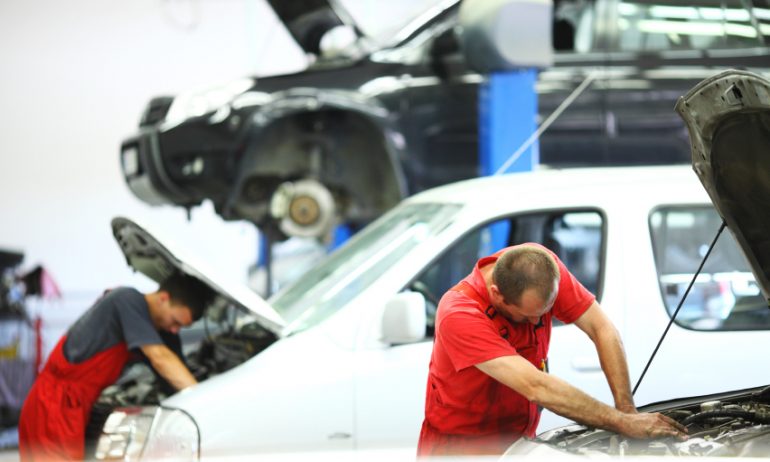 Many or all of the products featured here are from our partners who compensate us. This may influence which products we write about and where and how the product appears on a page. However, this does not influence our evaluations. Our opinions are our own. Here is a list of our partners and here's how we make money.
Say the warranty on your trusty minivan or sedan just ran out. You've been having it serviced at the dealership for years with no problems. Your friends say, "Why change?" The dealer uses original manufacturer's parts, and the mechanics are factory-trained. But your neighbor swears by a local mechanic and promises you'll save a fortune on car repairs.
Which do you pick? First, understand how each operates, point by point.
than dealership servicing for customer satisfaction, price, quality, courteousness and on-time repairs, according to a 2014 Consumer Reports survey.
If you go this route, make sure your garage has its industrywide standard Automotive Service Excellence (ASE) certification. To , ask friends and family for recommendations and search online reviews. Always remember to shop around to compare prices — and include a quote from your dealership, too.
Zach Mason, service manager at Advanced Autowerks in San Francisco and a former dealership employee, requires his staff to hone their skills regularly.
"If you aren't doing 16 hours of continuing education per quarter, you lose out," Mason says. "If there's a new VW engine and someone's teaching a class on that, my guys will go to that. If there's a new programming class for a new electronic module system ... my guys are going to school on that."
"The process needs to be as close to flawless as possible," Mason says. "If something is misquoted or times aren't delivered on ... we don't have that history built in with the customer. Our promise times absolutely have to be met. Our word has to be our bond."
Dealership service departments have that brand-name power. They can offer manufacturer-backed extended warranties and check for the latest repair and recall bulletins every time you bring in your car. But if you stay with the dealership, be prepared for slightly higher prices. Keep your owner's manual handy, so you don't have any unnecessary work done on your car, and consider signing up for the dealership's mailing lists. Coupons and deals it sends may add up to big savings.
"Sure, your [independent mechanic] may be able to fix your vehicle," says Neil G. Chirico, former road test coordinator at Edmunds.com. "But they're not specifically trained for that specialty and sometimes waste more money and time trying to figure out your repair that the specialist would find easily."
Chirico is a believer in parts made by the original equipment manufacturer. "Nothing works and fits like the OEM parts," he says. "Aftermarket parts do not have to pass the same tests as, say, Ford dictates for its parts."
If you have a luxury car, value a nice waiting room and don't mind paying a little extra for specialized training and equipment, you won't go wrong at the dealership. If you're more interested in finding a good deal and having a relationship with your mechanic, try a local auto shop.
Remember to shop around for prices, and don't be afraid to negotiate at either location.