How to Choose the Best Tires for Your Car
If you don't want to stick with the type of tires that came with your car, look for the right size and the characteristics you want — and get started early.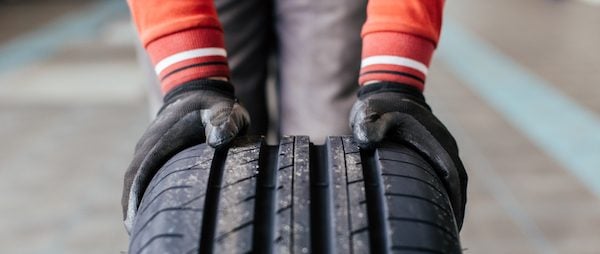 Many or all of the products featured here are from our partners who compensate us. This influences which products we write about and where and how the product appears on a page. However, this does not influence our evaluations. Our opinions are our own. Here is a list of our partners and here's how we make money.
The road is covered in a sheet of snow when the truck in front of you jams on the brakes. You hit the brake pedal and feel the tires gripping, safely bringing you to a stop just short of the truck's rear bumper.
If something like this has happened to you, then you probably took the time to choose the right tires for your car. Picking tires that can handle weather and road conditions you encounter is one of the most important decisions you can make. After all, your car's tires are your only connection to the road.
So when it's time for new rubber, consider the following factors to ensure you choose the best tires for your car:
Original equipment tires vs. a new brand
When it comes to purchasing tires, "a good place to start is to consider buying the same ones that came on the car," says Dan Edmunds, director of vehicle testing for car site Edmunds.com.
If you like the way the car rides and handles, buy the original equipment, or OE, tires your car came with from the manufacturer.
This is the easiest option: Since the tires were designed for your car, you know they'll be a good fit. You can find out which tires came with your car by looking in your car's owners manual or doing a quick search on an online tire retailer's website.
But if you want to change the ride characteristics of your car, you'll need to do a bit more research. Edmunds says to read online tire reviews or refine your search for specific characteristics (more on that below).
Locate a placard on the driver's side door that indicates what size tires fit your car. For example, your tire size might read P215/65 R15. This string of numbers and letters denotes the tire width, the height compared to the width, and the diameter. In most cases, your new tires should match this size.
If you shop for tires online, you can easily find your tire size on a retailer's website, such as TireRack.com. Just enter the year, make and model of your car and you'll find the tire size and a list of tires that match the size and will work for your car. You can then compare tire reviews and prices.
"Tires define the personality of the vehicle," says Gene Petersen, tire program manager for Consumer Reports, which tests and reviews tires. He tells drivers to choose tires that are not only the right size, but that also optimize the car's handling and braking ability. Finally, search for tires that reduce road noise and provide a comfortable ride.
However, keep in mind that there will only be a few brands of tires that are developed specifically for your car, Edmunds says.
"They are chosen to achieve the ride and quietness and handling that creates the personality [the manufacturer] wants that car to have," Edmunds says.
All-season, winter or summer tires?
You'll also need to decide whether you want all-season, winter or summer tires. Here's a description of the differences among those tire types:
All-season tires are the most popular because, as the name indicates, you can leave them on the car year-round. "All-season tires provide some modest grip and traction on ice and a good compromise of dry and wet grip," Petersen says.

Winter tires are not designed for all-year use. This means that you'll either have to buy an extra set of wheels or have an installer swap them with your summer tires as winter approaches. Winter tires are made of a pliable rubber compound that performs best in cold temperatures. They also have a deeper tread and more slits (called "sipes") to break ice and bite into snow.

Summer tires are best suited to sports cars for performance driving and provide good grip on dry roads in warm temperatures and at high speeds. However, the soft rubber compound does not provide good traction below about 40 degrees or on snowy surfaces.
Don't wait until your tires are dangerously worn before you begin shopping. Petersen suggests checking your current tires by inserting a quarter into the tread. If the top of George Washington's head (pointing down) is even with the tread, it's time to begin the shopping process. If you insert a penny and the tread is even with the top of Abraham Lincoln's head, the tires are becoming unsafe and you should buy new ones right away.
If you get started early, you'll have plenty of time to research tires and shop the best prices. Once you know your tire size, and the type of tire and characteristics you want, you can read reviews and check out ratings from sites like Consumer Reports and SaferCar.gov.
When you find and price the tires you want online, you may be able to get a brick-and-mortar tire shop to beat that price. If not, you can order the tires online, have them sent directly to a local installer and then bring your car in when they arrive.
So plan ahead — you'll wind up with a smooth and safe ride, and you might even save some money.
Get more smart money moves – straight to your inbox
Sign up and we'll send you Nerdy articles about the money topics that matter most to you along with other ways to help you get more from your money.