Can I Refinance an Auto Loan With Bad Credit?
It's possible to refinance a car loan when you have bad credit. Here's how to know if it might make sense for you.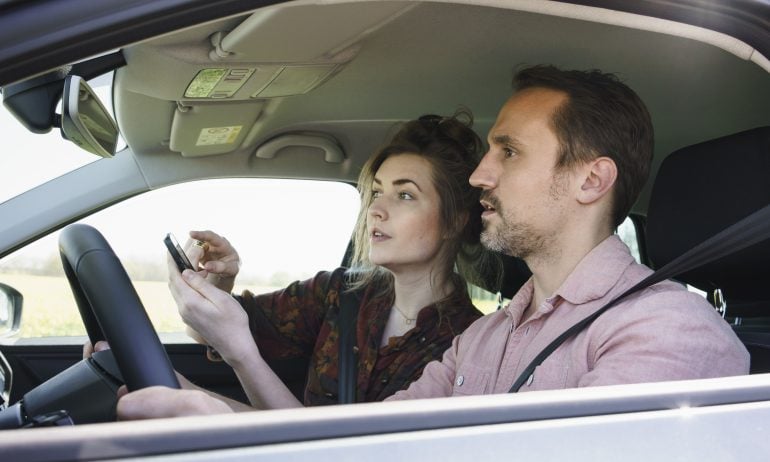 Many or all of the products featured here are from our partners who compensate us. This influences which products we write about and where and how the product appears on a page. However, this does not influence our evaluations. Our opinions are our own. Here is a list of our partners and here's how we make money.
Even if you have poor or bad credit — a FICO score less than 630 — you can most likely find a lender to refinance your auto loan. The question is whether you can find better loan terms to make refinancing your car worthwhile.
Certain auto refinance lenders have less-stringent credit requirements, like, for example, lower minimum credit scores, to help bad-credit borrowers qualify. However, these loans usually come with very high interest rates.
The only way to know if you could qualify for a lower rate is to do some research. Many lenders offer pre-qualification with a soft credit check, so you can see rate estimates without affecting your credit score.
If you can't find a lender willing to refinance to a lower interest rate than you currently have, staying with your existing auto loan may be a better option.
Reasons to refinance a car loan when you have bad credit
A car dealer marked up your interest rate
Often consumers with bad credit are fast to take car dealership financing without realizing they could have qualified for a lower interest rate elsewhere. If a dealer saddled you with an extremely high-interest auto loan, refinancing may be a way to replace it with a lower-interest one.
If you've made consistent, on-time payments for six to 12 months since getting your car loan, and the lender has been reporting these payments to the credit bureaus, it's likely that your credit score has improved. It's worth checking to see if you might now qualify to refinance to a lower interest rate.
You're having trouble making payments
If your car payment is more of a stretch than you expected, refinancing to a longer loan term is one way to reduce your monthly payment. But there is a negative side to extending your loan.
With bad credit and refinancing to a longer term, you're less likely to get a lower interest rate and could pay thousands of dollars more in interest over the life of the loan. Still, this could be a better option than missing payments and facing the repossession of a car you need to get to work.
Interest rates in general have decreased
Refinancing might be a way to take advantage of lower interest rates if market rates have fallen since you got your original loan. However, in the current rising-rate environment, this scenario isn't likely.
Your car's value has increased
Normally, cars depreciate and lose value quickly. But in the past few years, a shortage of vehicles has caused cars to appreciate in value. If your car is now worth much more than you owe on it, this decreases your loan-to-value ratio. A lower LTV can help you qualify for a refinance loan, possibly with better loan terms.
How to refinance a car loan with bad credit
Refinancing your auto loan with bad credit can require some extra effort to find an approved loan that makes financial sense. Here are some steps that can help.
Check your credit score and report
Before you apply for an auto refinance loan, review your credit. You can get your credit report and score for free through NerdWallet or receive a free credit report from each of the national credit reporting agencies — Equifax, Experian and TransUnion — at annualcreditreport.com. Due to Covid, these agencies will provide a free weekly credit report through December 31, 2023.
If your credit score falls below the mid-600s, you can expect higher loan interest rates and more lender scrutiny. But if your credit score has risen since you got your original loan, you might still qualify for a lower interest rate.
Once you have your credit report, look for errors that could negatively affect your score, such as past due payments that were really on time. Dispute any errors and have them corrected.
Knowing where you stand from a credit perspective can help you to determine whether refinancing to a better loan is realistic. It can also give you an idea of the types of loan offers and rates you can expect.
Shop for lenders and the lowest rate
A few auto lenders will refinance their own auto loans, so start with your current lender to see if it's a possibility. Even if it is and reduces your rate, you should still shop around with several lenders to see if you can do better. 
To decide which lenders might be a good fit, here are a few questions to ask.
What is the refinance lender's minimum credit score requirement? If you've checked your credit score, look for lenders that make refinance loans within the range where your credit score falls. NerdWallet reviews many auto loan refinance lenders and provides their minimum credit score when available.
Will the lender allow you to pre-qualify with a soft credit check? If so, you can get refinance loan rate estimates without affecting your credit score. Use an auto loan refinance calculator to compare your current loan with pre-qualified loan offers and rates and see how much you might save. It won't cost you anything to pre-qualify.
Does the lender have restrictions on when you can refinance? Some lenders require a waiting period of six months or more after the closing of your previous loan, especially if you have bad credit. That waiting period is an opportunity to show the lender that you will make payments on time. Also, some lenders won't refinance an auto loan without a certain balance or number of months remaining. 
What fees does the lender charge? Most lenders don't charge fees to apply for a loan, but some do charge $400 to $500 in origination or processing fees after you move forward with a loan. If a lender's fees are high, look for lenders with no or low fees that won't cut into your savings.
Based on pre-qualification offers, select several lenders and apply. Be prepared to provide certain information, such as documents for your current loan and verification of your income and employment.
Since approval will require a hard credit inquiry, submit all loan applications within a 14-day period. A hard credit inquiry triggers a small drop in your credit score, but applications submitted in a two-week window are typically treated as one, causing less of an impact.
If you do receive more than one refinance loan offer, compare rates, fees and terms. What may seem like a small drop in interest rate can be a big difference in what you pay.
For example, if you financed a $20,000 used car for 72 months with an 18% APR, your monthly payment would be $456. One year later, you've paid the loan down to a balance of $17,963 and refinanced at 12% APR for the remaining 60 months. Your payment would drop to $399 and result in interest savings of $3,394 over the life of the loan.
When you can't qualify to refinance with bad credit
If you can't qualify to refinance your auto loan to a lower rate, there are possible alternatives to consider.
Ask a friend or family member with good credit to co-sign for the refinance loan, which could help you qualify. Just make sure the lender allows co-signers.

Trade your current car for something more affordable and take out a new loan with a lower balance.

If you're having trouble making your car payment, ask your current lender about the availability of assistance programs to help you without refinancing.

Stay with your current loan and make on-time payments for six to 12 months, which may improve your credit and qualifications for loan approval.
Get more smart money moves – straight to your inbox
Sign up and we'll send you Nerdy articles about the money topics that matter most to you along with other ways to help you get more from your money.