What Is a Private Party Auto Loan?
When you buy a car directly from its owner, you may need a private-party auto loan.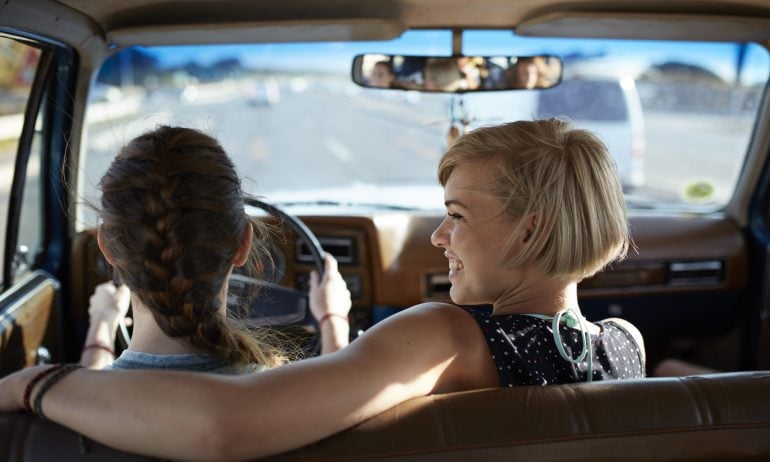 Many or all of the products featured here are from our partners who compensate us. This may influence which products we write about and where and how the product appears on a page. However, this does not influence our evaluations. Our opinions are our own. Here is a list of our partners and here's how we make money.
Private-party auto loans help you pay for a car you buy from an individual, such as a family member or on Craigslist.
When you purchase a car from a private seller, you won't have a car dealership finance department to set up financing. You can find private-party auto loans at banks, credit unions and online lenders, but not all lenders offer them. So you may have to shop around to find one. But that also allows you to apply to more than one lender and compare rates.
Private-party auto loans work like other types of auto loans. You receive funds from the loan to pay for the car, and then you make monthly payments to pay off the loan. If you default on the loan, your car is the collateral and can be repossessed by the lender.
How private-party auto loans are different
While private-party auto loans are similar to traditional auto loans, you will find some differences.
Complexity. Buying from a private seller will require more time and attention for you and your lender. With no dealership involved, you will be responsible for many tasks a dealer would usually handle — such as paying sales tax and submitting paperwork to the Department of Motor Vehicles. Many lenders don't offer private-party auto loans due to the additional work involved and the potential for fraud.
Loan terms. Depending on the lender, private-party auto loan terms can be 12 months to 84 months. Many lenders won't offer terms below 24 months for a traditional used-car loan.
Eligibility. Sometimes lenders have different requirements for the private purchase of a car. Double-check a lender's maximum vehicle age and mileage, along with the minimum loan amount, for a private-party auto loan. Then, ensure the car you want to buy fits the lender's eligibility requirements.
Higher APRs. Private-party auto loans usually have higher APRs than a used-car loan you'd get through a dealership. This is because lenders perceive financing a car purchased from an individual to be riskier than one bought from a dealership. Also, cars from dealerships often come with warranties and certifications that the vehicle is in good mechanical condition.
Even though private-party auto loans tend to have higher interest rates, consider that you may save in other ways when buying a car from an individual. For example, cars purchased directly from an owner usually have a lower price tag because there is no dealer markup or add-ons. Also, private sellers are often more willing to negotiate.
How to apply for a private-party auto loan
Once you find a bank, credit union or online lender that offers private-party auto loans, you can apply just as you would with any other auto loan. Some lenders require that you apply in a branch, but others have a "private party" option within their standard online auto loan application. Some like Bank of America allow current customers to apply for a private-party auto loan using a pre-filled application within online banking.
Many private-party auto loan lenders require that you know the exact car you want to buy before applying for a loan. So when you apply for a private-party auto loan, you will need to provide the car's year, make, model, mileage, trim and vehicle identification number. Other lenders will preapprove a private-party auto loan before you find a car. That way, you have an idea of the amount you can finance and can quickly carry through with the process when you find the right vehicle.
Because you will be responsible for details usually handled by a dealership, you can expect the lender to ask you for information such as the following:
Copy of the vehicle registration.

Copy of the front and back of the vehicle title.

Bill of sale that has the agreed-upon purchase price. (This differs by state, so check with your local DMV.)

If the vehicle's current owner still has an outstanding loan balance on the car, you will need written documentation of the pay-off amount from the previous lender.
Funds from a private-party auto loan are disbursed in various ways. Many lenders send funds directly to any previous lender to pay off that loan, with any extra funds forwarded to the seller. Others will give you a check to sign over to the seller and/or the previous lender. A few may deposit the money into your bank account.
As the final step, you must transfer the car's title and registration into your name and ensure your lender is on the title. Your local DMV can tell you how to do this.
Get pre-approved for a private-party loan
Alternatives to using a private-party auto loan
If you have enough cash, that's one way to purchase a car from a private party.
Another option is to use a personal loan. Some lenders, like LightStream, advertise private-party auto loans that are unsecured, personal loans.
Personal loans don't use your vehicle as collateral and rely most heavily on your credit history and income for approval, so they can be more challenging to get. Also, unless you have a high credit score, personal loan rates are usually higher than private-party auto loan rates.
If you buy a car from a private seller using cash or a personal loan, there are some benefits. Since the car isn't used as collateral, you don't have to worry about vehicle restrictions such as mileage or age. Also, without a lien on the car, you won't be required to carry full-coverage car insurance on what may be an older vehicle.
Get more smart money moves – straight to your inbox
Sign up and we'll send you Nerdy articles about the money topics that matter most to you along with other ways to help you get more from your money.