What Getting a Direct Payday Loan Means
A direct lender lends you its own money, unlike other payday lenders that match you with a lender — or a scammer.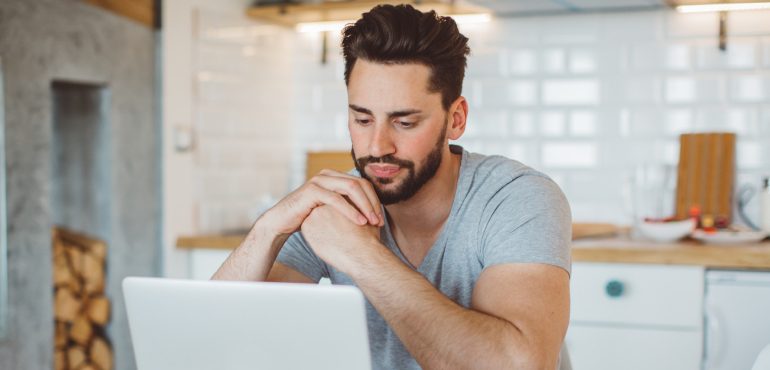 Many or all of the products featured here are from our partners who compensate us. This may influence which products we write about and where and how the product appears on a page. However, this does not influence our evaluations. Our opinions are our own. Here is a list of
our partners
and
here's how we make money
.
A direct payday loan comes from a lender itself, not a broker that promises to find you a loan only after you submit financial information.
Unlike direct lenders, these service providers, brokers and lead generators do not actually issue loans. Their job is to find potential customers, then either match them with a lender or sell their information to lenders.
"Obviously, people have to be super careful because these lead-generation payday lenders are often very careless with people's financial information," says Lauren Saunders, associate director of the National Consumer Law Center. "They make it look like you can actually apply for a loan on their website, but it's actually a way to collect all your personal financial information and then sell it to the highest bidder."
Should you seek out a direct lender?
No one recommends payday loans. In fact, financial experts hesitate to provide any advice on how or why to use a direct payday lender as opposed to provider or broker. Their advice is to steer clear of them all.
"If at all possible, you should find any other way to resolve your financial situation before going to a payday lender," says Bruce McClary, of the National Foundation for Credit Counseling. "That is the last step before going to your neighborhood loan shark."
That said, McClary concedes, "If you've got your mind made up and you are dead set on getting a payday loan and nobody can talk you out of it ... make absolutely sure you know how that lender works, and the terms of their loans, and that lender's reputation."
This is all information you're unlikely to have unless you're using a direct lender.
5 reasons to avoid brokers
Investigate all other avenues for fast short-term cash first. But if you turn to a traditional payday loan, here are five reasons to avoid brokers and go through a direct lender:
It is expensive for lenders to acquire new payday-loan borrowers. And any business that can provide those customers to lenders charges a fee.
"If the lead generator is going to charge the lender, then the lender is likely to pass that cost along in some way to the consumer," McClary says. "So, one way or another, whether you're paying a lead generator or a broker, the consumer is paying."
Historically, some brokers and service providers have used their status to circumvent laws that may cap interest rates in your state, by, say, matching you with a lender based in another state, on an Indian reservation or in a foreign country.
"The broker is not the lender, so the broker can operate by a completely different set of rules," McClary says.
Once you submit a form even expressing interest in a payday loan, you've identified yourself as a prime target for online lenders, brokers and service providers — anyone who might be able to make money if you take out a loan. Expect marketing emails and sales calls to follow.
"Once a consumer submits their information through a landing page, it becomes a lead and enters a hidden, digital marketplace," Upturn, a technology research group, wrote in a 2015 report on online lead generation and payday loans.
An Upturn survey of payday lead-generation websites "revealed alarmingly weak privacy policies." Some, the report said, reserve "a virtually unlimited right to 'share, rent, sell or otherwise disclose' leads to other businesses." In some cases, information may be sold outside of the short-term loan space as well, to car dealers, tax preparers and even other lead generators.
To apply for any payday loan, borrowers must provide checking account and other personal information. With direct lenders, you'll know the rates and terms before you apply. With a broker, you've put your financial details up for bid.
"Typically, they are selling it to payday lenders. Sometimes they're selling it to anyone who might buy it, and it could be a fraudster who's debiting your bank account claiming you took out a loan," Saunders says. "Any company that's asking for your bank account number online, that's really risky."
As professional marketers, brokers and other middlemen often appear high in search results. Search for a "direct lender" online, and it's a good bet you'll first see a lot of pages for service providers that are not direct lenders.
Take SnappyPayDayLoans.com, for example, which on its "Direct Lenders" page announces, "Choose the Right Payday Loan From a Direct Lender." The top headline blares, "Why Choose a Direct Payday Lender" with text espousing the benefits of using "a trusted direct payday lender." A box to the right warns that some lenders "make it look like they are loaning money directly to you" but are actually gathering leads to sell your information to "payday loan companies or marketing database firms."
It takes further reading to learn that the company is not a direct lender at all. "We arrange for a direct loan to the consumer, through our network of trusted direct payday lenders," it finally reads.
A direct lender doing business by industry standards will display its rates and terms up front. It will have a clear privacy policy. You will be able to find its customer service contact information. Its practices, while not exactly consumer-friendly, are regulated by your state.
Take Advance America Cash Advance Centers, a direct lender. Under the "Online Loans" section of its website, users can select their state and see the exact terms of a loan, including the effective annual percentage rate. Its contact section lists a company email address and telephone number, as well as links to government regulators.
Furthermore, the company is a member of the Community Financial Services Association of America, a payday lender trade group. The CFSA not only requires that members conform to certain best practices — full disclosure, extended payment options, appropriate collection practices and more — but it also only lists direct lenders on its membership roll.
The CFSA also provides a forum for consumer complaints against its members, identified through its logo on their storefront or website.
A broker service may in fact have contact information or display a CFSA logo, and even say it's selling loans from direct lenders. But instead of displaying rates and using its company name as the lender, a service will refer to "direct lenders" or "your lender."
And the big giveaway? It will ask you to submit an application with banking numbers before you learn loan rates or term details.
"The websites are often very deceptive, and they're often not very clear that they're just generating leads," Saunders says. "The No. 1 piece of advice: Don't take out a payday loan. The No. 2 piece of advice: Don't take out a payday loan online."