How to Pay for IVF
Most patients can't afford to pay out of pocket for in vitro fertilization. Here are five ways to fund IVF.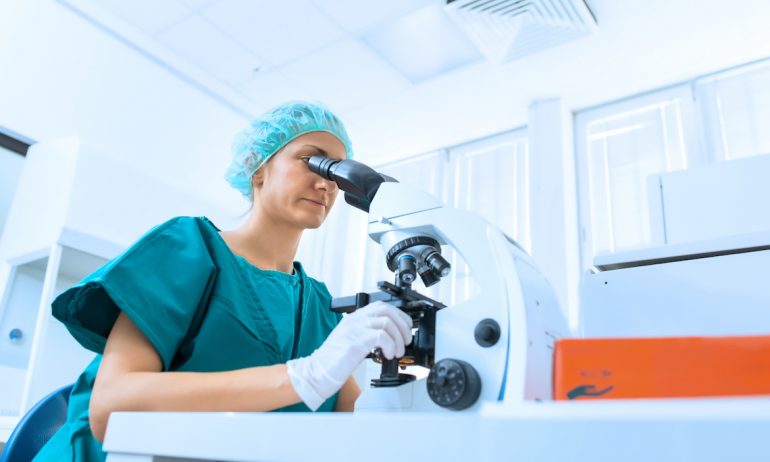 Many or all of the products featured here are from our partners who compensate us. This may influence which products we write about and where and how the product appears on a page. However, this does not influence our evaluations. Our opinions are our own. Here is a list of our partners and here's how we make money.
When it comes to financing in vitro fertilization, most patients can't afford to pay for the full procedure out of pocket, and often it's either only partially or not at all covered by insurance.
Making financial tradeoffs and saving for IVF is the best-case scenario, but for those eager to move forward without adequate savings, financing may be the answer.
If you're seeking IVF treatments, here are some of the best ways to pay for it.
Some lenders focus specifically on fertility financing and typically partner with doctors' offices. Fertility-specific lenders may have higher interest rates than other types of lenders, but the doctor's office typically coordinates with the lender and receives the funds directly, removing some of the headache patients may face obtaining financing on their own. One of the best-known fertility lenders is CapexMD, which offers loans through participating fertility clinics and preapproves patients within 24 hours.
Credit unions offer personal installment loans with fixed rates with monthly payments. Credit unions loans usually have the lowest interest rates available on personal loans, even for borrowers with less than stellar credit. Rates at federally chartered credit unions are capped by law at 18%.
The downsides: Credit union loans usually require a lot of paperwork and documentation, and they can take longer to get approved and funded than loans from online lenders. Additionally, credit unions often require a hard credit check in the application process for you to see your rate, which can temporarily ding your credit. But if you're able to wait and your credit score can take a minor bump, the lower interest rates can be worth it.
Who it's best for: Patients who prioritize a low interest rate over speed or patients who have credit issues.
Amount you can borrow: Varies by credit union.
APR: Typically from 7% to 18%.
Term options: Vary by credit union.
Fees: Some credit unions require an application fee.
If you can't get a loan through your local credit union, or if you're in a hurry to pay for IVF treatment, online installment loans are approved and funded faster than credit union loans, sometimes within one day. Another perk: Online loans may have more options than credit unions when it comes to term length and the amount you can borrow. Interest rates are fixed and can be low for those with excellent credit. Patients with credit issues may face steep annual percentage rates. Additionally, some lenders charge percentage-based origination fees, which are based on your credit (the better your credit, the smaller the fee).
Some lenders with experience offering loans for fertility treatments include Prosper, LendingClub and LightStream. Below is a comparison of each. Numerous other online lenders offer generic personal loans you can use for fertility treatment, and all online lenders have varying terms and underwriting requirements. NerdWallet recommends you compare offers from multiple lenders before signing an agreement. The easiest way to compare rates from online lenders is to shop online.
Who it's best for: Those looking for approval and funding within days or patients with excellent credit.
This marketplace lender offers loans online that anyone can apply for, but it also offers loans through participating doctors' offices. Its loan product and interest rate are the same whether you apply online yourself or through your provider; in the latter situation, your doctor's office is your point of contact and handles logistics, which can make the process a little smoother. But if your doctor doesn't use Prosper, you can apply online for a general personal loan to put toward treatment costs.
Amount you can borrow: $2,000 to $40,000.
Estimated APR: 8% to 36%.
Term options: 3 years or 5 years.
Fees: Origination fees of 2% - 5%.
Some doctors partner with LendingClub, or you can apply for a personal loan directly through LendingClub. Terms and rates are based on your financial health, not the loan purpose.
Amount you can borrow: $1,000 to $40,000.
Estimated APR:  10% to 36%.
Term options: 3 to 5 years.
Fees: Origination fees of 1% - 6%.
An online arm of Truist bank, LightStream differentiates itself from other online lenders by having no fees. LightStream's interest rates and terms vary by borrowing purpose, and loans for fertility treatments can be as large as $100,000 — a higher credit limit than most competitors offer.
Amount you can borrow: $5,000 to $100,000.
Term options: 2 to 7 years.
If you can't qualify for a credit union or online personal loan, or if you need to finance only a small portion of IVF treatments, credit cards could be an option. Credit cards typically have lower credit limits than the amount you could borrow with a loan, and you won't know your credit limit until you are approved. Additionally, interest rates can be lofty — especially if your credit score is low — and carrying a high balance can hurt your credit.
If you qualify, zero-interest cards can be an ideal way to help fund at least some of your fertility treatments, especially if you need to borrow a few thousand dollars to meet an insurance deductible, Sullivan says. Some cards are available with no interest for up to 21 months, giving you time to pay the balance before interest kicks in.
Who it's best for: Patients who need to finance only a portion of treatment or can get a 0% card and pay off the balance before the interest-free period is up.
APR: As low as 10% for cards from credit unions, or 11% to 24% for cards with big issuers.
Fees: Some cards have annual fees.
Minimum FICO score: Typically at least 630.
If you can afford to pay for fertility treatments without borrowing money, using a health savings account presents tax advantages worth considering, Sullivan says. They reduce your taxable income, the money in the account grows tax-free and you pay no taxes when you pay for eligible medical expenses. This can even include ancillary costs related to IVF treatments, Sullivan says.
You can qualify for an HSA if you have a high-deductible health insurance plan as defined by the IRS. For 2017, that means an individual plan with an out-of-pocket maximum of $6,550 and a minimum deductible of $1,300. For family plans, the out-of-pocket maximum is $13,100 and the minimum deductible is $2,600.
There's a limit to how much you can set aside each year. For individual plans for 2017, the most you can contribute is $3,400, and for family plans, it's $6,750. If you're over 55 years old, you can add an additional $1,000 annually. Unlike flexible spending accounts, HSAs roll over each year.
Most health insurance providers offer HSAs, but if yours doesn't, you can get one through most financial institutions. If you have an HSA through your employer, you can set up automatic contributions directly from your paycheck.
Who it's best for: Patients who can afford to pay with cash and have high-deductible health insurance plans.