Coding Bootcamp vs. Degree: Which Is Best?
You can learn job skills in coding bootcamps, but you don't earn a degree. Know the pros and cons before you commit.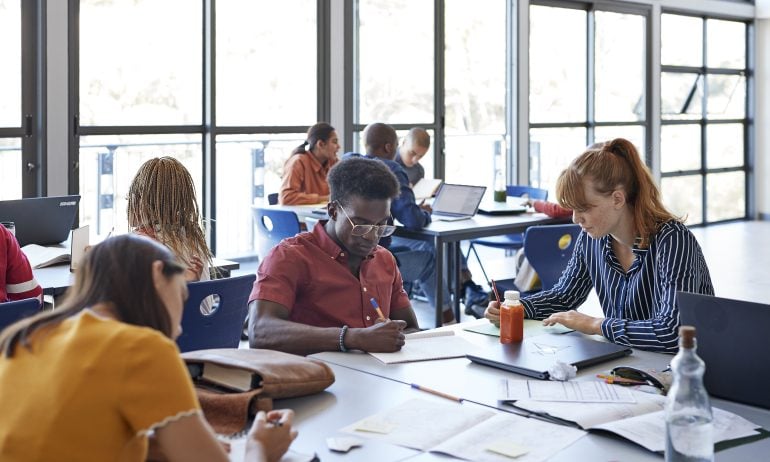 Many or all of the products featured here are from our partners who compensate us. This influences which products we write about and where and how the product appears on a page. However, this does not influence our evaluations. Our opinions are our own. Here is a list of our partners and here's how we make money.
Coding bootcamps — and broader career training bootcamps — are becoming more prevalent as people look for alternative ways to upskill. These programs can include a curriculum, instructors and group projects, similar to credentialed degree programs. They also typically cost less, don't take as long to complete and don't result in a degree, in contrast to many credentialed programs.
There are pros and cons for both degree and bootcamp programs depending on your situation. When deciding which path is best, consider the following:
Your learning objectives.

How much time you can commit to the program.

The program's total cost — and what you can expect to earn after graduating.
Bootcamp loans, income share agreements, some scholarships.

Federal financial aid (grants, work-study, student loans), scholarships, private student loans.

Sources: Course Report (2017), U.S. Bureau of Labor Statistics (2021).
Specialized skills vs. general knowledge
A career training bootcamp typically dives deep into niche skills such as coding, digital marketing or data analytics. The classroom experience could lean toward hands-on, project-based work instead of the more theoretical learning you'll engage in while pursuing a degree.
The goal of a bootcamp is for you to develop applicable skills as quickly as possible, while a degree will offer a broader curriculum, likely including electives to round out your knowledge.
For example, a coding bootcamp by the University of Illinois Chicago (partnering with Fullstack Academy) covers five units that are focused on web development. A bachelor's degree in computer science from the university includes non-technical requirements — such as English, world cultures and creative arts.
The more specialized programs are best for those with a clear idea of what they want to do once they graduate. If you want a job in web development, a coding bootcamp could help you reach your goal quickly. But if you're feeling out a field, consider a degree program that will build your skill while leaving you with more career options.
How long do you want to study?
Many bootcamps run for 12 to 18 weeks — with the average coding bootcamp being around 14 weeks, according to 2020 data from Course Report, an online platform that reviews bootcamps. A more comprehensive bootcamp could last a couple of years.
These programs are much shorter than four years at a college or university. But don't be fooled by the program length. In some cases, bootcamps can act as accelerated programs — shoving several months or even a year's worth of learning into a condensed time frame. Although you can complete the program in less time, the class schedule and workload could be more intense than degree programs that can go at a slower pace.
If you're looking to upskill quickly to advance or change your career through a bootcamp, ensure you can keep up with the workload and other demands of your time.
Consider the cost (and how you'll pay)
Coding bootcamps can cost between $7,800 to $21,000. The average full-time coding bootcamp in the U.S. costs $13,584, according to Course Report.
Bootcamp costs vary by the program's length, whether in-person or online, and the additional student services offered. But you'll still likely pay significantly less in tuition for a bootcamp compared to a bachelor's degree.
The average tuition and fees at public, four-year colleges were $10,940 for the 2022-23 academic year, according to the College Board, a non-profit association of educational institutions. Over four years, that's over $43,000 in tuition and fees alone — assuming prices don't increase each year.
Before paying a dollar out of pocket for a four-year degree, complete the Free Application for Federal Student Aid (FAFSA) to see what federal aid you qualify for. That could be free money, like the Pell Grant or work-study funds, or federal student loans with lower interest rates and flexible repayment plans. Your loans could even be eligible for forgiveness.
Most bootcamp programs do not qualify for federal aid. So even though they have a much lower price tag, you could still pay more out of pocket.
Some bootcamp students turn to bootcamp or career-training loans to cover costs. Although bootcamp loans may not match a student loan's lower interest rates or flexible repayment options, the terms can be more favorable than a personal loan. Students can also take on income share agreements (ISAs) where repayment is based on a portion of their future income.
Personal loans and ISAs can be riskier than student loans. So be sure to understand what repayment would look like for you.
Whether you enroll in a four-year degree program or a bootcamp, your highest priority is likely landing a well-paying job.
Bachelor's degree holders may have the opportunity to make more than bootcamp graduates. This is possibly due to degree graduates having more career options after studying a broader field.
Coding bootcamp graduates earn, on average, $70,000 per year, according to a survey by Course Report.

Bachelor's degree holders in computer and information technology occupations earn between $78,300 and $120,530 per year, according to the Bureau of Labor Statistics — representing a median wage of $97,430 per year in 2021. 
But the difference in salary could feel much less dramatic when you factor in your total investment. Another reminder that you have to consider several variables, such as your learning objectives, total cost, payment options and earning potential, before you make your decision.
Spot your saving opportunities
See your spending breakdown to show your top spending trends and where you can cut back.