How to Get an MBA
Choose the MBA program that fits your career goals and understand its true cost to glean the most benefits from a graduate business degree.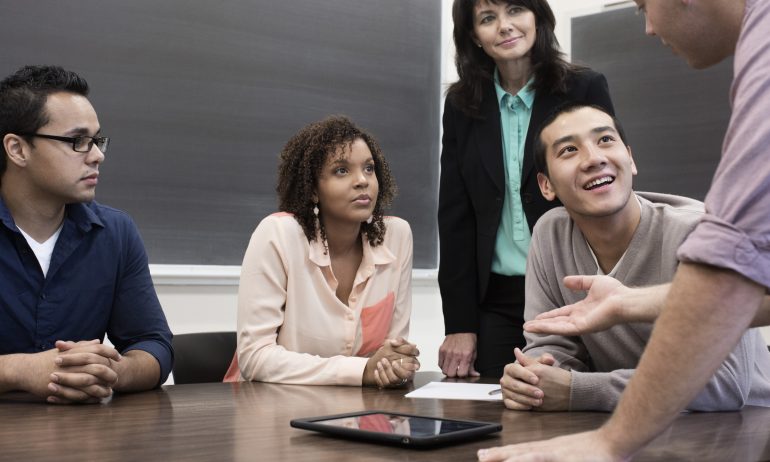 Many or all of the products featured here are from our partners who compensate us. This influences which products we write about and where and how the product appears on a page. However, this does not influence our evaluations. Our opinions are our own. Here is a list of our partners and here's how we make money.
Earning a Master of Business Administration, or MBA, can open doors to a higher salary and greater opportunities for career advancement. 
When researching MBA programs, start with your career goals. Then, identify the programs that best meet your needs and create a plan for the admissions process. Don't forget to factor in the full cost of an MBA so you're not left in a difficult financial situation.
Choose the best MBA program for you
Before committing to a school, research its specialties to make sure they align with your career objectives. Consulting, strategy and general management were some of the most popular areas of interest in 2021, according to the Graduate Management Admission Council, an association of graduate business schools. See if you can find out which companies recruit at the school and any metrics related to student career outcomes upon graduating. 
In addition to what you study, also consider your enrollment type. Different MBA programs accommodate a variety of life phases.
Full-time, two-year MBA. Best for career changers or those with little work experience. This is the most popular graduate business program, according to GMAC.

Full-time, one-year MBA. Best for those with strong work experience and a clear idea of what they want to do after graduation. This is a condensed or accelerated program.

Part-time MBA. Best for students who would like to continue working while obtaining their degree.

Online MBA. Best for those who need the most flexibility while pursuing an MBA.

Executive MBA. Best for executives who meet the work-experience qualifications — usually five or more years.

Mini-MBA. Best for those who are unsure whether an MBA is right for them. These programs are typically shorter, ranging from one week to a few months, and don't come with a degree at the end. 
Generally, you can expect to spend at least one to two years pursuing your MBA. But the type of program you choose will determine how long it takes to earn an MBA and how much it will cost you.
Make sure you meet MBA requirements
The MBA admissions process and its requirements can vary slightly depending on the type of program and the business school you're applying to. Knowing each school's expectations — plus where you shine and where you may fall short — can help you create a strong application. 
In general, the MBA admissions process usually requires the following:
Undergraduate transcripts.

English language test scores (for international students).

Personal essays and short answers.

Letters of recommendation.
Most graduate business programs accept applications in various rounds. The most common application rounds are:
Round 1: Due in September or October.

Round 2: Due in December or January.

Round 3: Due in March or April.
The number and type of rounds depend on the school. For example, outside of the three application cycles listed above, a school may also include an early decision deadline where you apply early and agree to withdraw all other applications if you're accepted. 
Estimate your MBA salary and true MBA cost
A higher salary is one of the main reasons candidates look to earn an MBA. In 2022, the average MBA salary in the United States was $115,000 — 53% higher than the average salary for a bachelor's degree. Plus, many employers offer signing bonuses to recent MBA grads. The median signing bonus, in 2022, was $10,500. It's fair to say your earnings potential increases with an MBA degree.
But this potential salary increase can come with an extraordinary cost.
In 2021, the average cost of tuition for an MBA program in the U.S. was $148,978 according to BusinessBecause, a subsidiary of the Graduate Management Admission Council. 
Cost can vary greatly by business school and the type of MBA. For example, tuition from the University of Pennsylvania's Wharton School of Business two-year, full-time MBA program costs $167,748. The University of Florida Warrington College of Business online MBA charges closer to $59,807 in tuition and fees.
Keep in mind that tuition is not the only cost associated with an MBA. Additional costs, such as textbooks and room and board (for full-time MBA students), should also factor into your decision.
When financing your graduate degree, maximize scholarships, fellowships and other financial awards that you don't have to pay back before you borrow for an MBA.
Additionally, some employers offer tuition assistance programs that cover a portion of your tuition. And although it's rare, there are even companies, like Deloitte, that offer full tuition reimbursement. Check your employer benefits and be sure to understand any stipulations that come with the program, such as having to work at the company for two years once you graduate.
Even after exhausting free money options, there may still be a gap in what you need to cover. Taking out loans can help fill this gap. It's best to start with federal loans before applying for private MBA student loans. Federal loans include benefits and protections that private loans lack — such as income-driven repayment plans.
Spot your saving opportunities
See your spending breakdown to show your top spending trends and where you can cut back.