What Is the Average Salary After Coding Bootcamp
The average salary after coding bootcamp is $70,000 per year, according to Course Report. But there are many factors that can influence your earnings.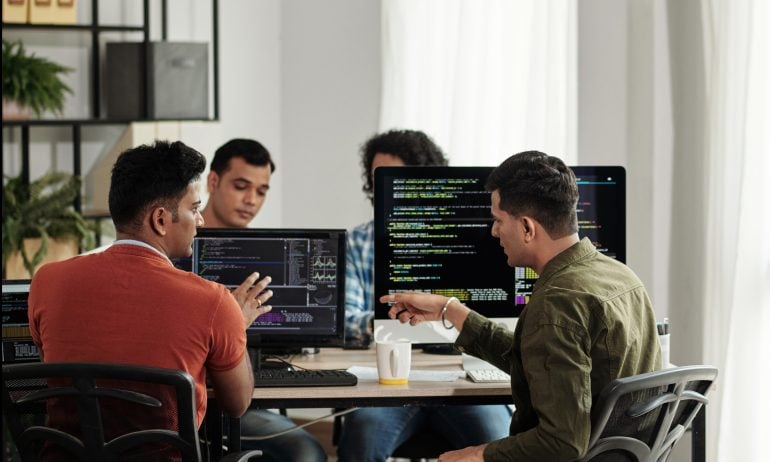 Many or all of the products featured here are from our partners who compensate us. This influences which products we write about and where and how the product appears on a page. However, this does not influence our evaluations. Our opinions are our own. Here is a list of our partners and here's how we make money.
Whether you're new to tech or an experienced professional, upskilling with a bootcamp can help you advance in your career and potentially increase your earnings.
The average salary after a coding bootcamp is around $70,000 per year, according to a 2017 analysis by Course Report, a website that researches the coding education industry and reviews bootcamps. This average salary could include graduates with an associate degree or higher.
Your earnings can depend on the following factors:
Here's what you need to know about salaries after coding bootcamps and how to maximize your earnings.
What impacts salary after coding bootcamp?
Where you live affects how much you make after completing a coding bootcamp. Tennessee has one of the highest average annual salaries for bootcamp graduates — $72,650 — according to ZipRecruiter, an online job board. Georgia has the lowest average post-bootcamp salary: $46,571 per year.
Here are the top 10 states with the highest salaries after coding bootcamp in the U.S., according to ZipRecruiter.
Average Annual Bootcamp Salary
There are several areas to choose from when deciding what to study in a coding bootcamp. Each area requires a different level of tech knowledge and different responsibilities — like managing a team, strategic thinking and interacting with clients.
All of these factors can impact your salary. Generally, the more responsibilities you have — and the more you interact with direct reports, clients and other stakeholders — the more you'll make.
For example, a development operations engineer — responsible for leading teams in addition to writing code and maintaining software — earns on average $125,636 per year, according to Indeed, an online job search platform. Keep in mind that these jobs could also require college degrees.
A technical support specialist — who is more likely to be behind the scenes developing, monitoring and troubleshooting digital products — earns on average $44,239 per year, according to Indeed.
Coding bootcamp graduates can progress in their careers and earn more money post-bootcamp as they gain additional experience.
The median starting salary for bootcampers is $65,000 per year, according to a 2017 study by Course Report. By their second job, graduates make $80,943, on average. The average salary jumps to $99,229 by a bootcamp graduate's third job.
Most bootcamps do not require a college degree to enroll. That's one reason it can be attractive to beginners wanting to learn technical skills. But having a four-year degree — in addition to completing a bootcamp — could help you earn more.
Bachelor's degree holders who completed a coding bootcamp received an average salary of $71,267, according to a 2020 survey by Course report. That's more than the average post-bootcamp salary of $61,836 for those with no college degree.
Salary could increase with more advanced degrees. If you have a doctorate and complete a bootcamp, you could earn around $83,250 per year, based on the 2020 average post-bootcamp salary reported by Course Report.
But a four-year degree may be significantly more expensive than a coding bootcamp. Think about your learning and career objectives — in addition to your earning potential — to determine if a degree program is worth it.
How to increase your chances of a higher salary after coding bootcamp
The salary an employer offers you should be based on your expected value — something your previous experience will help them measure. Fortunately, a major selling point of coding bootcamps is the experience you'll gain from practical, hands-on training.
Here's how to leverage your bootcamp skills to land a higher salary.
Build a portfolio. Your bootcamp work is valuable. Don't hesitate to show it off. You can even go a step further and develop personal projects to show just how dedicated you are to your career field — and demonstrate a skill set that justifies a higher salary.
Don't be afraid to negotiate. Even when you put your work in front of employers, you may not get an offer that reflects your value. But you don't have to take the first offer you get. You can ask for more. Some bootcamp schools offer career services to help you negotiate your salary and get closer to the pay you deserve.
Frequently asked questions
What are coding bootcamps?
How do coding bootcamps differ from a degree?
Do coding bootcamps pay you?
How much do coding bootcamps cost?
How much can you make after a coding bootcamp?
Is it hard getting a job after a coding bootcamp?
Spot your saving opportunities
See your spending breakdown to show your top spending trends and where you can cut back.