Requirements to Refinance Your Mortgage
You'll need to meet a lender's minimum credit and home equity requirements, and have sufficient income to refinance.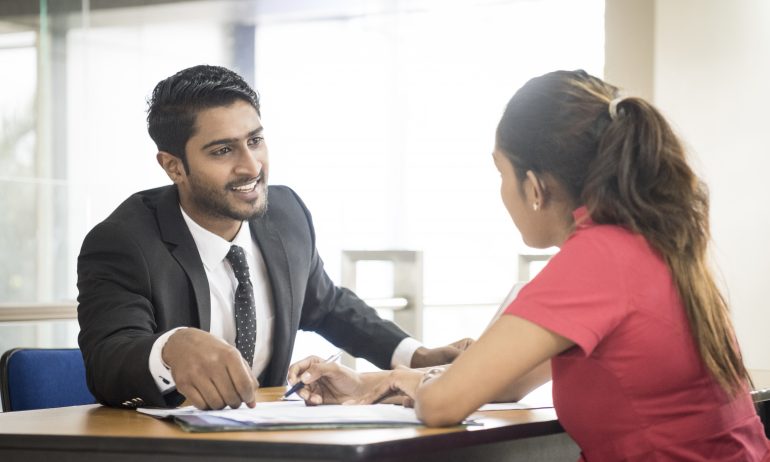 Many or all of the products featured here are from our partners who compensate us. This may influence which products we write about and where and how the product appears on a page. However, this does not influence our evaluations. Our opinions are our own. Here is a list of our partners and here's how we make money.
Refinancing your mortgage isn't just a matter of swapping one home loan for another. You have to apply and meet refinance requirements set by the lender and loan program, just as you did when purchasing your home. In addition, the mortgage refinance must meet certain standards to benefit you financially.
Here are some of the basic refinance requirements you may encounter.
Looking to refinance your mortgage?
Refinancing your mortgage can be a great way to save. With NerdWallet, you can easily track your home value and see if you can save by refinancing.
Credit score to refinance
Generally, mortgages backed by the Federal Housing Administration or the Department of Veterans Affairs have looser credit requirements than conventional home loans, which aren't backed by the federal government.
But lenders have been tightening credit standards for all mortgages in recent months. Of borrowers who refinanced in July 2020, 90% had FICO credit scores of 700 and above, according to mortgage data provider Ellie Mae. Ten percent had credit scores of 600 to 699, and less than 1% had scores under 600.
The minimum credit score for a conventional mortgage refinance is usually at least 620.
The FHA's minimum credit score is 500 for a cash-out refinance and 580 for a credit-qualifying FHA streamline refinance. But lenders often require higher scores. The FHA also has a noncredit qualifying streamline refinance option, which doesn't require the lender to do a credit check.
The VA doesn't require a minimum credit score for VA mortgages, but lenders set their own criteria. A minimum credit score for a VA mortgage refinance is usually at least 620.
Refinance lenders will usually check to make sure you have sufficient income to repay the mortgage and look at your debt load. Your debt-to-income ratio, or DTI, is the portion of your monthly pretax income that goes toward debt payments, including your mortgage. The lower the ratio, the better. Lenders like to see a debt-to-income ratio of 36% or below. You can qualify for a refinance loan with a higher DTI, but you may pay a higher interest rate.
Your home must be worth more than the amount you owe for standard conventional loan refinancing. A lender will usually require an appraisal to estimate the home value.
Home equity is the difference between your mortgage balance and the value of the home. If you're refinancing a conventional loan to get rid of private mortgage insurance, your home equity must be at least 20% of the home value.
Cash-out refinancing lets you tap into some of your home equity by borrowing more than you owe — but less than the house is worth. Generally, lenders limit the cash-out amount to 80% or 90% of your home equity. After the cash is taken out, the loan-to-value ratio will need to be 90% or less, meaning that you still have at least 10% equity in the home. The precise threshold depends on the lender.
Owe more than your home is worth? You might qualify for one of two programs: the Freddie Mac Enhanced Relief Refinance or the Fannie Mae High Loan-to-Value Refinance program. Both are geared toward homeowners who owe more than 97% of the value of their homes.
The FHA streamline refinance doesn't always require an appraisal, but the FHA cash-out refinance does. You'll need at least 20% in equity to qualify for an FHA cash-out. The maximum loan-to-value ratio after the transaction is usually 80%.
You may not need any home equity for a VA refinance loan.
A VA appraisal is required for a VA cash-out refinance. You may be able to borrow up to 100% of the appraised value of your home, although this will vary by lender.
In some instances, you'll need to wait a certain period after getting a mortgage to refinance. The rules vary by the type of mortgage.
Generally, you can refinance a conventional loan as often as you would like if you don't extract cash from the transaction. To do a conventional cash-out refinance, you'll need to have owned the home at least six months, unless you inherited the property or were awarded it in separation, divorce or domestic partner dissolution. The required waiting period to refinance an FHA, VA or USDA mortgage varies from six to 12 months.
"Churning" is an aggressive sales practice in which lenders lure borrowers to refinance frequently when it's not in consumers' best interests.
To prevent such predatory lending, federal agencies and many states require that borrowers receive a financial advantage from refinancing, known as a "net tangible benefit." For example, a net tangible benefit may include a reduction in the interest rate or a move from an adjustable- to fixed-rate loan.
Federal agencies have net tangible benefit standards for government-backed loans, such as FHA and VA loans. And many states have laws that apply to mortgages that aren't backed by the federal government.
When you refinance, the lender will have to make sure the new loan meets the applicable rules for providing a net tangible benefit.