How to Flip a House
Buying a property, fixing it up and selling it at a profit is one way to make money in real estate.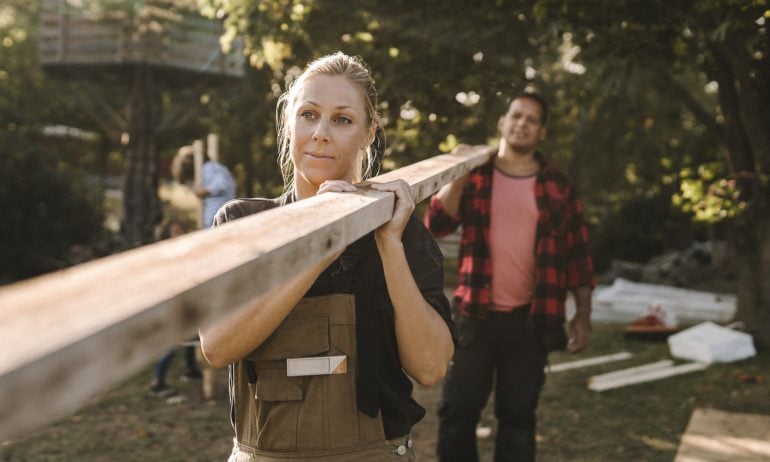 Many or all of the products featured here are from our partners who compensate us. This may influence which products we write about and where and how the product appears on a page. However, this does not influence our evaluations. Our opinions are our own. Here is a list of our partners and here's how we make money.
Most home buyers want a property that's move-in ready. Finding properties that need work — and have asking prices that reflect that condition — is one way to invest in real estate. Buying low and selling high isn't revolutionary; it's what comes in between that sets your plan to flip a house apart from, say, hanging onto an investment property while home values rise.
Here's the quick version of how to flip a house.
Before anything else, you'll need to decide how much you can spend on your flip. That includes the price of the property, but there's much more than that. You should also budget for:
Though you won't actually pay for it, if you're using sweat equity and doing the work yourself, you may want to consider the value of your time. How many nights and weekends are you willing to give up for your flip?
Sure, real estate's always about the three L's, location, location, location. But when you're trying to make a profit buying and selling real estate, location could make the difference between a tidy sum and a big regret.
that fall somewhere in the middle of the real estate market tend to be better for flipping. At the high end, homes that cost several hundreds of thousands of dollars are too pricey as initial investments. On the low end, if you score a super-cheap property in a low-cost area and turn it into a home with amazing amenities, you could end up unable to sell it for enough money to recoup your investment.
A real estate agent who has experience working with investors can be helpful and may come in handy as a when it's time to sell. They'll know what's considered standard in a neighborhood, have the latest info on and may be able to tip you off to potential issues like zoning.
Once you know the area where you'll be flipping, start finding the professionals you'll want to work with. You don't necessarily need to start hiring; just be sure you've got the number of a trustworthy electrician, plumber, HVAC technician and so on that you can call if needed.
Another reason to get your team in place: To maximize the profits on a house flip, you need to own the property for as short a time as possible. The sooner renovations can start, the closer you are to selling that home. If you'll need a , you might want to get on their calendar since contractors may book jobs weeks, if not months, out.
for your home flip can save you some money since you won't have as many closing costs and you won't pay interest while you're working on the property. Nearly 60% of home flippers paid cash for their properties in the first quarter of 2021, according to real estate data company Attom Data Solutions. But not everyone has the ability to pay with cash, especially if it's their first flip.
If you have substantial in your primary residence, a could give you the money to buy an investment property. A could potentially serve the same purpose. These are both risky, however, as you could lose your home if you can't pay back the loan.
You can also get an mortgage. This type of home loan generally has stricter requirements than mortgages for primary residences because the lender assumes that if you find yourself in a bad spot, you're more likely to keep paying off your original mortgage and default on the investment property loan.
Here's some of what lenders may expect from you when you're shopping for an investment property loan:
also tend to be higher than those for primary residences. Comparing rates and fees from more than one lender can help you find the most favorable terms.
OK, you know your budget, you've pinpointed the right area and you've got your financing in order. Now it's time to actually find your flip property.
You've already made plenty of decisions, but there are two big ones here. First, what or repairs need to happen?
Are they fixes that you can afford and accomplish? Aesthetic upgrades, like new flooring or tile, are relatively doable for those who are newer to renovation and provide visible results.
Are there problems that could make the property a potential money pit? A home with a faulty foundation or other structural issues is probably not worth the time and expense.
Once you've determined the scope of work, on to decision No. 2: What's a reasonable offer to make? Many house flippers use the 70% rule to determine the maximum they'll pay for a property. The idea is that you should pay no more than 70% of the value of the home after repairs, minus the cost of the work. You can come up with an after-repair value by looking at comparable sales of nearby properties.
(Value of renovated home x 0.7) – cost of repairs = Maximum purchase price
So if you've found a home that you think you could sell for $250,000 that will require $60,000 worth of work, you shouldn't pay more than $115,000 upfront.
Having some hard numbers in mind can be especially helpful if you're in an auction situation or if you find yourself up against other buyers in a traditional sale. You'll know when you need to walk away and start over with a different home.
This is the part that looks so fun on TV. In real life, it's definitely not a montage. House flips took an average of 159 days from purchase to sale in the second quarter of 2021, according to Attom. That's a bit more than five months, with the bulk of that time likely going to renovation.
Though can help you get more cash out of the project, it's important to stay within the scope of your expertise. Shoddy repairs may get flagged in a home inspection or, worse, could trigger a lawsuit from your eventual buyers. Poorly executed aesthetic updates may not add as much value as you're hoping.
Calling in professionals as needed and getting necessary permits throughout the process may cost time and money, but could save you a major headache later.
At last! You're ready to turn that fixed-up fixer-upper over to its new owners. That means pricing the home, listing it for sale and showing it to potential buyers. Some house flippers choose , forgoing a listing agent (and their commission) in order to maximize profits. As with renovations, whether to go FSBO or work with a listing agent comes down to your priorities — while selling without an agent will save you that 3%, it can also be time-consuming.
House flippers made a median profit of $63,500 on their flips in the first quarter of 2021, according to Attom. If you're happy with your results, you may have found yourself a new side hustle.