What Is a Co-op? A Different Kind of Homeownership
When you buy a co-op, you're actually purchasing shares in a nonprofit housing cooperative.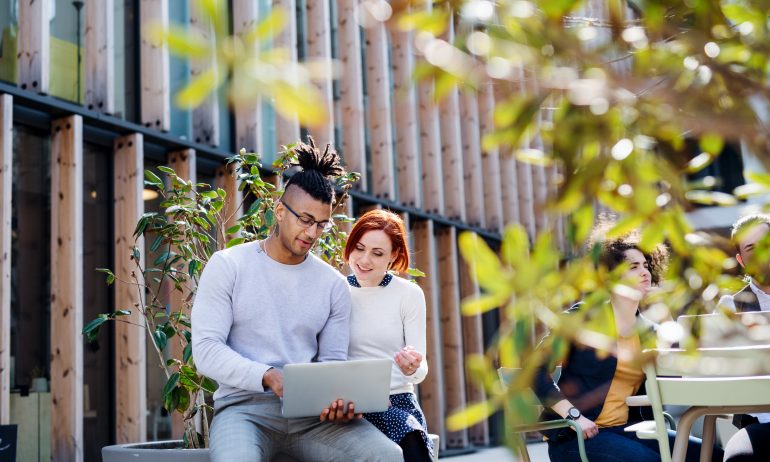 Some or all of the mortgage lenders featured on our site are advertising partners of NerdWallet, but this does not influence our evaluations, lender star ratings or the order in which lenders are listed on the page. Our opinions are our own. Here is a list of our partners.
A co-op is a home you don't exactly buy. Instead, you're buying shares in a corporation that allow you to live in that home.
This can make financing a co-op difficult, since it's not actually a real estate transaction. But if you live in an area where co-ops are common, like New York City or Washington, D.C., a co-op could be a more affordable housing option.
Here's what you should know if you're thinking about buying a co-op.
A co-op is a housing unit within a building or development that is jointly owned by all the people who live in its different units. These joint owners form a housing cooperative (hence, co-op) that is a type of nonprofit corporation.
Each owner is a shareholder, with shares allocated based on the market value of their unit. Like any corporation, a housing cooperative has a board of directors. But, as shareholders, everyone who lives there has a say in how the co-op is run.
A co-op is not the same as a condo, which is a type of real property that's independently owned.
Getting ready to buy a home? We'll find you a highly rated lender in just a few minutes.
Enter your ZIP code to get started on a personalized lender match
How does a housing co-op work?
When you buy a co-op, you don't buy the unit itself. You purchase shares that grant you the right to live in the unit. Not only are the common areas and exterior owned by the corporation — the interior of the co-op is, too. This means if you want to do a major renovation, like a kitchen remodel, you may need the co-op board's approval.
You'll pay a monthly fee that covers your portion of the co-op's expenses, which can include paying part of the underlying mortgage for the entire property.
The housing cooperative's other expenses, like property taxes, shared maintenance and utilities, are also generally split among all residents, with the amount you pay determined by your unit's value. Dividing expenses in this way can sometimes work to the shareholders' advantage.
While condos can appear to have a lower monthly payment, co-ops are often the better deal if you consider everything the fee covers, notes Karl Beuckelaere, a Detroit-area real estate agent with Century 21 Curran and Oberski. "The fees are typically more expensive in the co-op because every month you have baked in a portion of your electricity, gas, tax, as well as maintenance," Beuckelaere says.
Buying a co-op may place limits on how much home equity you can accumulate or if you can accumulate equity at all. While market-rate co-ops accumulate equity much like single-family homes, limited- and zero-equity co-ops restrict your ability to profit if and when you sell your shares.
Getting a loan for a co-op
It can be hard to get a mortgage for a co-op since you don't actually own your unit. It's a grim way to think about it, but lenders won't underwrite a mortgage for a property on which they can't foreclose. Instead, you'll need a loan to purchase shares in the cooperative, sometimes called a co-op loan or share loan.
The co-op's board of directors sets the rules for how much you can borrow to buy shares. Co-ops may require a minimum down payment of 20% or more.
Generally, your lender will want to see how the co-op operates and take a look at the underlying mortgage. It will also examine how the board is run, checking for any major planned expenses and ensuring there are sufficient financial reserves to handle the unexpected.
Larger co-ops in areas where co-op housing is relatively common may have relationships with certain lenders, which can simplify the financing process.
Before you can buy into a co-op, you'll have to be approved by its board of directors. This governing body functions similarly to a homeowner association, determining not only how the property is run but also who can live there.
While the law requires co-op boards to follow Fair Housing Act regulations, within those bounds they're free to create their own standards for potential residents. These most often mean financial standards, but they can also turn down applicants based on their perceived ability to abide by the co-op's rules.
Meeting the co-op board can be especially stressful, according to Evan Metalios, a real estate broker with Re/Max Team in Queens, New York. A good broker will try to understand what the board is looking for, to give their buyer as much of a leg up as possible, Metalios says.
Getting ready to buy a home? We'll find you a highly rated lender in just a few minutes.
Enter your ZIP code to get started on a personalized lender match
Co-ops vs. condos: Which is better?
Co-ops and condominiums are common options for those hoping to become homeowners in cities where space is at a premium. Though they might look identical, each has its own benefits. Here are a few of the pluses of each home type.
Condos are real property, so you've got the title or deed and can take advantage of accumulated home equity.

Because you own your condominium, you'll have more latitude for renovating or subletting.

Condos may be easier to finance and simpler to sell since buyers don't have to be approved by a board.
You'll know your neighbors since the extensive approval process can mean less turnover and co-ops seldom allow sublets.

Co-ops may have lower closing costs than condos. For example, since a deed doesn't change hands when you buy into a co-op, you won't pay a transfer tax.

As a shareholder, you'll get a say in how the building or complex is run, even if you're not on the board.
Get more smart money moves – straight to your inbox
Sign up and we'll send you Nerdy articles about the money topics that matter most to you along with other ways to help you get more from your money.