Where to Get Moving Boxes for Cheap or Free
You may be able to find plenty of used boxes through places like local retailers and recycling centers.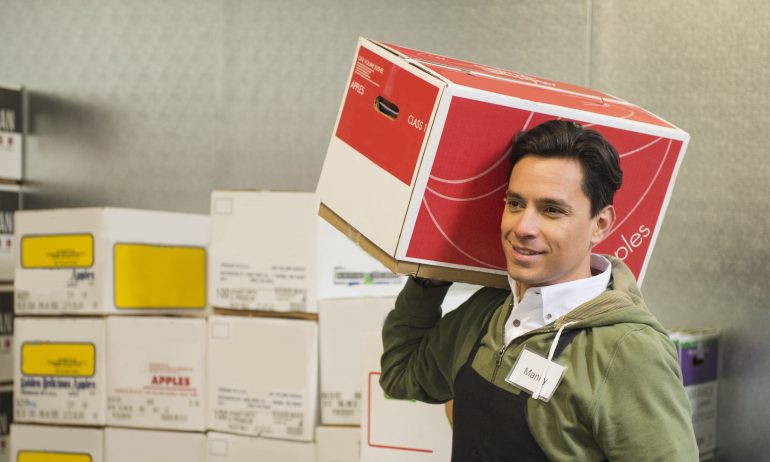 Some or all of the mortgage lenders featured on our site are advertising partners of NerdWallet, but this does not influence our evaluations, lender star ratings or the order in which lenders are listed on the page. Our opinions are our own. Here is a list of our partners.
Finding free or very inexpensive boxes near you is a relatively simple way to lower the overall cost of your move — sometimes, by hundreds of dollars. It does require some effort and research on your part though. Start early to give yourself enough time to source plenty before moving day.
To move a typical two-bedroom house, you'll probably need 55 to 60 boxes of different sizes, which should total around $200 if you need to buy them. Moving a four-bedroom home usually requires around 90 to 120 boxes, and may come with a price tag of about $400.
Here's what you can expect to pay per box from most retailers:
Medium boxes: About $1.50.

Extra-large boxes: About $3.

Boxes for packing dishes and glasses: About $7 to $10.

Wardrobe boxes: About $8 to $18.

TV boxes: About $10 to $35.
Boxes can also be purchased in bulk sets, which translates to a lower price per box.
Sourcing used boxes instead is a relatively easy way to bring your total packaging expenses down.
Even if you're sourcing used boxes for your move, you may still want to purchase a few specialty boxes, such as boxes for glasses and dishware or TV boxes, to make sure fragile and valuable items are packed securely. While it's easy to find standard boxes, finding used specialty boxes is more challenging.
8 surprising sources for free or cheap boxes
There are likely plenty of gently used standard boxes near you that cost nothing (or almost nothing), but it's not always obvious where to find them. You may have to think, well, outside the box. Here's where to start.
Getting ready to buy a home? We'll find you a highly rated lender in just a few minutes.
Enter your ZIP code to get started on a personalized lender match
If you already get countless deliveries each month, that means free boxes are already arriving at your door regularly. A few months before you move, start hanging on to those boxes rather than discarding them. Ask neighbors and friends to help you by doing the same and setting aside boxes for you. You might be amazed at how fast your collection grows.
Retail businesses receive frequent deliveries of whatever it is they're selling, which often arrive in just the right types of boxes for moving. Many establishments will be happy to hold some of these boxes for you since they'd otherwise have just been thrown out or recycled. Try contacting stores near you, such as:
Restaurants and coffee shops.
Call or email ahead to confirm availability and whether any cost is involved.
The boxes you desperately need right now may be exactly what someone else is trying to get rid of. Online marketplaces, sharing sites and barter communities establish instant connections to bring about free and inexpensive exchanges that benefit everyone involved. Here are a few sites and apps that may be good sources of used boxes:
Freecycle: A nonprofit network of local groups dedicated to reusing rather than disposing of perfectly good items. Membership is free, as is everything the network has to offer. Visit the website to find a group near you.

OfferUp: A mobile app that connects those selling used items with those who want to buy them.

Craigslist: A classified ads website where people can list items they're selling or giving away.

Facebook Marketplace: An online social network community where members can list free and "for sale" items.

Nextdoor: A network of local community forums where neighbors can post items they'd like to give away or sell.
4. U-Haul Customer Connect
U-Haul has an online message board called U-Haul Customer Connect where customers can give away, sell or search for used boxes. You might be able to get free used boxes in the stores, too; U-Haul stores have a designated area for customers to leave used moving boxes so others can use them for free.
Contact businesses renting space in nearby office buildings to see if they have boxes on hand from recent deliveries of supplies and materials. You may not have to look any further than your own workplace.
With so many households sharing a small footprint, apartment complexes may have more frequent moving events than less densely populated single-family home neighborhoods. Contact the building super or manager about possible box availability.
From early childhood centers through college campuses, schools receive regular deliveries and often have cardboard boxes on hand. Schools with on-campus housing also have students moving in and out each semester, generating even more boxes. Contact school administrators or housing offices to find out if used boxes are available.
8. Cardboard bins and local recycling centers
While dumpster diving doesn't sound particularly appealing, searching through cardboard recycling bins generally isn't quite as smelly or messy. If you have such a bin in your apartment complex or community area, it could be a good place to find strong boxes that haven't yet been crushed. If you don't live in a place with a shared cardboard recycling bin, try a local recycling center instead and ask if they have any intact boxes available.
Get more smart money moves – straight to your inbox
Sign up and we'll send you Nerdy articles about the money topics that matter most to you along with other ways to help you get more from your money.