Commercial Bridge Loans: The Ultimate Guide
Commercial bridge loans are typically used to bridge funding gaps for real estate investment opportunities.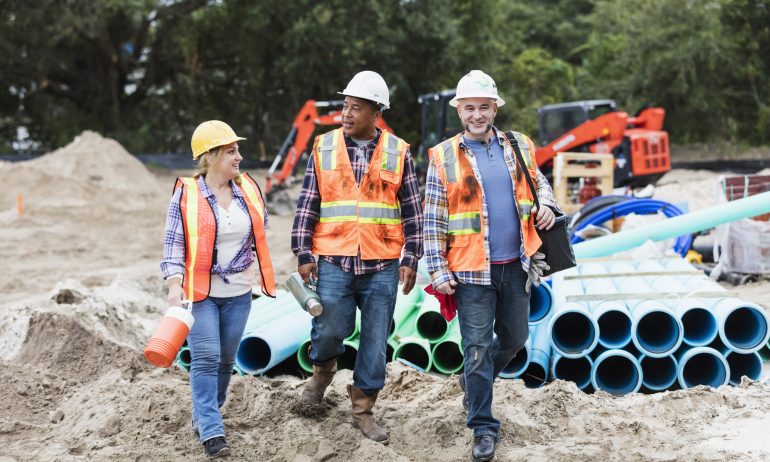 Many or all of the products featured here are from our partners who compensate us. This may influence which products we write about and where and how the product appears on a page. However, this does not influence our evaluations. Our opinions are our own. Here is a list of our partners and here's how we make money.
If you're looking for business financing—particularly to purchase or fund a real estate project—you may have come across commercial bridge loans. Bridge loans, however, are a very unique type of short-term financing that function differently from typical business loans.
So, what exactly is a commercial bridge loan and how does it work?
In this guide, we'll explain everything you need to know about this type of financing to determine if it's right for your business needs.
What is a commercial bridge loan?
As we mentioned, commercial bridge loans are a very specific type of financing and differ from other types of loans. Bridge loans—also referred to as bridge financing, swing financing, or gap financing—are used particularly to finance an immediate opportunity, typically in real estate. As the name implies, commercial bridge loans are used to "bridge the gap" between a business's current need for financing and a more long-term financing solution.
This being said, as a concept, business bridge loans can be a bit confusing because the title "bridge" only describes how a borrower uses the loan, rather than describing any specific characteristics about the loan itself or its terms. Technically, therefore, any type of business loan could be a commercial bridge loan, as long as you use it a particular way.
Nevertheless, it's safe to say that, when it comes to business bridge loans, you're most often talking about commercial real estate bridge loans. In other words, these are loans that are used to finance a real estate purchase or renovation immediately, while you're in the process of arranging a long-term form of funding. In fact, bridge loans are frequently used by individuals to bridge the gap between the purchase of a new home and the selling of their current home.
Of course, commercial bridge loans, however, refer specifically to bridge loans used by a business—for commercial purposes.
With all of this in mind, here are a few key points to help your understanding of commercial bridge loan financing:
Commercial bridge loans are short-term or interim financing—terms, therefore, are usually on the shorter side—between a few months and a year.

Collateral is typically used to secure these loans—most often, the real estate you're purchasing or renovating will serve as collateral on the loan.

Although lenders will consider traditional business loan requirements, the value of your collateral will also play a large role in whether or not you qualify.

Bridge loans are usually fast-to-fund—but can come at high interest rates.

Commercial bridge loans can be issued by banks, alternative, online lenders, as well as private lenders, like hard money lenders.
How do commercial bridge loans work?
Now that we've gone through an overview of commercial bridge loans, let's discuss a little more about how they actually work.
Ultimately, these loans may function slightly differently depending on your specific needs and the lender you're working with. On the whole, however, you might look for a commercial bridge loan when you're presented with an urgent real estate opportunity.
This commercial real estate bridge loan would provide you with the funding to take advantage of the opportunity immediately—and then you would be able to find a more affordable, long-term form of financing or refinance your existing business loan.
Once again, as we mentioned above, you'll usually find that lenders offering commercial bridge loans will require that you put up your real estate property or investment as collateral and will offer fairly short terms. Additionally, commercial bridge loan lenders will typically determine the loan amount they offer based on the property that you're purchasing, acquiring, or renovating. Lenders will evaluate this property in terms of loan-to-value ratio (LTV) or after-repair value ratio (ARV)—and offer a loan amount equal to 70 to 80% of the property's value.
Then, as the borrower, you'll be responsible for financing the remaining percentage.
If you get a commercial real estate bridge loan from a bank, you can expect interest rates to be higher than typical bank loans—ranging anywhere from 6% to 11%. If you work with an alternative lender, your rates could range anywhere from 7% to 30%.
Moreover, you can expect bridge loans to require more fees than some other types of loans. You'll likely have to pay an origination fee—and you may be required to pay appraisal or other similar fees.
All of this being said, let's look at a few common use-cases for commercial bridge loans to get an even clearer sense of how they work.
Investing in commercial real estate
As we've mentioned already, business bridge loans are practically synonymous with commercial real estate bridge loans.
These loans, sometimes also called commercial mortgage bridge loans, allow you to take advantage of an immediate real estate opportunity.
For example, say, for instance, a prime storefront in a busy shopping area in your town is about to go on the market. With a commercial bridge loan, you can secure the funds necessary to purchase the storefront immediately.
Then, once you secure your storefront with this financing, you can then refinance it with a more affordable commercial real estate loan, which will likely take a bit of time to find, apply for and qualify for.
Tiding your business over before acquisition
Although bridge loans are most commonly used for real estate, they also can have a variety of other uses.
For example, say your business is working through an acquisition deal. You may take on interim financing, in this case, commercial bridge loan financing, to access capital until the acquisition is complete.
This scenario typically qualifies as bridge financing because your business has an impending source of capital lined up—the purchaser—to get out of the short-term financing in the near future.
Even if, in this situation, the loan is never formally refinanced, the use of proceeds to tide your business over until you receive the pay-off from the acquisition, still qualify it as a form of commercial bridge financing.
Finally, one last example of a use-case for commercial bridge loans is for stocking up on inventory.
Let's say you come across a huge liquidation sale of inventory that you typically stock—you'll likely want to take advantage of this opportunity to stock inventory at a discounted rate. In this case, you'll need access to a significant amount of capital, and quickly.
Therefore, you might take on short-term financing in the form of a commercial bridge loan to make this purchase. After you secure the inventory, you can then refinance your bridge loan with a longer-term, more affordable business loan.
What to look for in a commercial bridge loan
So, if you think a commercial bridge loan might be able to meet your business financing needs, there are a few things you'll want to keep in mind as you start your search.
Of course, you'll want to look out for the qualities of a loan that you would for any type of loan—interest rates, terms, loan amount, fees, lender reputation, etc.
However, with this type of interim financing, you'll likely want to pay attention to two fundamental characteristics in particular:
Funding time: Any commercial bridge loan you're considering needs to fund quickly enough to allow you to put the proceeds toward whatever urgent expense you have. As a result, depending on your timeframe, you may need to look outside traditional lenders. Typically, banks are slow to fund business loan applications, and therefore, it may be worth looking into your commercial bridge loan options from alternative lenders—who can sometimes fund your application in as little as one day.

Prepayment incentives: Ideally, your commercial bridge loan should offer some sort of prepayment incentive—after all, by definition this type of loan is temporary and you should want to pay it off early. For example, if you take a bridge loan that is amortizing, paying it off early will mean that you'll save money by avoiding interest. On the other hand, if you take on a commercial bridge loan with a factor rate—which typically means you'll pay a set amount of interest no matter what—you should make sure it comes with a prepayment discount. In this way, if you have to pay a significant prepayment penalty for paying off your loan early, you might want to keep exploring other options.
Top commercial bridge loan lenders
As we've discussed, there are a variety of places you can turn to access commercial bridge loan financing.
In all likelihood, if you can qualify and wait for a loan from a bank, they'll be able to offer you the most ideal rates and terms.
This being said, however, if you're looking for faster funding, a simpler application process and more flexible requirements, you might consider the following commercial bridge loan lenders:
First, Fundation is an alternative lender that will offer funding with longer repayment terms, but that can still fund just as quickly—if not quicker—than their shorter-term counterparts.
Fundation offers medium-term loans of up to $500,000 with repayment periods from one to four years. Interest rates on these loans range from 8% to 30% APR.
Additionally, although Fundation funds loans in an average of three days, they are able to fund applications within one day. Plus, Fundation won't charge you a prepayment penalty when you refinance or pay your debt down early.
To qualify for a loan from Fundation, you'll need to have $100,000 in annual revenue, a personal credit score of at least 600 and at least two years in business.
Next, you might consider Credibility Capital as your commercial bridge loan lender.
Credibility Capital also offers medium-term loans with no prepayment penalties—plus, their loans are fully amortizing, so if you pay off your loan early, you'll save on interest.
Credibility issues loans up to $350,000 with terms up to 36 months and interest rates ranging from 8% to 20%. Compared to some alternative lenders, Credibility will take a little longer to fund your application—typically around three to five days—however, they do offer lower rates than many other online lenders.
To qualify for a commercial bridge loan from Credibility, you'll need to have at least two years in business, be currently generating revenue and have strong personal credit.
If your business is recovering from a disaster, you might be interested in this specialized type of commercial bridge loan: the SBA Express Bridge loan.
Although this is currently a pilot program running through September 30, 2020, it's a worthwhile option for businesses that need access to capital while they apply for longer-term disaster financing.
The SBA Express Bridge loan program is part of the 7(a) program and offers loans up to $25,000 with terms as long as seven years. These loans are issued by SBA lending partners participating in the SBA Express program.
Therefore, if you're recovering from a declared disaster and need interim financing while applying for a long-term loan, like an SBA disaster loan, you might consider looking into the SBA Express Bridge loan program.
with Fundera by NerdWallet
At the end of the day, although commercial bridge loans are a clever solution to a common financial problem, it's important to recognize that they also come with their fair share of risks.
Businesses often take on commercial real estate bridge loans and end up unable to pay off this high-interest debt. Therefore, if you're considering one of these loans, you should be sure that your investment will pay off so that you'll be able to repay the debt you've taken on.
Ultimately, only you can decide if this type of loan is right for your business. This being said, however, it's worth exploring all of your financing options before opting for a commercial bridge loan. You'll want to compare different products in order to find the most affordable, desirable funding for your business.
This article originally appeared on Fundera, a subsidiary of NerdWallet.