Free Invoice Software for Small Business in 2021
The best free invoice software options can help your business stay on budget.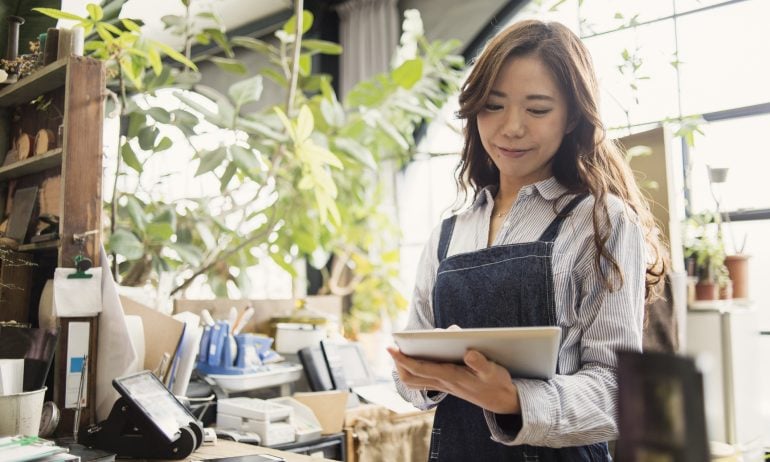 Many or all of the products featured here are from our partners who compensate us. This may influence which products we write about and where and how the product appears on a page. However, this does not influence our evaluations. Our opinions are our own. Here is a list of our partners and here's how we make money.
As a small business owner or freelancer, there are probably some aspects of your job you like more than others. While it's great to be your own boss, set your schedule, and choose what projects you'll take, it also means handling all your admin on your own, from accounting to taxes and more. Sending and managing invoices, for instance, are likely not among your favorite to-dos.
The good news is we live in a fully digitized world, rife with solutions to streamline and automate some of your business's least-fun and most time-consuming processes—sometimes for free. While there are numerous invoicing solutions out there, we've compiled a list of free invoice software options to help your business stay on budget.
5 free invoice programs for small business
The following free invoice software solutions are cloud-based programs that help manage your invoicing process, from creation and delivery to automatic payment reminders and payment processing. We were also impressed by their comprehensive feature lists, available integrations, and overall ease of use.
Of course, the other major thing they have in common is that they're all free. To clarify, "free" in this scenario means that you won't need to pay a setup or monthly subscription fee. However, if you're receiving payments online, you'll be responsible for a per-payment transaction fee. That fee will vary depending on your payment processor of choice, and that will vary depending on which payment gateways your invoice software supports.
With that in mind, here are five of the best free invoice software options for small business owners.
What it is: Invoice Ninja really stresses that they're an open-source platform, so developers from around the world can contribute to testing and improving this software. Of course, that also means you can write your own code for a completely customized software, designed for exactly your needs (if you're tech-literate enough to do so). Along with a free plan (aptly titled Forever Free), they also offer a Ninja Pro Plan for $10 per month and an Enterprise Plan for $14 per month.
What it offers: Considering that it's totally free, Invoice Ninja's Forever Free plan is impressively comprehensive: Along with free invoicing and auto-billing capabilities, this plan offers business owners a full suite of apps, including online payments, quotations and proposals, tools to streamline your workflow, expenses and reporting, and time-tracking tools.
Here are a few major features on the Forever Free plan, with an emphasis on their invoicing features in particular:
100 clients with unlimited invoices and quotes

Four invoice and quote templates

Integration with over 40 payment gateways

A client portal where they can view their invoice and payment history

Alerts when your client views and pays their invoice
Who it's best for: Small business owners and freelancers with up to 100 clients; people who want the option to write their own code for a completely customized platform.
What it is: You may know Wave as an accounting software—or, more specifically, one of our favorite free accounting software solutions—but this platform is equally equipped to handle essential invoicing needs. (It's equally free on that end, too.)
What it offers: The features available with Wave Invoicing aren't necessarily as robust as other invoice platforms on this list, but it's a great choice if you want to automate your essential invoicing needs. More specifically, this platform supports unlimited invoices, integrated credit card and bank account payments (transaction fees will apply here), recurring billing, and automatic payment reminders. Of course, Wave Invoicing also automatically integrates with Wave Accounting, so you don't need to worry about manually logging your payments into separate accounting software.
It's also worth mentioning some of Wave Accounting's major features, since you're getting free access to this platform, too:
Unlimited income and expense tracking

Add unlimited partners, collaborators, or accountants

Unlimited bank and credit card options

Organize income and expenses into tax categories
Wave also includes a free receipt scanning service, which allows users to capture, scan, and integrate receipts on their phones, both with and without WiFi access.
Who it's best for: Small business owners who want free accounting software along with a basic invoicing platform.
What it is: You might also know the name Zoho from Zoho Books, which is one of the more popular cloud-based accounting software solutions available for small businesses. Although Zoho Books doesn't offer a free accounting plan (they are cheap, though, starting at $9 per month), the platform does offer a totally free online invoicing plan. If you like Zoho Invoice, you can ultimately graduate to their Basic plan for $9 per month, Standard for $19 per month, or Professional for $29 per month to unlock even more invoicing features.
Plus, Zoho Invoice will automatically integrate with whichever other Zoho platforms you may choose to avail yourself of, including Zoho Inventory, Zoho CRM, Zoho Flow, and Zoho Commerce.
What it offers: Zoho Invoice is one of the most comprehensive invoice software on this list. Along with invoicing capabilities, this platform offers fully functional customer estimates, client portals and communications, integrations with 10 payment gateways, expense tracking, time tracking, project tracking, reports, and much more. On the downside, their free plan only allows users to invoice up to five customers.
For the sake of brevity, let's highlight some of the best features particular to invoicing alone:
Invoice up to five customers

Fully customizable invoice templates

Multi-currency support and 10+ languages

Schedule invoices to send automatically at a future date

Automatic payment reminders

Can collect payments offline and/or in advance
Who it's best for: Small business owners with up to five clients who want a complete arsenal of invoicing tools, along with other automated tools.
What it is: If you're already using PayPal for any of their myriad business services—PayPal's POS systems, payment gateway, and business financing are three of the platform's more popular business services—then PayPal Invoicing, available through their free PayPal Business app, will fit nicely into your current workflow. Just sign into the app with your current PayPal credentials to access this service or easily sign up for a PayPal Business account if you don't already have one.
What it offers: PayPal Invoicing allows users to create and send customizable invoices quickly (meaning, in seconds) from any device, though its interface is configured especially for mobile invoicing. Saving your clients' information, items, taxes, and templates makes for this truly automatic and painless invoicing process.
Your client will receive an email once you've sent your invoice. With the click of a button, they can choose whether to pay you via credit card, debit card, PayPal, or PayPal Credit. (Note that direct deposit isn't an option here.) Your customers don't need a PayPal account to pay you.
Here's what else you can expect from your PayPal Invoicing account:
Create scheduled or recurring invoices, which will be sent automatically

Automatic payment reminders

Clients have the option of including a tip

View billing and payment history
Keep in mind, you'll need to pay the applicable PayPal transaction fee whenever you get paid, since you'll be using PayPal as your payment gateway.
Who it's best for: Small business owners who are already using PayPal for Business, and want the ability to send basic invoices quickly, automatically, and mostly from their mobile devices.
What it is: Square is right up there with PayPal as one of the world's foremost, all-in-one payment platforms for small business owners. Like PayPal, Square offers their users much more than their ever-popular Square POS, which enables business owners to accept payments online and in-person—some other tools Square offers include ecommerce, payroll, scheduling, CRM, marketing, business financing, and, of course, Square Invoices. All of these services are streamlined and intuitive—even technophobes can figure them out pretty easily—as user-friendliness is Square's MO.
What it offers: Square Invoices allows users to build and send unlimited, customized invoices from the Square app, through Square POS, or on your desktop. (You can send your clients estimates and get paid, too.) Like PayPal, Square's invoices pull stored customer data so you can create your invoices automatically. Your customers can either pay in person or online, with either cash, check, credit card, debit card, Apple Pay, or Google Pay.
Some other Square Invoices features to keep in mind: track and manage your invoices, send automatic payment reminders, use Square's contract templates (which you can attach to any estimates you send your clients), schedule recurring invoices, powerful reporting tools, create profiles for each customer, and integrations with other apps.
Keep in mind that you'll need to pay Square's payment processing fee of 2.9% + $0.30 per invoice whenever you get paid online via credit or debit card. You won't need to pay a transaction fee if you're paid by cash or check.
Who it's best for: Existing Square users and small business owners who want the option to accept payments in person.
As we mentioned, this is not an exhaustive list of all the free invoice software in the world. Rather, the aforementioned five free online invoice software platforms are, according to our evaluation, the most robust, versatile, scalable, and intuitive solutions available for small business owners. We think they're all worth your consideration.
But if you find that none of these software solutions are quite right for you, know that you have lots of other free options to look into, as well. In particular, we'd recommend checking out Due, Invoicely, Invoicera, and And.Co. Even though these software options didn't quite make the cut here, they're all pretty highly rated and widely used by fellow small business owners—and, of course, totally free to use.
This article originally appeared on JustBusiness, a subsidiary of NerdWallet.