How to Accept Payments Online
Accepting payments online isn't complicated as long as you understand the basics.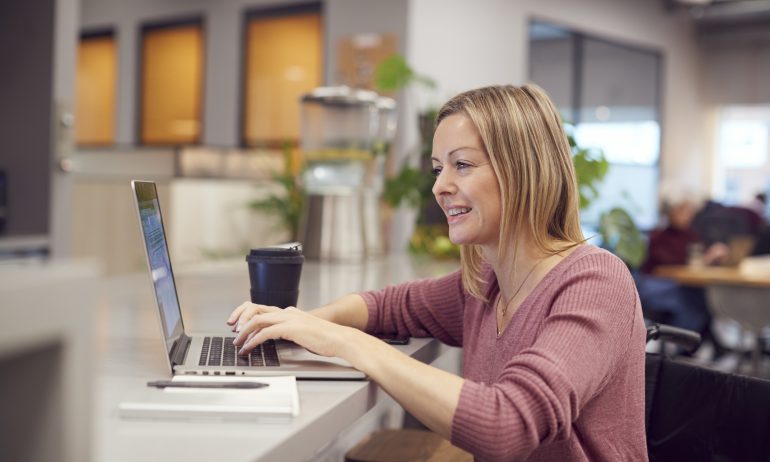 Many or all of the products featured here are from our partners who compensate us. This influences which products we write about and where and how the product appears on a page. However, this does not influence our evaluations. Our opinions are our own. Here is a list of our partners and here's how we make money.
Accepting payments online is an excellent way to help grow your sales — whether your business has a physical location or operates entirely virtually.
Here's how to accept online payments.
1. Find an online payment processor
A payment processor is a company that manages the logistics of accepting card payments for merchants. It sends card data from a merchant's point-of-sale system, where customers enter their card details, to payment networks such as Visa, Mastercard, American Express and Discover, as well as banks involved in the transaction.
You can typically choose from two major processor options to accept online payments:
If you want a customizable option: Consider a merchant account. These bank accounts are solely for receiving credit and debit card payments. After the payment processor clears a merchant's card transactions through the card networks, it deposits the funds into the merchant account. This option typically offers more customizability and account stability, in part because it tends to require a lengthy and involved approval process.

If you need to start accepting payments fast: A payment service provider may make sense. Also known as aggregators, these providers pool all their customers into a single merchant account (with subaccounts for each individual customer). Payment service providers tend to offer turnkey solutions with a suite of tools, such as website building, reporting, team management and more. You can expect almost instant approval to start taking payments right away, but because of the pooled risk involved with multiple business accounts sharing one merchant identification number, sudden account freezes and terminations are more common.
For small businesses that want to accept online payments, finding a good payment processing company depends on which features are most important to them. Here are some of our top picks.
2. Select a payment gateway
A payment gateway is a place on a merchant's website where customers securely enter their card information to make purchases. It then verifies that customer cards are legitimate. Payment gateways are gates that have to open to allow money to move online, encrypting customers' sensitive data to keep it secure.
You can choose a payment processor with a built-in gateway to accept payments, such as Stripe or Square. If you do opt for a separate gateway, expect to pay an additional fee for this service. NerdWallet's top picks for cheapest payment gateways include options to help keep costs low.
3. Decide what pricing model works for you
How payment processing costs are calculated depends on what processor you choose. Be sure to do the math to determine the best option for your business.
If you have a high-transaction business: Consider an interchange-plus model, which may have discounts based on transaction volume. For each transaction, you pay the current interchange rate (which fluctuates) from the card network (e.g., Visa), plus whatever additional margin the payment processor charges. That payment processor fee is typically a percentage of the transaction plus a fixed number of cents.

If you want more consistent pricing: A flat-rate model will cost you the same for every transaction of the same type (such as keyed online), making it easier to predict costs. Although your rates remain the same, the interchange rate is still passed on to you — it's simply part of the rate you pay with a wide enough margin to cover fluctuations.

If you're looking to save money: A subscription-based monthly plan may be the least expensive option in some cases. These plans include a monthly fee that covers most of your processing costs and potentially a smaller markup.
Sometimes there are additional costs to accept online payments, so read the fine print before making your final decision. Here are a few additional expenses you might run into, depending on which processor, gateway and plan you choose:
Monthly subscription fees.
4. Provide a way for customers to pay you online
Direct them via links: Payment links are URLs or QR codes that direct customers to a checkout page where they can complete their purchases. You can create an individual link for each of your products, and an unlimited number of customers can use these links.

Bill them online: Online invoices are digital versions of paper bills. They typically include a date, invoice number, your business name and contact information, customer name and contact information, product details, tax (if applicable) and, of course, amount due. Adding a click-to-pay button makes it easy and convenient for customers to pay quickly. Online invoices are specific to a customer and particular sale, making them single-use documents.

Offer an online shopping cart: An online store allows customers to fill their digital shopping carts, store one or more items there until they're finished shopping and then check out in a single quick transaction.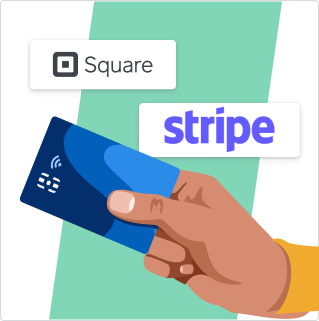 Take a quick quiz to be matched with the right payments partner.
Best Payment Processing Companies
Product

Payment processing fees

Monthly fee

Learn more

Helcim

0.40% + 8¢

 

plus interchange, in-person; 0.50% + 25¢ plus interchange, online.

$0

 

Square

2.6% + 10¢

 

in-person; 2.9% + 30¢ online.

$0

 

Starts at $0/month for unlimited devices and locations.

Stripe Payments

2.7% + 5¢

 

in-person; 2.9% + 30¢ online.

$0