How to Accept Payments Online
Accepting payments online isn't complicated as long as you understand the basics.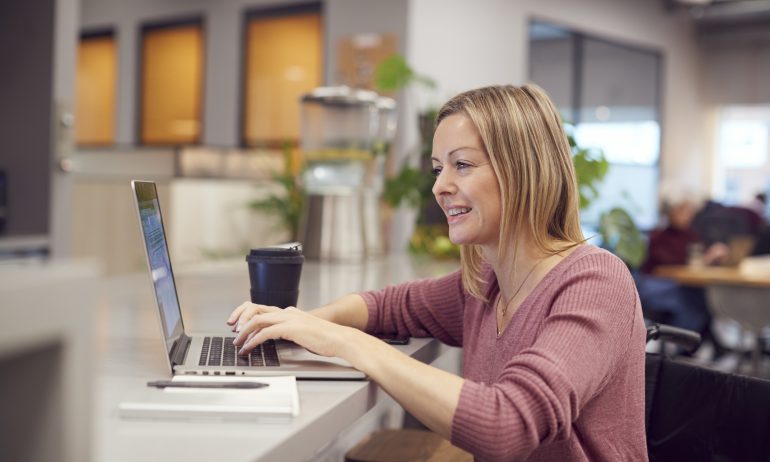 Many or all of the products featured here are from our partners who compensate us. This may influence which products we write about and where and how the product appears on a page. However, this does not influence our evaluations. Our opinions are our own. Here is a list of our partners and here's how we make money.
The ability to accept payments online is an excellent tool to help grow your business, whether that business has a physical location or operates entirely virtually. If you're ready to begin accepting online payments, this comprehensive guide explains what you'll need to set up the process, where to sell virtually, costs to be aware of, and some specific solutions to consider.
What do I need to start taking payments online?
Before your business website can start accepting customer payments online, you'll need a payment processor and a payment gateway.
Payment processors are involved with the entire transaction process — from the moment your customer initiates a payment to the moment those funds land in your bank account — allowing you to accept credit and debit cards and other payment methods. You've got two major processor options:
Merchant account providers: These provide your business with a dedicated merchant account and a merchant ID, or MID. While this option typically offers more customizability and account stability, it also tends to require a lengthy and involved approval process.

Payment service providers: Also known as aggregators, payment service providers combine multiple business accounts under a single umbrella with a shared MID. Payment service providers tend to offer turn-key solutions with a suite of tools, such as website building, reporting, team management and more. You can expect almost instant approval to start taking payments right away, but because of the pooled risk involved with multiple business accounts sharing one MID, sudden account freezes and terminations are more common.
Payment gateways are software applications whose sole purpose is to accept or decline credit cards and other electronic payments. Functioning as a literal gate that has to open to allow money to move, a payment gateway encrypts customers' sensitive data to keep it secure.
Some processors (like Stripe and Square) have gateway capability built into their solutions, so you don't have to choose a specific gateway to accept payments. If you do opt for a solution that requires a separate gateway, expect to pay an additional fee for this service.
No matter what type of processor and gateway solution you arrange, there's always some cost when it comes to processing the online payments themselves. Depending on the processor you choose, these costs are calculated in different ways, so be sure to do the math to determine the best option for your business. Some basic payment processing models include:
Interchange plus: For each transaction, you pay the card network's exact current interchange rate (which fluctuates), plus whatever additional margin the payment processor has set, typically calculated as a percentage and fixed cost in cents.

Flat rate: Every transaction of the same type (such as keyed online) is charged the same rate, meaning you pay the same amount every month. Although your rates remain the same, the interchange rate is still passed on to you — it's simply been calculated into the rate you pay with a wide enough margin to cover fluctuations.

Subscription: A set monthly plan fee covers most of your processing costs and you pay a smaller markup.
Sometimes additional costs are involved with accepting online payments, so it pays to read the fine print before making your final decision. Here are a few additional expenses you might run into, depending on which processor, gateway and plan you choose:
Monthly subscription fees.

Payment Card Industry (PCI) fees.
Where can I sell my product online?
When it comes to selling online, options include your own business website (individual company website or the online store some payment processors include), and large e-commerce marketplaces, like Amazon or eBay. Each option has distinct advantages and disadvantages, but you don't have to make one hard-and-fast choice. It's fine to sell your products in more than one space — in fact, this strategy will probably work to your advantage.
Complete control: Not only do you choose the appearance and content of your own site, but it's also up to you how and when each of your products is presented and what promotions you offer.

Less competition: Only your products appear on your website, so customers aren't scrolling through your competitor's offers to find you. Once on your site, if customers want to see the competition, they'll have to take the time to search elsewhere.

Customer referrals: Those who purchase directly from your website are more likely to remember your brand when friends ask where they bought a particular product — unlike the typical "I found it on Amazon" response that so often follows e-commerce marketplace purchases.
Customer hesitancy: Potential customers may not feel safe purchasing from you as an unfamiliar seller.

Limited reach: An individual company website just doesn't have the international reach of a major e-commerce platform.

Potential tech support issues: Unless your site builder offers great tech support, you may not be able to get the help you need when glitches occur.
E-commerce marketplace pros
Introduction to new customers: On marketplace sites, customers don't need to include a brand in their product searches. That means shoppers who never even knew your company existed will be introduced to your brand and may then decide to explore your website directly.

Worldwide reach: Major e-commerce platforms help expand your territory internationally.

Credibility: Customers trust large e-commerce sites and feel safe ordering unfamiliar products from them.

Increased sales: E-commerce sites with effective product cataloging systems guide interested customers to your product to drive up sales.

No payment processor or gateway required: E-commerce platforms handle the processor, gateway and billing aspects of their online sales transactions, so you can begin selling even before you've set up your own website, payment processor and gateway function — and you don't have to worry about billing or collecting from your customers.
E-commerce marketplace cons
Limited control: You choose your product photos and descriptions, but the marketplace ultimately controls the rest. An e-commerce marketplace will focus on selling products rather than featuring sellers or brands, and you'll have to abide by its rules regarding refunds, returns and other policy protocols.

Fierce competition: When a customer searches for a type of product, they'll see all your competitors alongside what you have to offer. You may be competing against hundreds or even thousands of similar items.

Fees: E-commerce sites don't sell your product for free. Expect to pay some fees, which might include plan costs, referral fees, fulfillment charges, final-value charges or long-term storage fees, regardless of which marketplace you choose.
How can I bill my customers online?
When you're selling on your own website or online store, collecting and accepting customer payments is your responsibility. Here are a few ways to simplify this process for both you and your customers:
Payment links: With a simple click, these URLs or QR codes direct customers to a checkout page where they can complete their purchases. You can create an individual link for each of your products, and an unlimited number of customers can use these links.
Online invoices: Online invoices are digital versions of the paper bills we're all familiar with. They typically include a date, invoice number, your business name and contact information, customer name and contact information, product details, tax (if applicable) and, of course, amount due. Adding a click-to-pay button makes it easy and convenient for customers to pay quickly. Online invoices are specific to a customer and specific sale, making them single-use documents.

Online shopping cart: An online store allows customers to fill their digital shopping carts, store one or more items there until they're finished shopping and then check out in a single quick transaction.
Payment processor examples
With transparent flat-rate pricing per transaction, no long-term contracts and no extra fees, Square is an end-to-end payment service provider with gateway capability. It has a free monthly plan that includes an online store, saved carts and a smart website builder.
Square's free plan also offers features helpful to online sales like invoicing, e-gift cards, low stock alerts, advanced item search, channels to sell on Instagram and Google, and much more. You can even download a third-party app to integrate with Amazon. If you also sell in person, Square offers a free magstripe card reader. And if you need additional tools as your business grows, you can always scale up to the Square Plus plan for $60 monthly.
If you prefer a merchant service provider, Helcim provides a dedicated merchant account, gateway functionality and transparent interchange plus pricing. It has no contracts or monthly fees, and processing rates decrease with increasing sales volume.
Helcim includes a fully hosted, customizable online store that lets you set up shopping carts, discount codes, tax calculations and shipping methods. It also optimizes search engine optimization to help potential customers find you. If you have a physical business location, Helcim allows you to accept in-person payments as well. It also offers an optional card reader for purchase.