How to Accept Payments Online
Learn how to accept payments online in a comprehensive guide covering what there is to know about online payments.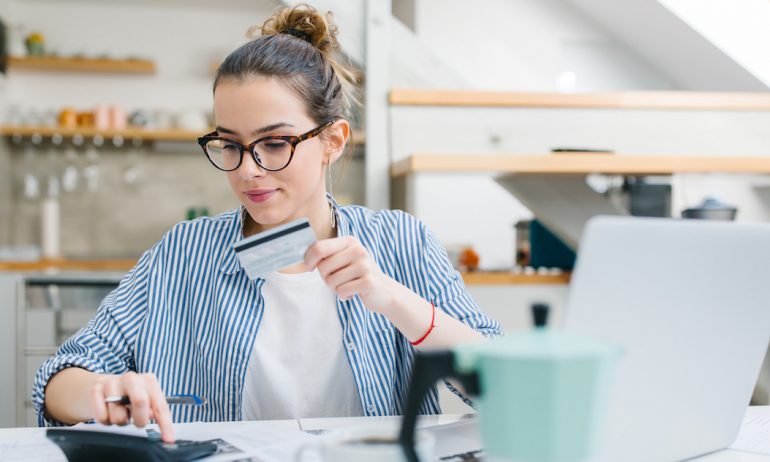 Many or all of the products featured here are from our partners who compensate us. This may influence which products we write about and where and how the product appears on a page. However, this does not influence our evaluations. Our opinions are our own. Here is a list of our partners and here's how we make money.
If you've gotten a customer to the point where they are ready to purchase a product on your website, you've done a lot of things right as an ecommerce small business owner. But don't celebrate prematurely! The checkout stage is actually the most precarious part of an online transaction. When it comes time to pay, customers abandon their shopping cart at a whopping average rate of 69.89%.
This is due to an array of factors, including hidden costs (shipping, taxes), extra steps (needing to create an account), untrustworthiness, lack of payment methods, and a cumbersome checkout process. How can you, as an ecommerce small business owner, buck this trend? By having an excellent online payment experience.
To do this, you need to learn about the world of online payments. We're sure you received a primer when you first set up your ecommerce business, but the world of online payments is quite complex, and all ecommerce operators can benefit (and save some money) with a bit more background.
In this guide, we are going to talk about how to accept payments online. This includes how online payments work and the different types of online payments. But before we do that, it's important to understand why online payments are so important in the modern retail landscape.
Benefits of accepting payments online
Let's set aside the obvious first. The main benefit of accepting online payments is expanding your revenue base by being able to collect payments from customers who purchase your products via the internet. This is probably why you decided to get into ecommerce in the first place.
But online payments can offer your business much more than just a way to collect money. A good online payment system has a variety of benefits, including:
Reaching an international audience
No matter how small your business is, if you have an online payment system that can accept multiple currencies, you have the potential to reach customers around the world.
Customers can pay via mobile
Retail payments by mobile apps, like Google Wallet, PayPal, and Apple Pay, are expected to amount to $190 billion in transaction volume by 2021. If you have an online payment system that accepts these forms of payment, you increase your opportunity to reach your target audience and close a sale.
Set up recurring payments
If you operate a subscription-style service or charge your customers monthly fees, an online payment system can save you some time by automating the collection process.
Instances of fraud are higher when customers pay online. One in three shoppers hesitate to buy online because of security concerns. It's one of the biggest issues holding back the ecommerce industry. But if you have an online payment system with first-class security measures, this could be an opportunity for you.
Coupling robust security and varied payment methods establishes your business as more trustworthy and reliable in the eyes of the customer. More than 80% of customers feel safer submitting their credit card information if they see familiar card logos (think Visa or MasterCard) displayed prominently in an online store, according to CoxBlue.com.
Americans increasingly want to buy things from the comfort of their computers. The ecommerce industry grew by 16% in 2017, amounting to $453.46 billion in sales, according to SaleCycle. Ecommerce now accounts for 13% of all U.S. retail sales. Accepting online payments allows you to be part of this growing trend and reap the benefits.
Disadvantages of accepting online payments
There are two dreaded Fs associated with the world of online payments: Fees and fraud.
The type of fees associated with your online payment system vary depending on your provider and the features you want. Most providers either charge a per-transaction fee or an interchange fee. A per-transaction fee is usually a small percentage of the total cost of a transaction. An interchange fee is a fee paid between banks for the acceptance of card-based transactions.
Per-transaction and interchange fees are usually similar, but you should shop around for the best rate. Additionally, some providers also charge setup fees, monthly service fees, and usage fees for going over or under certain transaction limits.
While robust security measures can be marketable, the fact remains that ecommerce businesses lose 0.8%-0.9% of all sales to fraud each year. And each instance of fraud costs a business $114,000 on average. Fraud is more common online because the sale is taking place virtually where the merchant cannot verify the customer's identity.
There are two major types of online fraud that you should be aware of: Account takeover and identity theft. Account takeover fraud is when a customer account on your ecommerce site is hacked into. The perpetrator then uses the payment information saved on the customer account to make unauthorized purchases. Identity theft fraud is when unauthorized purchases are made on your ecommerce platform using stolen customer data.
To help businesses protect themselves from fraud online, the Payment Card Industry Security Standards Council (PCI SSC) created a set of best practices that all online retailers must enforce called PCI compliance. There are additional measures you can take as well, such as monitoring transactions, setting purchase limits, and requiring tougher passwords.
If you sell online, fees are part of the cost of doing business, and fraud is always a looming threat. For those considering setting up an ecommerce shop, plan accordingly.
How online payments are processed
Processing online payments is complicated, which you might not have guessed considering how fast it happens. Within moments of a customer clicking the "Order now" icon on your website, multiple stakeholders open and close a line of communication to determine if a transaction is legitimate and whether or not it can be processed. This series of events is not possible unless you possess two very important items: a payment gateway and a merchant account.
Let's look at how each of these things fits into the online payment process.
A payment gateway is an application that plugs into your ecommerce platform to authorize online payments. It's useful to think of a payment gateway as the middleman between your bank and the customer's credit card provider.
When a customer purchases something on your website, the payment gateway transfers their credit card information to your bank and communicates back to the customer if the transaction is approved or denied. Payment gateways exist because it is prohibited to send information directly from a website to a payment processor, per PCI compliance.
To get a payment gateway, you will have to fill out an application and provide financial information. There are a variety of payment gateway providers, most of whom will charge a per-transaction fee and a monthly fee. Once you get one, you will have to integrate it into your ecommerce platform, which can be a complex process.
If you're in the market, here are a few good payment gateways for small business owners:
When we say the payment gateway connects to your bank, what we really mean is it connects to your merchant account. A merchant account is a special type of bank account that allows you to receive different types of payments, including credit and debit card payments. Once the merchant account receives the funds, it transfers them to your business bank account based on the payout schedule you've worked out with your account provider.
All business owners who want to accept credit card payments—online or otherwise—need a merchant account. Only ecommerce businesses need a payment gateway.
The process for acquiring a merchant account is similar to acquiring a payment gateway. You will need to submit an application and pay some fees—specifically an application and monthly service fee. Depending on the merchant services provider you use, you will also be charged per-transaction fees, interchanges fees, or a charge based on your business's transaction volume (tiered pricing).
Also note that you can select a dedicated or aggregate merchant account. A dedicated account is an account only you have access to that gives you more control over your payments. An aggregated account means your account is grouped with various other merchant accounts to form a single account. This option is usually cheaper, but gives the merchant less autonomy.
Some good merchant account providers include:
Some services will bundle a merchant account and payment gateway together. These are called payment services providers (PSP). PSPs don't charge monthly fees, but may charge higher per-transaction fees. Some of the most popular PSPs include:
How payment gateways and merchant accounts work together
Let's go step by step through how an online credit card transaction is processed:
The customer submits their credit card information: Once this happens, the ecommerce platform passes it along to the payment gateway via an encrypted connection.

The payment gateway passes this information along to the merchant account: More specifically, the payment gateway passes the credit card information to the merchant account bank's payment processor. A payment processor is a company authorized to process credit and debit card transactions between buyers and sellers.

The payment processor contacts the customer's credit card network (Visa, MasterCard): The card network routes the transaction to the bank that issued the credit card

The issuing bank approves or denies the request: The bank checks to ensure the funds are available and the transaction isn't fraudulent. Based on the bank's findings, it will either approve or decline the transaction. Either way, it will relay it's decision back to the credit card network.

The sale is processed (or denied): If the transaction is approved, the credit card network will inform the payment processor of the merchant account, at which point the funds will be released into the merchant account. The information is also relayed back through the payment gateway to the ecommerce platform to inform the customer the sale has been processed (or, if there was an issue, denied).
Once again, all this happens within a matter of seconds.
Different types of online payments
Offering multiple payment methods improves customer experience and can reduce the time it takes for you to get paid. Most of these will require a payment gateway that accepts the payment method. The internet supports a variety of payment methods, some of which we have already alluded to. Let's take a look at each one:
Credit and debit cards are the most widely used method of online payment, and the preferred method of payment by millennials. This is partly because credit cards offer rewards for usage in the form of cash back and airline miles. All ecommerce business owners should accept major credit card providers, including Visa and MasterCard. To pay via credit or debit, a customer will have to key their card information into your website's payment platform.
An ACH transfer (Automated Clearing House transfer) is the transfer of money electronically from the customer's bank account through the ACH network to the merchant's bank account. ACH is a U.S. financial network for electronic payments and money transfers. ACH transfers don't require a payment gateway to be processed (although you do need a merchant account).
Common uses of ACH transfers include:
Payment of service providers (cable, gas)
ACH processing fees are typically lower than credit card processing fees and are charged either per transaction or as a flat rate.
Mobile payments are transactions that take place digitally via a mobile device. To pay via mobile, you must have a mobile wallet application on your phone that stores your credit card details. Popular mobile wallets include Google Wallet, Apple Pay, and Venmo. To accept these payments online, you will need a payment gateway that supports mobile wallets. Note that some mobile payments, like Venmo, can be processed as ACH transfers.
With email invoicing, you can send customers bills with a link to your payment platform, allowing them to complete payment in a matter of clicks. Email invoicing can also be automated on your ecommerce platform for hassle free payment collection. This type of collection is particularly useful for recurring billing.
Which online payment system is right for your small business?
If you're ready to start collecting online payments, or if you are interested in upgrading how you collect payments online, consider the following when making your selection: How many transactions do I have each month? What is my customer's preferred payment method? How do I want to integrate my payment gateway (API, hosted)? Do I want to accept overseas payments? Are many of my payments recurring?
Once you know the answers to these questions you should have a good idea of which online payment system is right for you. Ultimately, you want to do what is best for your customers, because a great user experience keeps them coming back to your site again and again.
This article originally appeared on JustBusiness, a subsidiary of NerdWallet.