GnuCash Review 2022: Prices, Features, User Reviews
Is GnuCash's open-source, locally-installed accounting software right for your business?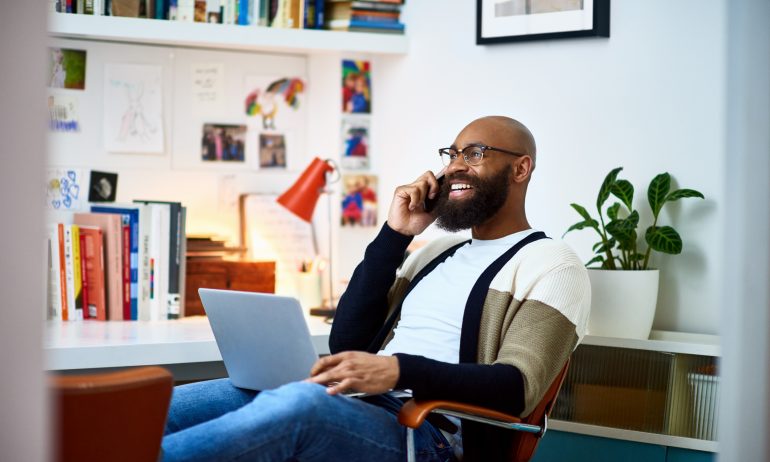 Many or all of the products featured here are from our partners who compensate us. This may influence which products we write about and where and how the product appears on a page. However, this does not influence our evaluations. Our opinions are our own. Here is a list of our partners and here's how we make money.
As an open-source platform, the code of the software is available for anyone to develop or edit as they see fit. In addition, GnuCash is locally installed (similar to QuickBooks Desktop), meaning it's directly downloaded, installed and used on one computer and cannot be accessed via a web browser. Whereas platforms like QuickBooks Online and Xero can be accessed using the internet regardless of computer or location, GnuCash is not an online-based platform and does not store any data in the cloud.
Considering the cost and simplicity of this software product, it's likely best suited for smaller businesses or freelancers. On the other hand, considering its weighty drawbacks — namely, the fact that it's extremely manual, locally installed and limited in features and accessibility — it's hard to say that it's a more effective solution than Wave or other low-cost options.
First and foremost, GnuCash is a double-entry accounting software platform, meaning every transaction on your books must debit one account and credit another the same amount.
You can record transactions in your "checkbook-style register," including checking, credit card, income, stock and currency transactions. The software product lets you enter split transactions, mark transactions as cleared or reconciled, autofill entered transactions, display multiple accounts in a single window and view a summary bar of an account's balance information. GnuCash also provides a reconcile tool that helps you compare entered transactions against a bank statement.
Moreover, GnuCash allows you to categorize your transactions into income and expense account types, as well as customize the appearance and display style of your register. GnuCash can also accommodate multiple currencies — even between different accounts within one system. You also have the ability to set up recurring transactions with preset amounts and a designated timeline — within this feature, you can schedule a reminder of when a transaction is due.
Although GnuCash is largely designed to accommodate manual transaction entry, the system does allow you to import external transactions using Quicken, QIF or OFX files.
GnuCash presents financial data in the form of a bar graph, pie chart or scatter plot. You can also utilize its full suite of reports — which include both standard and customizable options — like profit and loss statements, balance sheets, portfolio valuation, cash flow statements and more.
As a locally installed accounting software system, GnuCash can only accommodate a single user. Multiple users can take turns accessing a single, shared account file; however, only one user can be logged in at a time.
Since GnuCash is not a cloud-based software system, the data you add and files you create are stored locally on your computer. GnuCash does create an automatic backup in xml format every time you save a file.
GnuCash also offers an "experimental feature" that allows you to store data in an SQL database. The website warns, however, that some use cases of this feature have resulted in data loss.
GnuCash offers a companion mobile app for Android users available in the Google Play store. This app allows you to record transactions anywhere for later import into the desktop version.
With this point, it's important to emphasize that unlike business accounting apps for online-based software platforms that can sync automatically between mobile and web versions, any data stored in the GnuCash app must be manually imported into the desktop version.
Overall, the features listed thus far could be utilized by any individual looking for accounting software. Although these are the core capabilities of the GnuCash platform, GnuCash also offers what it calls "advanced features" specifically for small businesses. These include:
Customer and vendor tracking.

Payroll management through accounts receivable and accounts payable.

Budget creation and management.
Finally, whereas most web-based accounting software platforms include customer support in some form, as free open-source software, GnuCash only offers online self-service tools.
Through the GnuCash website, you can access extensive documentation, tutorials, guides and a comprehensive Wiki page for help setting up and utilizing this accounting platform.
When it comes down to it, GnuCash is genuinely a free accounting software solution. As long as you have a computer, you can download, install and use GnuCash at no cost.
However, because GnuCash is an open-source, locally-installed platform, it's important to consider that (depending on your technical experience) you may need professional assistance to update and maintain the software. Generally, GnuCash seems to be fairly straightforward for most users — but if you do encounter issues, it may be necessary to pay for a developer or IT professional to help you with the system.
Along these lines, GnuCash is largely a manual system — opposed to an automatic one that connects directly to your bank account to pull transactions — and therefore, it may be even more worthwhile to work directly with a professional bookkeeper or business accountant to review your books and ensure that everything is accurate. In either case, there will be costs associated with hiring professional help.
Finally, remember that unlike some free or low-cost accounting platforms that offer additional features for associated costs, GnuCash does not have these add-on options. In theory, you could work with a developer to add certain features or capabilities to the GnuCash system, but that would require significant time and costs.
Cost: It's hard to beat totally free accounting software, especially if you own a new or very small business.

Simplicity: Not only is GnuCash free, but it's also straightforward with essential features focused on basic bookkeeping. Although GnuCash does include features for invoicing, customer tracking and budgeting, most of its capabilities are focused on recording transactions, reconciliation and general financial management. In this way, small businesses that only need these core functions aren't overwhelmed by a platform with a multitude of advanced features they don't actually need.

Double-entry accounting: Plus, even though GnuCash is simple, it's still a double-entry system, which is generally considered the more accurate accounting method — and this feature takes the GnuCash software up a notch from a simple spreadsheet, like Excel, which makes double-entry accounting extremely difficult.
The advantages of GnuCash — its price and simplicity — also play a direct role in its weaknesses. GnuCash lacks the accessibility, tools and general user experience that is offered by most accounting software solutions out there.
Not cloud-based: Since GnuCash is a locally-installed software, it severely limits a business owner's access to their financial data. Although there are certainly business owners who prefer a desktop-based method, online-based solutions are becoming more and more popular as they are often more flexible and user-friendly and can be utilized regardless of location on a variety of devices.

Limited functionality: Most accounting software competitors on the market can accommodate multiple users, advanced reporting, receipt scanning, online payments, third-party integrations and more. In comparison, GnuCash only allows one user, cannot integrate easily with third-party tools and only offers a mobile app for Android — which requires manual import.

Outdated compared to the competition: Ultimately, GnuCash seems outdated in its offerings, especially considering how manual the system is. Even a desktop-based software like QuickBooks Pro allows you to automatically connect to your bank and other accounts to streamline your processes and avoid manual data entry errors. Therefore, although the GnuCash system might offer you a step up from an Excel-based system, it still requires significant time and effort to manage.
GnuCash user reviews are generally positive. Although some business owners have their complaints, it seems like most software users are satisfied with their experience.
In particular, reviews highlight the cost of GnuCash, its large online community base and the ease with which they were able to set up and use the platform. Additionally, many reviewers comment on how useful GnuCash is for freelancers, small businesses and even individuals.
On the other hand, although there aren't many wholly negative reviews, users who offered critiques of the software seemed to agree on a few points. First, reviewers comment on how manual the GnuCash system is and how this can be both time-consuming and confusing, especially if you're unfamiliar with double-entry accounting.
Additionally, some users write that the interface of the platform is outdated and could be more intuitive and generally that GnuCash has a learning curve to get started. Finally, many user reviews note the difficulty of importing transactions, the lack of multiple user access and limitations of a locally-hosted platform.
Before you decide whether or not GnuCash can meet your business's accounting needs, it's important to explore some top competitors. Although there are a multitude of options on the market, we'd suggest Wave, FreshBooks and QuickBooks Online as the top alternatives to GnuCash.
Like GnuCash, Wave accounting is one of only a few truly free accounting software solutions. Unlike GnuCash, Wave is a web-based platform known for its accessibility, flexibility and general ease of use.
You can sign up for a free Wave account online, as well as use its invoicing and receipts mobile apps from anywhere. With Wave, you can manage all of your basic bookkeeping and accounting tasks by connecting your business bank account, credit cards and other accounts like PayPal or Etsy.
Wave also can accommodate customizable invoicing, receipt scanning, guest collaborators, bill and invoice reminders and more. Plus, if you're willing to pay for additional services, Wave offers a pay-as-you-go solution for accepting online payments and a payroll system.
Ultimately, Wave is the more modern version of GnuCash. It's similar to GnuCash in price and simplicity but surpasses the open-source solution with its modern, online-based platform, range of features (including paid add-ons) and automatic system.
If you're a small business owner who wants a simple, accessible and affordable way to manage your basic finances, without having to spend significant time and effort on manually adding and reconciling transactions, Wave is certainly an alternative worth considering.
FreshBooks accounting software
Although FreshBooks is a paid accounting software system, it nevertheless is a competitive GnuCash alternative, especially for freelancers or small businesses who invoice customers and clients.
Among a full range of features, FreshBooks offers one of the best built-in invoicing software solutions — allowing you to create and send highly customized invoices and payment reminders, set recurring invoices, add tracked time and expenses to invoices, automatically calculate taxes on invoices and more.
All FreshBooks plans include automated bank import, the ability to accept online payments (with an associated cost), estimates, time tracking, project budgeting, third-party integrations and more. Plans are available at $15, $25 and $50 per month with a quote-based option for businesses billing more than 500 clients. All three plans are limited to one user, with additional team members costing $10 per user per month.
On the whole, this web-based option offers next-level functionality that surpasses both GnuCash and Wave. If you're willing to pay for your accounting software and own an invoice-based business, there's no doubt that FreshBooks is a top alternative to keep in mind.
Finally, you might also consider QuickBooks Online as one of the top alternatives to GnuCash. Although QuickBooks Online is different from GnuCash in many respects, there's a reason that it's one of the most popular accounting platforms for small-business owners.
Ultimately, with four different subscription plans, internal and third-party add-on options and the robust community and resources available, QuickBooks Online can accommodate almost any small business — and is a great solution for business owners who anticipate growing or changing quickly.
QuickBooks Online is a web-based software and — regardless of the plan you choose — includes income and expense tracking, automatic bank connections, invoicing, basic reporting, integrations, customer support and more. With the higher-level plans, QuickBooks Online offers even more advanced features, such as inventory tracking, project management tools and integrated time tracking.
Unlike GnuCash or Wave, you do have to pay for a QuickBooks Online subscription — and pricing for the lowest-level plan, Simple Start, begins at $25 per month.
Although QuickBooks may not seem like the ideal option for freelancers or very small businesses, it's a great option for product-based businesses or businesses that want the ability to grow and upgrade within a single solution. Plus, if you are a freelancer interested in a QuickBooks product, Intuit also offers QuickBooks Self-Employed as a more specified solution.
A version of this article was first published on Fundera, a subsidiary of NerdWallet.