How to Write a Mission Statement
A mission statement explains what a business set out to accomplish, what makes it unique and its ethics and values.
Many or all of the products featured here are from our partners who compensate us. This influences which products we write about and where and how the product appears on a page. However, this does not influence our evaluations. Our opinions are our own. Here is a list of our partners and here's how we make money.
When you're first starting a business, writing a mission statement may seem like a challenge, but it can be pretty simple. Your mission statement is a critical component of your business plan. It articulates why you started your company and what you hope to achieve. And when written well, your mission statement serves as an invaluable marketing tool for your business.
In this article, we'll show you how to craft an authentic mission statement that resonates with your customers, employees and business peers. Also, be sure to review our mission statement template infographic at the end of this guide — it will help you dive into the writing process with greater clarity and confidence.
Smart money moves for your small business
Get access to business insights and recommendations, plus expert content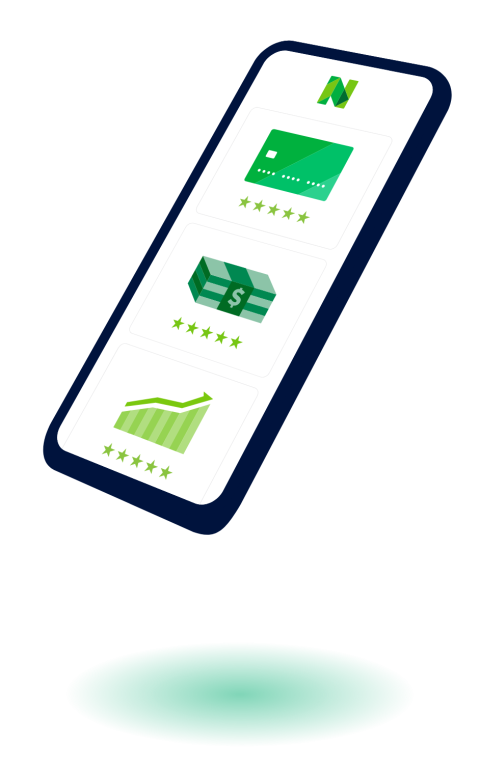 What is a mission statement?
Your mission statement explains, briefly and concisely, the mission you first set out to accomplish when you started your business. Your mission statement should also make clear how you're unique to your competition, hint at your business strategy, reflect your core values and ethics and take your universal or longer-term business goals into account.
If you're starting a daycare, for instance, your mission might be to provide safe, flexible and affordable child care and children's education for parents in your community. If you're starting a wedding planning business, your mission may be to provide hands-on, personalized support to busy spouses-to-be who don't have the bandwidth to deal with crazy wedding logistics. Your mission statement is simply a polished and cohesive version of your business's essential purpose.
You will usually feature your mission statement on your website in the "About" section or company overview section, and in job postings, marketing supplements and your business plan. It's one of the business fundamentals that you'll find will have many uses as you grow your business.
Why you need a mission statement
In his Ted Talk about effective leadership, Simon Sinek says that business leaders should be able to answer these questions: "What's your purpose? What's your cause? What's your belief? Why does your organization exist? Why do you get out of bed in the morning? And why should anyone care?"
When you encapsulate your answers in a cohesive mission statement, you tell everybody:
This is critical because your mission statement should affect every future business decision — from hiring your first employee to how your brand yourself. Every choice you make should align with your company's core purpose and beliefs.
Now, let's move on to the nuts and bolts of writing your mission statement. It will help you create a comprehensive business plan that will guide you in launching, running and growing your business.
How to write a mission statement in 5 steps
Now that you understand why a mission statement is essential, we'll dive into the details about how to write a mission statement.
1. Free write about starting your company
Don't expect to produce a polished and publishable mission statement as soon as you put pen to paper (or fingers to keys). To overcome any stress or writer's block, try "free writing" about your business instead.
As we've mentioned, your mission statement conveys your business's "why." What problem did you seek to solve when you started your business? Why was this particular problem important for you to take on? What inspired you to start your business? And how does your product or service solve that problem better than your competition does?
If you have or plan on hiring employees, touch on the vision of the working environment you aim to provide for them, as well. What kinds of people comprise your team, and how do they align with your business's overall values?
At this stage, you're simply gathering your thoughts and pointing yourself in the direction of a complete mission statement. The most important thing is to generate the raw material; you can hone and edit from there.
2. Explain what your company does
Next, you can get a little more granular and explain precisely what product or service your company provides, focusing on how your particular product or service offers value for your target customer. This explanation should touch on your broader mission and how your business differs from others like yours, either explicitly or implicitly. Keep this short, concise and specific.
For example, let's take a look at our hypothetical wedding consultant example. If that's you, you could write that you provide couples with wedding consulting and planning services, as well as day-of coordination. Personalize your services according to the couple's particular needs and wishes. This thoughtful, bespoke level of service puts busy couples without the time or desire to handle planning and logistics at ease, so they can truly enjoy their big day.
3. Describe your ideal customer
Learning how to write a mission statement is a critical component of customer-facing marketing material; it must articulate who your business serves, why someone should choose to work with you, and what you can do for your customers.
Start by describing your ideal customer: What are their general demographics? What do their professional and personal lives look like? What problems or challenges are they facing? How do they find new businesses or products (i.e., Instagram, word of mouth, or another marketing tactic)? How do you want your customers to feel when they use your product or service?
On the flip side, you can consider the types of customers your business wouldn't be best suited for. This is also known as creating a buyer persona, and it'll help you hone in on who your target market is and how to fashion your mission statement so that it resonates with their particular needs and desires.
This probably won't appear verbatim in your final mission statement, but it'll help you hone in on what you do, why you do it and the unique value you bring to your customers' lives.
4. Define your core values
Your mission statement should convey your business's values and ethics as much as it does your literal product or service.
Let's return to our daycare center owner example. Your business's core values might:
An accessible price point for parents with demanding or unusual working hours.

Providing children with a creative, nurturing and cooperative environment.

Specializing or focusing on a particular subject, such as art, music, or group projects.
This is as important for your customers to understand as it is for your current and prospective employees, as well as key stakeholders like lenders, investors and other owners. Those core values shape your company culture, offer your current employees both an ethical and goal-oriented guidepost and attract the right employees. You will also help lenders and investors understand your larger, longer-term goals (and why they should invest in your business).
5. Revise and condense your mission statement
We've noted that your mission statement should reflect your business's purpose and goals and that you should be authentic — but don't mistake your mission statement for an essay, op-ed, or journal entry. At its core, your mission statement is a marketing asset. That means it should be relatively short and concise.
Once you've written to your heart's content, try to cut your statement down to a few paragraphs. Then, try to condense it even further so you can easily use this one- or two-liner in your marketing materials; think of this as the elevator pitch version of a more comprehensive mission statement.
Get some readers on board, too. If you have employees, run your mission statement by them to gauge their opinion (after all, this is as much for them as it is for you and your customers). Also, consider sharing your mission statement with your advisors and even trusted customers to ensure that your statement accurately portrays your business and reflects your long-term goals.
Mission statement examples
If reading about how to write a mission statement still leaves you feeling stuck or lost, you can always consult the brands you admire to get a sense of how they approached their statements. Typically, brands include their mission statements on the "About," "Our Story" or "Our Mission" page of their websites.
Here are just a few mission statement examples we collected from successful brands. Note that some of these mission statement examples are longer than what we've included here, so if one resonates with you, we'd recommend heading directly to their website to read the full statement.
Glossier: "You have now entered a people-powered beauty ecosystem. Here you'll find products inspired by the people who use them, along with people to be inspired by, and for you to inspire. Glossier was founded on the fact that beauty isn't made in a boardroom — it happens when the individual is celebrated. Personal choice is the most important decision a brand can never make."

Spotify: "With Spotify, it's easy to find the right music or podcast for every moment — on your phone, your computer, your tablet and more. There are millions of tracks and episodes on Spotify. So whether you're behind the wheel, working out, partying, or relaxing, the right music or podcast is always at your fingertips."

Patagonia: "At Patagonia, we appreciate that all life on earth is under threat of extinction. We aim to use the resources we have — our business, our investments, our voice and our imaginations — to do something about it."

SoulCycle: "Our mission is to bring Soul to the people. Our one-of-a-kind, rockstar instructors guide riders through an inspirational, meditative fitness experience that's designed to benefit the body, mind and soul. Set in a dark candlelit room to high-energy music, our riders move in unison as a pack to the beat and follow the signature choreography of our instructors. The experience is tribal. It's primal. It's fun."

Casper: "We believe sleep is the superpower that charges everything people do. We've spent years studying the magic and science of sleep. The more we learn, the more we're sure: Great sleep changes everything. It makes us friendlier, faster, smarter… even warmer-and-fuzzier. If we all got great sleep, the world would be brighter."
In the beginning, you may be tempted to bump learning how to write a mission statement to the bottom of your very, very long starting-a-business checklist. But the very start of your venture is arguably the most auspicious time to write your mission statement. Right now, you're deeply in touch with your business's "why" — otherwise, you wouldn't be putting in the hard work of starting your business at all. That motivating purpose underlies your mission statement.
As you grow and evolve, you'll be grateful that you took the time to put that passion and energy into words. Use it as a kind of ethical guidepost as you and your team face increasingly challenging decisions over your business's lifetime. Plus, your mission statement will be an essential marketing tool that you'll use both to draw in potential customers and employees.
And keep in mind that your mission statement isn't an essay — it should be the opposite. Your finished mission statement should be a few paragraphs at most. As you get to work drafting your mission statement, be sure to craft an authentic and memorable story about your company.
This article originally appeared on JustBusiness, a subsidiary of NerdWallet.