Magento vs. WooCommerce—Which Is the Best E-commerce Platform?
Compare Magento vs. WooCommerce to decide which of these open-source e-commerce solutions is best for you.
Many or all of the products featured here are from our partners who compensate us. This may influence which products we write about and where and how the product appears on a page. However, this does not influence our evaluations. Our opinions are our own. Here is a list of our partners and here's how we make money.
When you're starting an e-commerce business, one of the most important decisions you'll make is which platform or software you'll use to create and manage your online store. You might start by comparing Magento and WooCommerce — two popular, feature-rich and highly functional open-source platforms. This guide provides a detailed comparison to help you decide which of these options might be best for your business.
Starting with Magento, it's important to note that although there are two different versions of Magento — Magento Open Source and Magento Commerce — the former solution is more comparable to WooCommerce, as well as more applicable to a wider variety of business owners.
Although Magento Open Source can be downloaded for free and requires separate web hosting, overall, this platform offers all of the features that you need to start your online store.
With Magento, you'll have access to the back office administration tools you need to set up your business and create your online store. You'll be able to create additional user accounts with specific roles and access levels, as well as add your basic store information, location, currency, email address and other contact information.
You'll also be able to set up and customize your storefront, add multiple e-commerce websites and stores and manage everything within the same admin dashboard. You can use the included content tools to add and edit pages, blocks and widgets, as well as customize your design configuration, page layouts and themes.
Additionally, Magento includes the ability to transact in multiple countries and currencies, as well as the option to use worldwide shipping providers.
Magento allows you to build out your product catalog by adding products, configuring them based on type and setting up categories, attributes and pricing. You can also track product quantities, as well as manage your entire inventory across warehouses, stores, dropshippers and more. Magento gives you the ability to configure your preferred product settings to facilitate order fulfillment and shipping.
In conjunction with Magento's product and inventory features, this software allows you to customize your order fulfillment and shipping processes. You can manage your order list, fulfill shipments, cancel orders, issue credit memos, create invoices and view transactions. You also can configure your shipping settings, work with different shipping services and create shipping labels.
With Magento, you can configure your online shopping cart and checkout options — including instant purchase, shopping assistance, customer accounts, discount codes, estimated shipping and taxes. Along these lines, Magento includes mobile-optimized shopping across desktop, tablet and mobile devices.
In terms of payments, Magento supports a variety of offline payment methods, such as payment by check or money order and cash on delivery. To accept payments online, you'll have to integrate with an online payment gateway or processor. Magento is compatible with a variety of payment processors, but specifically recommends PayPal and Braintree for new merchants.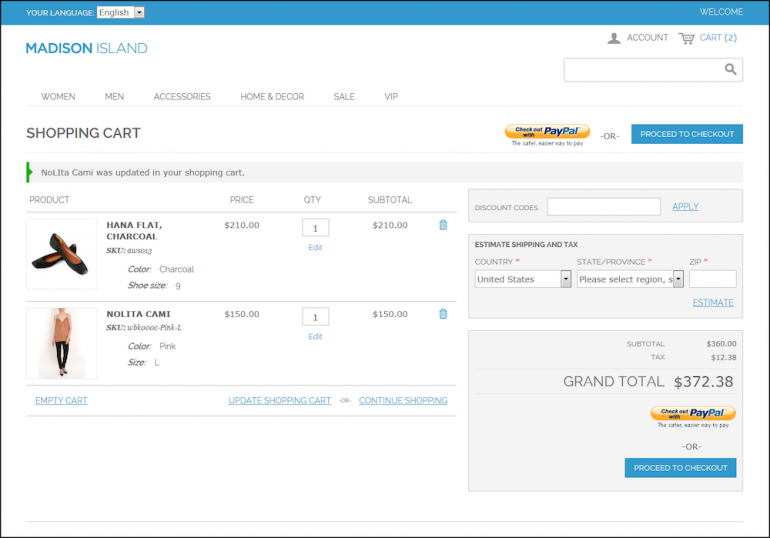 To manage your customers, Magento gives you the ability to create customer accounts and groups and monitor them through the Customers menu. To market your store, Magento includes promotional tools, newsletter and subscriptions tools, SEO and site search capabilities and shopping tools. Additionally, Magento Open Source offers a direct integration with Google and Amazon shopping, so you can market your products across multiple channels.
Within Magento, you can track your store's analytics and optimize your site using its integration with Google tools — including Google Analytics, Content Experiments, AdWords and Privacy Settings. In addition, you can filter all of the data stored in your admin and generate customized reports. Magento includes marketing, review, product, sales, customer, business intelligence and customer engagement reports.
Within the Magento Marketplace, you have access to thousands of extensions and themes that can be used to increase or change the functionality of your software. The marketplace includes a combination of both paid and free extensions, ranging from accounting and finance tools to shipping and fulfillment add-ons. In particular, the Magento Marketplace offers extensions for popular services like QuickBooks Online, Salesforce, Stripe, Square Payments, ShipStation and more.
As an open-source solution, Magento doesn't include any personalized customer support. However, it does offer extensive documentation, user guides, training options, update information and a forum community where users, developers and other professionals can share tips, tricks and support.
Overall, these are just some of the numerous features that Magento offers when you download its software (and Magento Commerce has even more to offer). Of course, as an open-source solution, all of Magento's functionality can be added to, adjusted, edited and customized as you see fit to meet your business's preferences and needs.
It is important to note that as robust and detailed of software as Magento is, it will more than likely require development resources to install this platform, customize it and implement it for your e-commerce business. If you have technical experience, you may be able to set up and use Magento without outside assistance; however, if you're unfamiliar with web hosting, the PHP programming language and general website development, it's going to be extremely difficult to use Magento on your own.
Like Magento, WooCommerce is an open-source e-commerce solution — unlike Magento, however, WooCommerce is built on WordPress, meaning you must have a WordPress website to be able to use WooCommerce. On the surface, this may seem restrictive. In reality, however, WordPress is one of the most popular and robust content management systems out there, powering more than 34% of the web. Therefore, WooCommerce actually benefits from its reliance on this top-of-the-line, modern, website builder.
With this in mind then, like Magento, WooCommerce is pre-built with all of the functionality you need to start and manage your online store, including:
Although WooCommerce comes with its classic, mobile-friendly storefront theme, you also have the option to pick a WordPress e-commerce theme that works for you to customize the look and feel of your store. You can edit any part of your site, utilize built-in blogging, embed products and checkout to any page, enable ratings and reviews and customize everything for your specific location.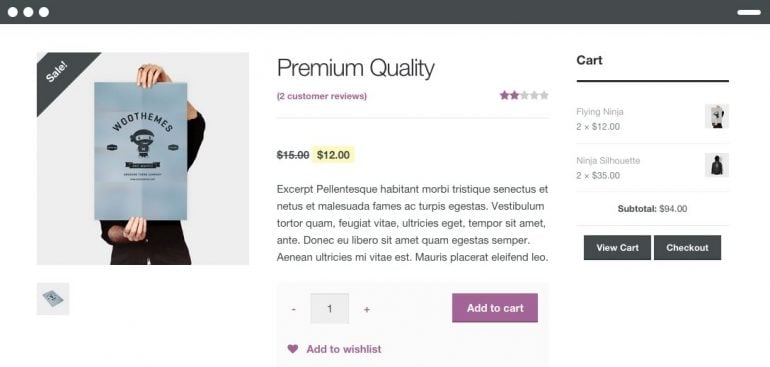 WooCommerce allows you to build your product catalog, adding an unlimited number of products and organizing them with categories, tags and attributes. You also can add an unlimited number of images and galleries for your products, sell both physical and digital goods, create an unlimited number of variations and even sell affiliate products.
Plus, WooCommerce gives you the ability to import and export products using a CSV file and enable product sorting and filtering to help customers shop through your inventory.
When using WooCommerce, you can accept payments from your customers in a variety of ways. You can take online payments — including credit cards and ACH transfers — using Stripe or PayPal (among other payment solutions), as well as take checks or cash on delivery. WooCommerce will also show taxes based on your customer's shipping address, billing address or your store's base address and automatically calculate major country and state tax rates.
In terms of shipping, WooCommerce gives you the ability to offer multiple options to your customers — including pickup, local delivery or general shipping. You can also restrict these options based on a customer's location.
In addition, WooCommerce lets you set a flat shipping rate, define specific rates based on the product and offer free shipping (which can be customized for certain products or locations). Based on the shipping settings you select, WooCommerce will calculate shipping costs and show the rates to your customers at checkout.
With WooCommerce, you'll be able to manage both your orders and your inventory. In terms of inventory, you'll be able to track stock levels, set up low-stock notifications and hide out-of-stock items. For orders, you'll be able to add customer notes, edit stock manually, mark items you've shipped and manage the whole of the order fulfillment process.
WooCommerce will also allow you to let your customers register for accounts when checking out, as well as enable guest checkout. Moreover, you'll be able to implement one-click refunds, use email templates to send order notifications to customers and add shop managers to your account so that your employees can manage orders and reports without having admin access.
Optimization and reporting
Perhaps one of the biggest advantages of WooCommerce running on WordPress is the built-in SEO tools that WordPress offers, allowing you to easily optimize your site in the best way possible. Along these lines, WooCommerce also includes customizable coupons as well as related products and other promotional widgets that allow you to market your store and drive purchases.
Moreover, through your WooCommerce dashboard, you can see summarized data, add sales and quickly view order statuses. WooCommerce also gives you the ability to generate reports that can be broken down based on sales, refunds, coupons, products and categories.
As an open-source WordPress e-commerce plug-in, WooCommerce offers the documentation and API tools you need to completely customize and configure your online store. In addition to these developer-focused tools, however, WooCommerce also offers an extensions store with over 400 paid and free pre-built add-ons. These extensions span multiple categories from payments to marketing to shipping and include popular solutions like Facebook, Square, ShipStation, Mailchimp, Zapier, Xero, QuickBooks and more.
Like Magento, WooCommerce doesn't offer any personalized customer support. This being said, however, WooCommerce does provide extensive documentation and video tutorials online for its main plug-in and all extensions sold on WooCommerce.com. Additionally, you can find community assistance for WooCommerce in the WordPress.org forums, as well as access a directory of "WooExperts" for professional support on the WooCommerce website. Plus, WooCommerce does provide email-based support for any of the plug-ins purchased through the WooCommerce extension store.
On the whole, WooCommerce, like Magento, comes pre-built with a wide variety of tools and features for e-commerce businesses. Uniquely, however, WooCommerce's relationship with WordPress is a huge advantage — allowing WooCommerce to benefit from all of the best qualities of that platform — including its functionality, user-friendliness and expansive community. In this way, WooCommerce has some of the approachability that Magento is lacking.
Although Magento may be a vaster and perhaps more customizable solution, it has a large barrier to entry for most small-business owners — it's going to be much harder to build your e-commerce website with Magento than with WordPress and WooCommerce. This being said, even if you simply compare the Magento website to WooCommerce's, you'll find that it's difficult to find detailed information on Magento Open Source (and instead, you'll find a focus on the enterprise-level, Magento Commerce), whereas the WooCommerce website is immediately approachable and easy to navigate to find the information you need.
Unfortunately, with open-source e-commerce platforms in general, costs are very unpredictable. Unlike a fully hosted solution, where you have a defined monthly cost and set capabilities included within that platform for that price, there are a number of variables that will contribute to the ultimate cost of Magento or WooCommerce.
First and foremost, with either Magento or WooCommerce, you'll be able to download the actual software for free. The variable costs, however, will include elements such as:
Web hosting: Web hosting can cost anywhere from a few dollars per month to a few hundred dollars per month. Generally, the more bandwidth, storage, security and support you need, the more expensive your web hosting will be. You'll also want to consider whether your web-hosting service includes a business domain name or if you need to purchase one separately.

Setup, maintenance and security: Although you may be able to set up and maintain a WooCommerce-based online store on your own, if you're using Magento, you'll likely need to work with a developer or tech professional to get your store set up, customized to your business and launched. Along these lines, you may also need to call on development resources for site maintenance, as well as for updates and security checks. Even if you do choose WooCommerce, if you have little web experience, it may be best to work with an expert. This being said, development resources have costs — and they can vary based on location, the experience of the professional and the needs your business has. As you'll see in the image below, some WooExperts charge $100 per hour for their services.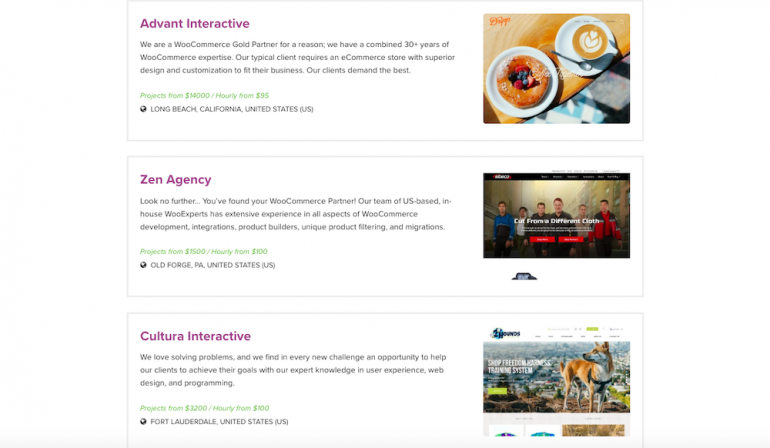 Payment processing: Both WooCommerce and Magento work with some of the top payment processors — and therefore, you have some flexibility in pricing on this front. Overall, however, most payment processing companies will at least charge fees of 2.9% plus 30 cents per transaction for accepting credit card payments online.

Extensions and themes: If you want to add pre-built extensions or themes to your store — from either WooCommerce or Magento — you might be able to take advantage of some free options. This being said, however, as you can see in the image below, certain extensions and plug-ins will come at a price. In this way, these costs will ultimately depend on what your business needs.

Based on these variables, it's difficult to determine the cost of Magento or WooCommerce on a monthly or annual basis. Ultimately, the cost will depend on the specifics of your business, what you need and how you choose to adopt and utilize the platform.
WooCommerce does have one predictable cost — the cost of a WordPress subscription. Although WordPress offers multiple plans, you need to at least opt for the $25-per-month (billed annually) Business plan to be able to use WooCommerce. For this price, you'll not only be able to use WooCommerce, but you'll also receive a free domain for one year, 200 GB in storage, web hosting, 24/7 support and all of the other features associated with using WordPress.
Nevertheless, these variables make it nearly impossible to accurately compare the costs of Magento vs. WooCommerce, as they'll be largely different — not only between the two platforms, but between each individual business. On the whole, it's probably safe to say that unless you have significant technical experience, you'll find you need more professional support to set up and maintain a Magento store than a WooCommerce one — something to keep in mind in terms of cost.
Overall, most online reviews of both Magento and WooCommerce skew positively. More specifically, with Magento, you'll see users highlight Magento's powerful system, advanced features and impressive customization capabilities. On the whole, users write that Magento is feature-rich and powerful, but with the development and technical skills required, it can be very difficult to maintain and manage.
With WooCommerce, on the other hand, user reviews often focus on the usability of the plug-in. Users write that WooCommerce includes a variety of helpful features — notably unlimited products, digital and physical goods and simple payment integrations — and that the platform (and it's connection to WordPress) allows them to control their store and sell efficiently.
In terms of criticisms, some users mention that WooCommerce requires active maintenance and that not all extensions and themes work together well. Many users also write that some of the third-party extensions can be expensive and it can be difficult to manage these different plug-ins and extensions together in the WordPress system.
Both Magento and WooCommerce are robust e-commerce solutions that share a unique level of customization not available with alternative solutions like BigCommerce or Shopify. Each platform does have specific benefits, however, that lend it to a specific type of business owner:
Advanced, robust feature set: The list of features Magento offers is extensive. In fact, Magento is often considered one of the most powerful, most advanced e-commerce platforms on the market. From the get-go, Magento includes any and all the functionality you need to build, manage and grow your online store.

Customization: Magento's significant customization capabilities go hand-in-hand with its feature set. As an open-source solution, Magento truly gives you the ability to create a unique online store that's unlike anything else on the web.

Extensions: The Magento Marketplace offers thousands of pre-built extensions that you can use to expand your capabilities and scale your business. Like the Magento feature set, this marketplace is one of the most expansive on the market.
Based on these benefits, there's no doubt that Magento is best-suited for larger businesses that want the most customizable online store builder available. With advanced features reaching far beyond the essentials, smaller businesses likely won't need everything that's included with Magento and instead, may be overwhelmed with the detailed capabilities offered that aren't applicable to their operations.
Magento is going to require significant work to set up and maintain. Unless you have a development background, you're going to need to utilize the skills of a professional to use Magento as your e-commerce platform. Not only is this a barrier to entry for many small-business owners, but it means higher costs and longer time required to get up and running.
Powered by WordPress: WordPress is one of the most popular website builders and with good reason. WordPress includes a powerful content management system, SEO tools and offers a variety of plug-ins in addition to WooCommerce. In this way, WooCommerce's reliance on WordPress is a huge benefit. Plus, with a wide community using WordPress and the WooCommerce storefront, it's easy to find resources or experts to help you with questions or problems you have with your store.

Core features: Although perhaps not as detailed and advanced as Magento, there's no doubt that WooCommerce offers a competitive feature set. This being said, WooCommerce doesn't only offer the core capabilities you need to set up and manage your online store, but also offers built-in tools that you don't find with other platforms — like product reviews, unlimited variations and promotional widgets. Plus, like with Magento, WooCommerce can be completely customized — and it allows you to add functionality with any of the add-ons in the extensions marketplace.

Usability: All in all, based on user reviews and even simply on the makeup of the platform, WooCommerce is much more of a user-friendly solution than Magento. WooCommerce benefits from the accessibility of WordPress and therefore, it's much easier for new and smaller business owners to use and manage this software.
WooCommerce is better-suited for a wider variety of business owners. Without a doubt, if you already have a WordPress website, using WooCommerce is one of the fastest and most affordable ways to get started selling online. Even if you don't have a WordPress website, WooCommerce can well-serve anyone who is looking for a robust, customizable and accessible e-commerce solution, especially if they're also interested in blog capabilities and SEO tools.
A version of this article was first published on Fundera, a subsidiary of NerdWallet.