OnPay Review 2023: Features, Pricing, Alternatives
OnPay's simple pricing structure and extensive features make it a noteworthy full-service payroll provider.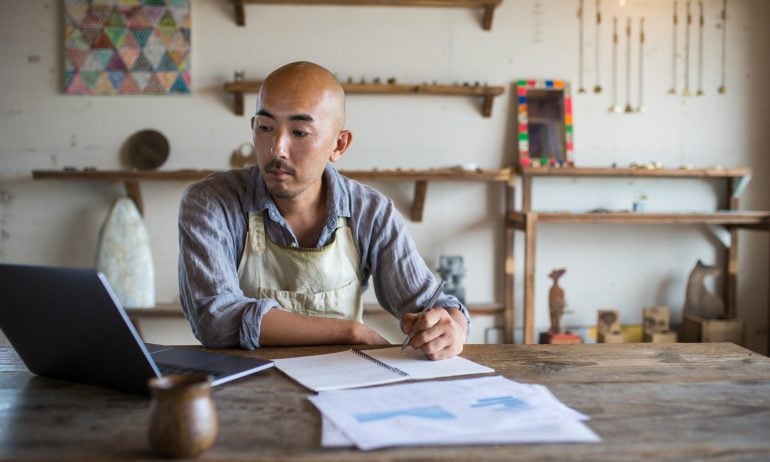 Many or all of the products featured here are from our partners who compensate us. This influences which products we write about and where and how the product appears on a page. However, this does not influence our evaluations. Our opinions are our own. Here is a list of our partners and here's how we make money.
OnPay is a cloud-based, full-service payroll processing system with an affordable price point, making it a solid option for small-business owners. In addition to impressive payroll features, OnPay offers employee self-onboarding and lifetime account access as well as licensed brokers to help business owners choose and manage health insurance plans for their employees.
While OnPay is competitively priced and won't subject you to add-on fees, its single plan offering may not be right for businesses that want their payroll plan features to grow as they grow. Also, businesses interested in advanced HR support or a wealth of third-party software integrations may want to look at alternative payroll software.
| | |
| --- | --- |
| | $40/month base price, plus $6/month per person. The first month is free. |
| | Taxes are calculated, filed and paid to federal, state and local agencies at no additional cost. |
| Ability to manage employee benefits | Manage medical and dental in all 50 states with add-ons for vision, life and disability insurance. 401(k) plan integrations. Syncs with workers' compensation plans. Manage deductions for FSA, HSA, commuter and other benefits. |
| Employee access to portal | Employees have lifetime access to their own account to update personal information, access pay stubs, obtain W-2 and 1099 forms, manage PTO accruals and requests. |
| | Live phone or chat support, Monday to Friday, 9 a.m. to 8 p.m. EST. |
| | User-friendly interface with custom payroll reports plus HR resource library. |
| | Third-party integrations include QuickBooks, Xero, QuickBooks Time, When I Work, Deputy, Guideline, America's Best 401k, Vestwell, Mineral, PosterElite and Magnify. |
OnPay's pricing model is simple and transparent: You'll pay a base fee of $40 per month, plus an additional monthly fee of $6 per employee (only for those paid in each month). There are no additional fees, and you'll get your first month with OnPay for free.
The monthly fee includes unlimited payroll runs and the ability to pay 1099 contractors as well as W-2 employees in the same pay run. Plus, OnPay doesn't charge service fees for health, retirement and workers' compensation plans; you only pay the premium amounts.
OnPay fully automates the payroll process, including the calculation, filing and payment of payroll taxes. The service comes with additional capabilities such as custom report options, HR features and integration with other apps for accounting, time tracking, retirement and HR compliance.
After setting up your account, OnPay handles all tax filings and payments and offers an accuracy guarantee. If it makes a mistake, it will work with the appropriate tax agency on your behalf to resolve the issue and cover any potential fines resulting from the error.
OnPay offers unlimited payroll runs so you can create a pay schedule, but also run payroll outside of that (for instance, to disburse holiday or bonus pay). You can also choose how to pay your employees, whether that's via automatic deposit into their bank accounts, paper checks or prepaid debit cards. OnPay also offers pay-as-you-go workers' comp plans, and it'll automatically update your policy when you bring on new employees.
Employees can onboard themselves by setting up their own employee profiles and entering their own data. After they're set up, they can access a dedicated employee portal that securely stores all their important documents — including W-2 forms and pay stubs — and allows them to track their PTO. Plus, OnPay automatically alerts employees of when payroll has run, so they know exactly when they'll get paid.
Health insurance and retirement
In addition to its full-service payroll processing capabilities, OnPay can also act as a broker for small-business owners seeking health insurance and/or 401(k) plans for their employees.
If you're seeking a health insurance plan for your business, OnPay — which is a licensed health care insurance broker in all 50 states — can help you set up health, vision and dental insurance from providers such as Humana, Cigna, Blue Cross Blue Shield, Aetna and United Healthcare. OnPay can help you choose a plan and make sure deductions are made automatically. If you already have a health insurance plan that you're happy with, you can make OnPay your broker of record or continue to work with your existing broker.
For retirement benefits, OnPay partners with 401(k) providers Guideline, America's Best 401k and Vestwell. While it doesn't charge a service fee, you can expect to pay a monthly fee plus a participant fee to the 401(k) provider. And as 3(16) and 3(38) investment managers, OnPay's partners are licensed to take on full fiduciary management of your retirement plan and to act in your business's best interests.
Transparent, competitive pricing
OnPay is upfront and transparent on its pricing: $40 monthly base fee plus $6 per person — no add-ons or additional tiers to factor into the monthly cost. You can run extra payrolls, pay employees in more than one state and access HR tools at no extra cost. OnPay identifies only three situations where additional fees could apply: when OnPay prints and mails W-2s and 1099s to employees on your behalf, if you can't cover the cost of a payroll run, and premiums for health, retirement and workers' compensation policies.
Robust payroll, benefits and HR features
Onpay offers a full-service payroll plan that's complemented by employee benefit options and HR time-saving features. Payroll is available in all 50 states and includes features such as unlimited monthly payroll runs, tax filings and payments, multiple pay rates and schedules and multi-state payroll. In addition, OnPay has licensed agents to help you select medical, dental and other health plans for your employees. HR tools such as e-signing capabilities, online I-9 and W-4 forms, state new-hire reporting, direct messaging functionality and a resource library are all included.
OnPay's one-size-fits-all plan may work well for many small businesses. However, businesses that want advanced features and expert support, and are willing to pay more for them, may want to consider other payroll providers. For example, competitors Gusto and QuickBooks Payroll offer additional features such as automated payroll at all plan levels and built-in time tracking features at higher tier levels. Additional HR services such as employee surveys and performance reviews are offered in Gusto's premium package and a personal HR advisor is included with QuickBooks Payroll's top-tier plan.
Like most cloud-based payroll software on the market, OnPay can sync with other software, but the number and type of those integrations is limited. QuickBooks and Xero are available for accounting and time-tracking integrations comprise QuickBooks Time, When I Work and Deputy. However, if you want integrations for recruiting, onboarding, learning or collaboration, for example, OnPay doesn't offer the same options like competitors ADP RUN and Gusto.
Square Payroll also offers a full-service, online payroll processing platform with simple, straightforward pricing: $35 per month, plus $5 per employee per month. If you're only paying contractors, you can skip the monthly subscription fee and just pay $5 per contractor per month.
If you're already using Square products, such as their point-of-sale system or payment processing, then Square Payroll could be a good fit. Like OnPay, Square Payroll, offers unlimited payroll runs, automated tax filings and withholdings, multiple payment methods, benefits partners and more.
Gusto is a full-service software that handles payroll, HR and benefits within a single platform. Each of these services can scale as your team grows, with three service plans to choose from: Simple at $40 per month, plus $6 per month per employee; Plus at $80 per month, plus $12 per month per employee; and Premium with quote-based pricing. Gusto also has a contractor-only option for $35 per month plus $6 per contractor (promotions may apply).
Gusto offers unlimited payroll runs, tax filings and payments, multiple pay rates and schedules, and direct deposits, among other features. Gusto integrates with an impressive collection of popular small-business apps and services, too, like QuickBooks, Freshbooks, ApplicantPro and Expensify.
Get 25% off the Plus plan for a limited time
QuickBooks Payroll offers automated payroll processing at three service tiers starting with their Core plan for $45 per month plus $5 per month per employee. The Premium plan, at $75 a month plus $8 per employee per month, offers additional features such as same-day direct deposit and time tracking. At $125 per month plus $10 per employee, the Elite plan includes additional HR support such as expert setup and a personal HR advisor.
All plans include automated payroll, unlimited payroll runs, payroll tax filing and payment, an employee portal, management of garnishments and deductions, and payroll reports. Health benefits provided by SimplyInsured and 401(k) plans through Guideline are also available with every plan. QuickBooks Payroll integrates with QuickBooks Accounting and QuickBooks Time mobile apps as well as third-party apps including those for inventory tracking, project management and customer management.
A version of this article was first published on Fundera, a subsidiary of NerdWallet.