Payoneer vs. PayPal: Which Is Right for Your Business?
Businesses with many cross-border transactions might want Payoneer, but PayPal wins for its simplicity and POS.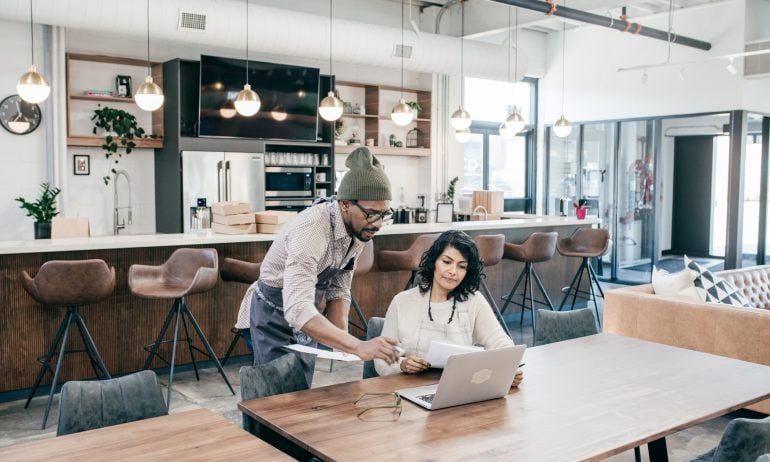 Many or all of the products featured here are from our partners who compensate us. This influences which products we write about and where and how the product appears on a page. However, this does not influence our evaluations. Our opinions are our own. Here is a list of our partners and here's how we make money.
Payoneer and PayPal are reputable and popular payment processors for businesses of every size, but these platforms offer very different services. Businesses that depend on cross-border transactions might prefer the international design of Payoneer, but small businesses seeking simple implementation and a POS system will likely prefer PayPal.
Payoneer features, pricing, pros and cons
Payoneer is a payments platform that allows merchants to send and receive payments domestically and internationally without requiring a merchant account. It's a popular option for freelancers, international businesses and users of e-commerce marketplaces such as Airbnb and Upwork. However, it doesn't provide an all-in-one point-of-sale (POS) system.
Essentially, merchants use a Payoneer account in lieu of a local bank account by requesting payments from customers via Payoneer, or by paying others directly from the Payoneer account.
Customer payments land in the Payoneer account; merchants then transfer the funds to their business bank accounts or withdraw the funds from their Payoneer accounts at ATMs. They can also make purchases online or in-store using their Payoneer funds.

Customers can pay via credit card or ACH direct deposit, or from their own Payoneer accounts if they're also Payoneer customers.

Merchants can pay contractors, employees, suppliers, partners, contractors or any other business associate using ACH bank debit, credit card or local bank transfer, either on a per-project basis or by setting up an automatic monthly payment.

Payoneer also offers a prepaid Mastercard (for a $29.95 annual fee).

Payoneer has a mobile app for iOS and Android.

Payoneer enables users to easily pay EU and UK VAT.
Free if from another Payoneer customer.

Free if from receiving accounts in USD, EUR, GBP, JPY, CAD, AUD and MXN.

Fees vary if you're receiving payment from a marketplace network such as Upwork or Airbnb.
Free if to another Payoneer account.

$1.50 if payment in USD, EUR or GBP goes to account in the same country with the same local currency.

1% for ACH debit payments.

1% for local bank transfers.

Up to 2% if to a non-Payoneer account.

2% for batch payments to up to 200 bank accounts at once.

3% for credit card payments.
$1.50 if to a local bank account in the same currency.

Up to 2% above market currency conversion rate if to a local bank account in a different currency.
0.5% to move funds between Payoneer balances.

$29.95 inactivity fee if there are no transactions in an account for 12 months.
Cheaper than POS systems in some cases
If you don't need to accept credit card payments, Payoneer offers an affordable alternative to buying and setting up a point-of-sale system. Signing up for Payoneer is free, and there's no fee for accepting payments if all your vendors use Payoneer.
International payment options
Payoneer is geared toward international merchants. If everyone is a Payoneer account holder, the fees for accepting international payments might be cheaper than more traditional options.
Lack of payments features
Payoneer doesn't come with a payment gateway, virtual terminal or the ability to work with a POS system, so you are limited in how you can accept payments. If you need to accept credit card payments online or take orders over the phone, you can probably get more bang for your buck with a different payment service provider.
Account freezes and terminations
Payoneer will hold your funds or terminate your account if it suspects fraud, which isn't uncommon for companies that deal with payments.
PayPal features, pricing, pros and cons
PayPal is an all-in-one payment service provider that lets business owners accept payments online, in person and via invoice. PayPal's scalable platform is an especially attractive option for growing businesses, e-commerce businesses or small businesses looking for a simple way to accept payments. PayPal owns Braintree, Venmo and several other payment brands.
PayPal Zettle offers mobile POS software and a range of hardware. Customers can use a variety of payment methods, including their own PayPal or PayPal Credit accounts, credit card, debit card and Venmo. PayPal Zettle also accepts contactless payments.

PayPal Payouts lets merchants send mass payments simultaneously in USD, CAD, AUD, EUR, MXN, and GBP, even if they don't maintain a balance in that currency. Payouts transactions cost 2% of the transaction amount (but are capped at various amounts depending on certain factors). And you have to have a PayPal Business account.

PayPal Checkout's Smart Buttons allow online customers to pay at checkout with one click.

PayPal's Business Debit Mastercard is also available (no annual fee).

Payflow Payment Gateway allows business owners to accept payments online, linking their website and merchant account. Upgrading to a Payflow Pro account lets you build a fully customizable online checkout process.

PayPal integrates with hundreds of platforms, including Shopify, WooCommerce, Mailchimp and Xero.
Payment processing fees vary depending on the type of transaction you're processing, the service you're using to process it and whether you're receiving funds domestically or internationally. Here's a brief rundown of PayPal's merchant fees:
2.29% plus 9 cents for in-person and QR code transactions.

3.49% plus 9 cents for manual-entry card transactions.

2.99% plus 49 cents for invoicing (payment made with card).

3.49% plus 49 cents for invoicing (payment made with PayPal).
PayPal Payments Pro: $30 per month.

Payflow Payment Gateway: Accept credit cards online for $0 per month with Payflow Link and $25 per month with Payflow Pro, which allows endless online checkout customization.
First reader is $29; additional readers cost $79. Price includes USB cable.

Compact store kit starts at $249 and increases to $578 with addition of an iPad.
Small-business owners worried about the complexities of payment gateways will definitely benefit from PayPal Payments Standard, as it's designed specifically to make integration simple for nonprogrammers.
PayPal is a well-known brand available in over 200 countries, and it supports about two dozen currencies.
PayPal doesn't provide users with their own merchant accounts. Instead, PayPal deposits your money into their single, aggregated account, then delivers your funds into your bank account minus fees according to the terms in your contract.
Relatively limited hardware selection
PayPal does have an in-person POS option, but the terminals are relatively limited.
Payoneer vs. PayPal: Which is right for your business?
Businesses with a lot of cross-border transactions may feel a strong draw toward Payoneer, but small businesses that need easy implementation and point-of-sale hardware for in-person payments may find PayPal the better fit.
A version of this article was first published on Fundera, a subsidiary of NerdWallet.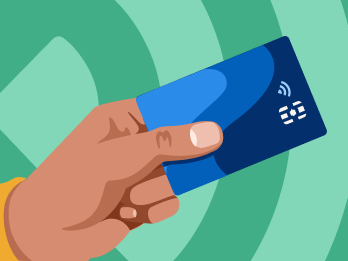 Accept payments, avoid surprises
Answer a few questions to match your business with our selected payment partners.
Best Payment Processing Companies
Product

Payment processing fees

Monthly fee

Learn more

Helcim

0.40% + 8¢

 

plus interchange, in-person; 0.50% + 25¢ plus interchange, online.

$0

 

Square

2.6% + 10¢

 

in-person; 2.9% + 30¢ online.

$0

 

Starts at $0/month for unlimited devices and locations.

Stripe Payments

2.7% + 5¢

 

in-person; 2.9% + 30¢ online.

$0