Payoneer vs. PayPal: Which Is Right for Your Business?
Both Payoneer and PayPal are reputable and popular payment processors for businesses of every size, but these platforms offer very different services.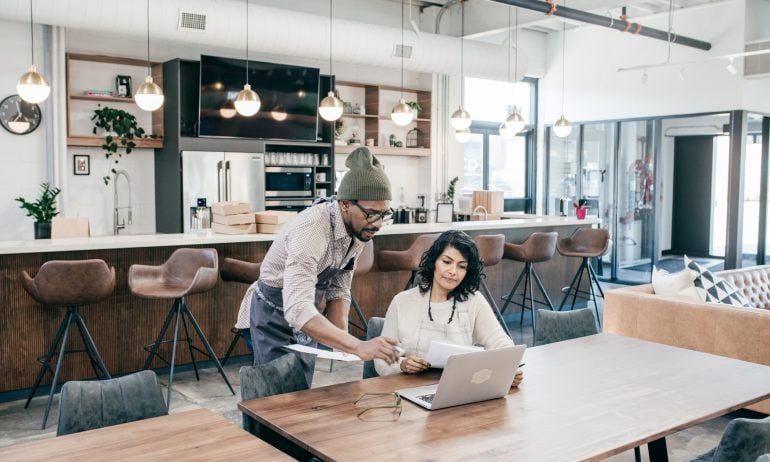 Many or all of the products featured here are from our partners who compensate us. This may influence which products we write about and where and how the product appears on a page. However, this does not influence our evaluations. Our opinions are our own. Here is a list of our partners and here's how we make money.
If you're running a business, you need to get paid, and at some point, you'll also need to pay other people too. To facilitate those payments digitally, you need a payment processor — Payoneer and PayPal are just two of your many options.
Payoneer is a financial services company with one core purpose: to enable businesses to pay each other — and get paid — both domestically and internationally. Unlike PayPal or similar platforms (such as Square or Stripe), Payoneer is not an all-in-one point-of-sale system or payment service provider, nor is it a merchant account provider. The company boasts some of the most famous clients in the world, including Amazon, Google and Airbnb. That said, Payoneer can work equally well for freelancers and small businesses as it does for enterprise-level companies.
PayPal, on the other hand, fills in the gaps for business owners seeking an all-in-one payment service provider that's equipped to accept all types of payments at their point-of-sale. It's a pretty failsafe option for businesses of any size in any industry. Its scalable platform is an especially attractive option for growing businesses, e-commerce businesses or small businesses looking for a simple way to accept payments however they want.
Payoneer allows businesses to do three main things: pay other companies, receive payments from other companies and manage their funds. Everything is facilitated through your Payoneer account, which you can sign up for and set up online in a matter of minutes. Essentially, you can use your Payoneer account in lieu of your bank account for these transactions by requesting to receive payments into your account, or by paying directly from your account.
Pay other companies: Choose to pay your contractors, employees, suppliers, partners, contractors or any other business associate using ACH bank debit, credit card or local bank transfer, either on a per-project basis or by setting up an automatic monthly payment.

Receive payments: Your customers can pay you via credit card or ACH direct deposit, or from their own Payoneer account if they're a fellow Payoneer customer.

Fund management: You can transfer funds from your Payoneer account into your actual business bank account whenever you want. You can also withdraw funds from your Payoneer account at ATMs, and make purchases online or in-store using your Payoneer funds.
The option to request a Payoneer Prepaid Mastercard (for a $29.95 annual fee).

Mobile app for iOS and Android.

Payoneer enables users to easily pay EU and UK VAT.
PayPal is an all-in-one payment service provider, so it enables business owners to accept payments online; in-person through PayPal Here, its mobile POS software and a range of hardware; and via invoice. Customers can choose among a variety of payment methods, including their own PayPal or PayPal Credit accounts, credit card, debit card and Venmo. PayPal's in-person POS system also accepts contactless payments.
PayPal Payouts lets you send funds to multiple people simultaneously. Note that each domestic transaction costs 25 cents.

Smart Payment Buttons with PayPal Checkout allow online customers to pay at checkout with one click.

Integrations with hundreds of platforms, including Shopify, WooCommerce, Mailchimp and Xero.

The option to request a PayPal Business Debit Mastercard (no annual fee).

Payflow Payment Gateway allows business owners to accept payments online, linking their website and merchant account. Upgrading to a Payflow Pro account lets you build a fully customizable online checkout process.
On the plus side, Payoneer fetches overwhelmingly positive reviews on major review platforms. Customers mostly praise the ease, speed and capabilities of Payoneer's services.
Better Business Bureau: 4 stars and a B rating.
On the downside, some customers complain about Payoneer's fees — some of which aren't as transparent as they could be — and some have reported frequent account freezes due to suspected fraud. Somewhat more seriously, other customers have reported security issues, including hacked accounts.
Interestingly, PayPal gets extremely mixed reviews online.
Consumer Affairs: 1.4 stars.

Better Business Bureau: 1 star and a B rating.
The reason for these differing opinions likely comes down to PayPal's sheer size — currently, PayPal has over 300 million active users on its platform. It's simply not possible to consistently serve that number of people perfectly. (For reference, the U.S. population is over 332 million right now.) So it makes sense that most negative reviews pertain to PayPal's logistical processes — we've seen lots of complaints about long waits to access a customer service representative and technical glitches, for instance.
But that popularity also very much works in PayPal's favor. As the "most-used digital wallet" among consumers, PayPal is also one of the most trusted and flexible. In fact, PayPal boasts an 88% conversion rate at checkout for businesses using the platform as their payment processor.
Another obvious advantage of PayPal is its range of features and services for business owners, and the fact that all of those services are supremely scalable. So if you're seeking a comprehensive payment processing solution to last you for the long haul, this is a great choice.
A version of this article was first published on Fundera, a subsidiary of NerdWallet.